James Dolan Wins With MSG Deal Even If Knicks Don't
(Bloomberg Opinion) -- James Dolan likes the New York Knicks so much, he gave investors three ways to root for them in the stock market, splitting the Madison Square Garden Co. three ways over five years. There was the arena holdings, the affiliated cable channel and, of course, the team. The rationale for the spinoffs was described the same each time: to enable shareholders to "more clearly evaluate" the individual assets.
Now, with cable television in precipitous decline and Covid-19 making for a snail's-pace recovery in large events, it might help if investors didn't have such clarity. Plus, in the entertainment industry today, simplicity is out and bigger isn't just better, it's imperative. 
Bloomberg News's Ed Hammond reports that Dolan is considering recombining Madison Square Garden Entertainment Corp. (MSGE) — owner of the arena where the Knicks basketball team and New York Rangers hockey team play — with MSG Networks Inc. (MSGN), the TV destination for their games. MSGE's other venues include Radio City Music Hall and The Chicago Theatre. The companies' combined market value is about $4 billion. Madison Square Garden Sports Corp., the $4.7 billion manager of both teams, isn't part of this potential merger.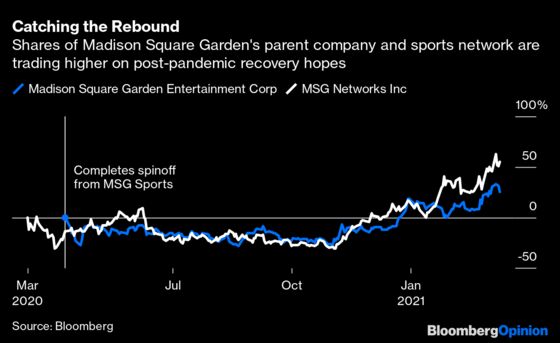 Here's how Hammond's sources see the deal being mutually beneficial for the two entities:
While MSG Networks makes a lot of cash, it has uncertain future prospects as consumers increasingly abandon cable TV for streaming. MSG Entertainment has a brighter outlook but needs lots of cash.
Yes, MSGE could use some cash. Its operations burned through about $250 million worth in the last three reported periods, according to data compiled by Bloomberg. The company had been in the midst of building a new venue called MSG Sphere near the Las Vegas strip when the coronavirus hit. The Epcot-looking structure was originally estimated to cost $1.66 billion and open this year, but the construction schedule was thrown off by the pandemic, and it's not expected to be ready until 2023. In MSGE's year-end quarter, revenue was down 94% because of Covid-related lockdowns and cancellation of events such as concerts. 
Even as the reopening begins, capacity is being limited. But once vaccines make crowds safe again, sporting events and concerts could see a fairly swift recovery. (I'm less optimistic about the comeback prospects for movie theaters, but that's another story.) It won't happen overnight: As of March 7, only 20% of U.S. adults polled by Morning Consult said they'd be comfortable going to a concert right now, and 27% of sports fans said they're ready to attend a game. Still, these numbers are likely only to climb as pandemic restrictions ease and people feel more comfortable about mingling again.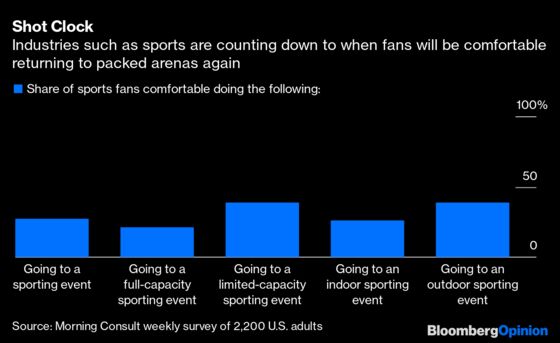 The long-term outlook for cable networks is less sanguine. It's estimated that more than 6 million traditional pay-TV subscribers cut the cord in 2020, and EMarketer predicts that less than half of U.S. households will still have cable by 2024. As such, MSGN is exploring opportunities in gaming as a way of tapping into the growing online sports-betting world as New York moves closer to making that legal.
It's been a rough year to be in the sports and entertainment industry. Dolan has a better shot at a winning team if MSGE and MSGN are playing for the same one.
This column does not necessarily reflect the opinion of the editorial board or Bloomberg LP and its owners.
Tara Lachapelle is a Bloomberg Opinion columnist covering the business of entertainment and telecommunications, as well as broader deals. She previously wrote an M&A column for Bloomberg News.