The Most Important Number of the Week Is 266,000
(Bloomberg Opinion) -- When the latest U.S. jobs figures were released Friday morning, they were too shocking to believe. Something had to be wrong. The economy couldn't have generated only 266,000 jobs in April when the median estimate was for a gain of 1 million. The size of the miss was about four standard deviations away from the norm, meaning the odds of it happening were a microscopic 0.1%. 
This was surely a disaster of epic proportions, right? Wrong. All the report showed is that the economy is in uncharted waters and analysts are having a hard time adapting old models to the new order. It was always going to be a tall order to try predict how the economy would respond to trillions of dollars of fiscal support along with the trillions of dollars pumped into the financial system by the Federal Reserve during a serious pandemic. That scenario isn't in the textbooks.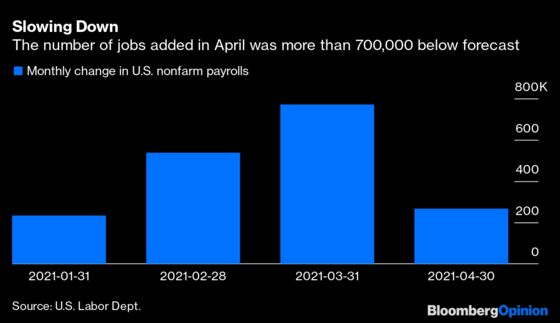 So to cut through the noise, it's best to start at the top line and work our way down. The 266,000 jobs added in April would be a strong result at any other time. The average monthly gain was 196,000 in the five years before the pandemic and 188,000 in the prior 10 years. Then there's average weekly hours worked, which at 35 matched the previous high set in January.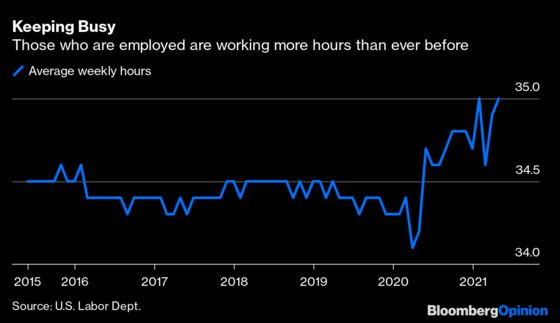 The issue isn't a lack of available positions. The Labor Department said April 6 that job openings rose to a two-year high of 7.37 million in February. The next "JOLTS" report comes Tuesday, and economists forecast it to show 7.5 million job openings. And yet continuing weekly unemployment claims came in at 3.69 million on Thursday, more than double their pre-pandemic levels. What's happening?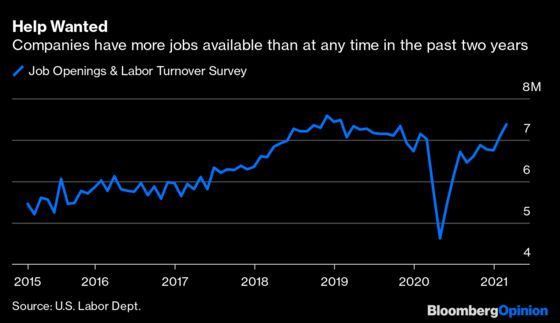 Four factors are at play. The first is that many of the formerly employed may not feel comfortable heading back into the workforce until a greater percentage of the population is vaccinated against the coronavirus, and we're far from there. Anthony Fauci, the top infectious-disease official in the U.S., has said that vaccinating 70% to 85% of the U.S. population would enable a return to normalcy. But while more than half of adults have now received at least one shot, a Washington Post-ABC poll shows that more than half of those who remain unvaccinated don't plan on getting one at all.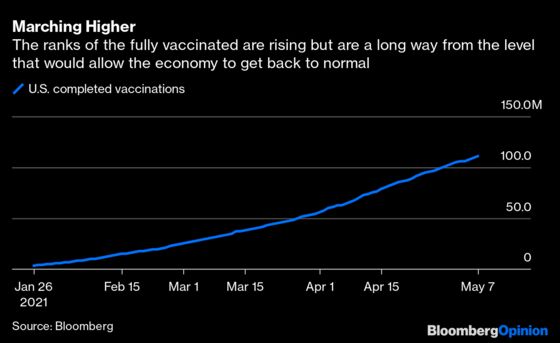 The second is that many of the formerly employed may want to get back to working but can't because child-care services may still be shut and many schools are not letting students attend full time. That means parents must stay at home. Some 165,000 women 20 and older withdrew from the labor force, meaning they aren't employed or searching for a job.
The third is early retirements. Bloomberg News reports that government data show 2.7 million Americans in the 55-and-up set are contemplating dropping out of the workforce years earlier than they'd imagined because of the pandemic.
The fourth is the most contentious, which is the idea that government unemployment benefits are too generous. Many formerly employed may be finding that it's in their financial interests to continue collecting money from the government rather than taking a job that pays less than what they can get by staying home. For example, why would a restaurant employee who receives most of  her compensation from tips go back to an establishment where diners are limited?   
The U.S. Chamber of Commerce put out a statement soon after the jobs report calling for the government to end the $300 weekly supplemental unemployment benefit. The organization claims that this payment results in about one in four recipients taking home more in unemployment than they earned working.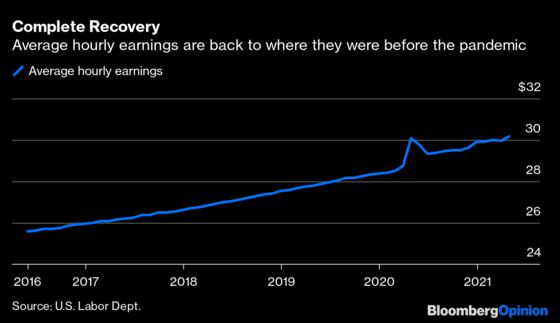 It's clear that the labor market is having a supply problem, not a demand problem. Employers want to hire, but there are few takers. Bloomberg News reported that Montana is trying to lure people back into the workforce with a $1,200 payment if they stop collecting unemployment benefits and work for at least four weeks. South Carolina plans to terminate all federal and pandemic-related jobless-relief  programs at the end of June.
There's no point trying to place blame for the slow recovery in jobs, whether on the many unemployed who are comfortable sitting on their couches at home or on employers who are being too tightfisted. The truth is that those issues will work themselves out in due time. Unemployment benefits will eventually run out, employers will realize they need to compensate better if they want to attract talent and grow their businesses, more of the population will become vaccinated and schools will fully reopen. None of this will happen overnight, but it will happen — just perhaps more slowly than economists expect.
This column does not necessarily reflect the opinion of the editorial board or Bloomberg LP and its owners.
Robert Burgess is the Executive Editor for Bloomberg Opinion. He is the former global Executive Editor in charge of financial markets for Bloomberg News. As managing editor, he led the company's news coverage of credit markets during the global financial crisis.