U.K.'s Morrison Makes for $8 Billion Private Equity Catnip
(Bloomberg Opinion) -- U.S. buyout group Clayton, Dubilier & Rice LLC has chosen a soft target in approaching Wm Morrison Supermarkets Plc with a 5.5 billion pound ($7.6 billion) takeover proposal. The U.K. grocer says the price is too low. But its defenses are weak and it could have a fight on its hands to stay independent.
The only surprise about CD&R's 230 pence per share approach is that it has taken so long for a bidder to emerge. Pandemic shopping habits combined with lackluster share price performances have made grocers alluring buys. Morrison is the smallest of Britain's so-called big four supermarkets and has all the ingredients to be an attractive private-equity target.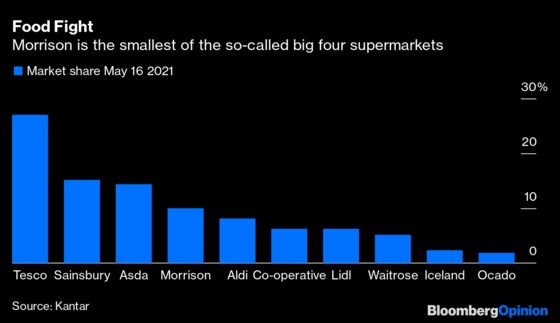 There's almost 5.8 billion pounds of freehold property on Morrison's books, compared with a market capitalization of 4.3 billion pounds on Friday. The share price has underperformed the FTSE All Share Index over the past two years, even amid a turnaround under Chief Executive Officer David Potts. Management has been criticized for receiving high pay despite the poor shareholder returns.
The premium being dangled is 29% above the shares' last close (which was also roughly their three-month average price) and shareholders would keep a 5 pence dividend. That's not an offensive offer, but it's a long way from a knockout. A sweetened proposal with a juicier premium would put the board under real pressure. CD&R won't want to go hostile, but shareholders could demand that Chairman Andrew Higginson engage.
Morrison stock was changing hands in line with CD&R's mooted price in early trading on Monday even though there's no binding bid yet, suggesting the market sees a reasonable chance a deal will happen.
Given Morrison's large freehold estate — which accounts for more than 80% of the supermarket's stores and distribution centers — the traditional defense against a takeover would involve selling off property to raise cash. A mini breakup, disposing of the group's food manufacturing arm, is the other obvious tactic. Shareholders would get a big windfall from the proceeds and be left with a leaner grocer. 
Although a private equity bidder may feel comfortable with such strategies, they probably wouldn't work for Morrison as a public company. The history of U.K. retail is littered with such sale-and-leaseback deals that have saddled companies with long rental commitments and too much debt. Morrison already has net borrowings of 1.8 billion pounds excluding leases. And exiting manufacturing could undermine the company's pricing strategy: Making its own quiches and filleting its own fish helps keep costs low — and value is central to its market positioning.
Shareholders may also be skeptical of any renewed promises by management to improve trading. Although German discount grocers Aldi and Lidl were hurt by the pandemic — as consumers switched back to big weekly shops in traditional supermarkets — they are gaining traction once more.
The more realistic course for the board would be to fight for a high-priced deal rather than no deal. That means preparing a list of alternative buyers who could get an auction going. Morrison shares closed as high as 269 pence in August 2018. An offer at 250 to 300 pence — at least a 40% premium — would be tempting. At that level, a deal would cost at least 7.8 billion pounds including assumed net debt (but excluding leases), or 7 times this year's expected 1.1 billion pounds of Ebitda.
A deal with CD&R might simply look too cozy. Terry Leahy, the former chief executive officer of Tesco Plc, is a senior adviser to the firm. Higginson is Tesco's former finance director, and Potts was the director responsible for Tesco's stores. Last year, two of Morrison's non-executive directors quit on concerns about the closeness of Higginson to Potts.
Such qualms would be lessened with a different bidder. Other private equity funds ought to be interested. So should Amazon.com Inc., with which Morrison already has a close relationship. Morrison supplies the U.S. giant's cashier-less grocery shops in the U.K. and sells food to its Prime members. Controlling the supermarket would give Amazon a national store network, and food production capabilities, enabling it to finally crack the grocery business in Britain.
Now that a bidder has sought to put Morrison in its basket, the grocer must ensure that the only people who get a special offer are its shareholders.
This column does not necessarily reflect the opinion of the editorial board or Bloomberg LP and its owners.
Andrea Felsted is a Bloomberg Opinion columnist covering the consumer and retail industries. She previously worked at the Financial Times.
Chris Hughes is a Bloomberg Opinion columnist covering deals. He previously worked for Reuters Breakingviews, as well as the Financial Times and the Independent newspaper.