Morgan Stanley Was Down But Proved It's Not Out
(Bloomberg Opinion) -- On March 12, 2018, Morgan Stanley's share price reached $59.38. That was a watershed moment — the highest level since November 2007, before the start of the Great Recession.
Since then, the Wall Street bank's stock has stumbled. Heading into this week, Morgan Stanley shares had fallen 26% since that post-recession high, a steeper decline than any of the other largest U.S. banks. Even just looking at 2019, Morgan Stanley's 8% total return was meager compared with its peers: Citigroup Inc.'s 37.5%, Goldman Sachs Group Inc.'s 24.3%, JPMorgan Chase & Co.'s 22.7%, Bank of America Corp.'s 19.3% and Wells Fargo & Co.'s 10%.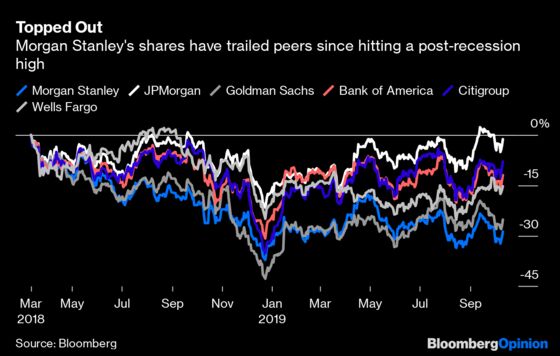 So it follows that Morgan Stanley's surprisingly strong third-quarter results on Thursday led to a swift reaction among investors. Its shares surged more than 4% in pre-market trading, the sharpest initial increase among its rivals. By exceeding expectations pretty much across the board, the bank essentially proved that while it's been down as of late, it's by no means out.
A quick recap of the earnings report: Like its rivals that reported earlier, Morgan Stanley's fixed-income trading easily beat expectations, jumping 21% from a year ago compared with analyst predictions of a 5% decline. Its total sales and trading revenue rose 10%, a sharper increase than all peers but JPMorgan, and in aggregate dollar terms was the biggest beat on Wall Street. Morgan Stanley's investment bankers also topped estimates. It wasn't perfect, as wealth-management revenue fell just short of forecasts, but overall it could only be described as much better than what analysts had anticipated.
Veering into the subjective for a moment, I was struck by just how confident and exuberant Morgan Stanley CEO James Gorman sounded as he kicked off the bank's earnings conference call. In his opening statement, he spoke forcefully about how he's looking forward to "gain share in several of our businesses" and emphatically stated that there's "tremendous upside here." And I'm not the only one who noticed. In the words of Bloomberg News's Max Abelson, who was blogging about the results: "Gorman sounds so confident right now. He's riffing, giving a lot of color, and seems to just be enjoying himself."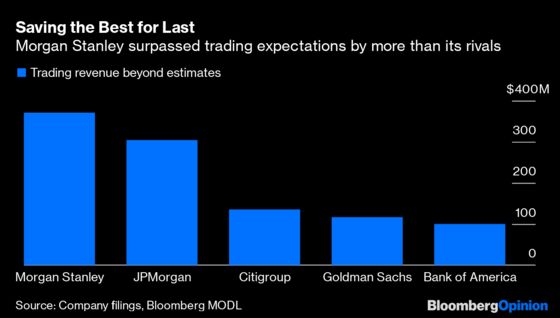 Perhaps that's to be expected after a quarter like this. And, of course, shares can only rise so much on CEO optimism. But the early feedback is in from analysts, and it's good. "Overall, we are impressed with the revenue strength and wealth management margin and believe that investors should take considerable comfort from this result," said John Heagerty at Atlantic Equities LLP. "With lots of investors somewhere between negative to indifferent on Morgan Stanley, we'd expect a bit of a lift," said Evercore ISI's Glenn Schorr (who, interestingly, has held an "outperform" recommendation for years). Susan Roth Katzke of Credit Suisse called earnings per share "well ahead of what were materially reduced expectations."
The undertone in those last two comments is clear. The market appears to have been too downbeat on Morgan Stanley and is adjusting accordingly. It's what happens after this initial move that's tricky. Morgan Stanley's shares presumably trailed rivals for a reason — did anything from the third quarter drastically change those views? 
The answer to that question might very well depend on investors' confidence in Gorman and his executive team. Mike Mayo of Wells Fargo kicked off the conference call by bluntly stating that the bank's expenses grew faster than revenue and asking whether there's confidence that will change. "That's what we're paid to do," Gorman said. "We are maniacally focused on it." Later, Gorman added that Morgan Stanley has proved to be nimble as the industry changes: "We've shown a willingness to adjust our business model over time; the build-out of the wealth management was clearly part of that strategy."
I wrote after the bank's second-quarter earnings that the shift to wealth management, which now makes up about half its revenue, showed Morgan Stanley was playing the long game when trading revenue can be so hit-or-miss from one period to the next. Whether investors want to stick around for the long run remains to be seen. But, at least for one day, traders are on board with Gorman's vision.
This column does not necessarily reflect the opinion of the editorial board or Bloomberg LP and its owners.
Brian Chappatta is a Bloomberg Opinion columnist covering debt markets. He previously covered bonds for Bloomberg News. He is also a CFA charterholder.