Morgan Stanley's Archegos Loss Is No Emergency
(Bloomberg Opinion) -- There's something fitting about Morgan Stanley's loss from the blowup of Archegos Capital Management totaling $911 million. By all accounts, the episode was among the biggest emergencies within the banking industry since the global financial crisis.
The hit certainly came as something of a surprise, given that there was little indication of this kind of loss in advance, and Goldman Sachs Group Inc. had already revealed it came out largely unscathed earlier this week. Putting Archegos aside for a moment, though, it's hard to find any compelling reason for concern about Morgan Stanley's trajectory. At the highest level, the bank reported record revenue and profit just like its peers. Equity underwriting quadrupled, similar to Goldman and Citigroup Inc. The firm is well on its way toward fully integrating Chief Executive Officer James Gorman's two large acquisitions from last year: E*Trade Financial Corp. and Eaton Vance Corp. Those deals only look more prescient in hindsight, given the explosion in retail trading volume and heightened interest in socially responsible investing, where Eaton Vance already had a strong foothold with Calvert Research and Management.
Now back to Archegos. Considering that the collapse of Bill Hwang's family office has created something of a reckoning at Credit Suisse Group AG, which is planning a sweeping overhaul of its hedge fund business and announced several changes within the investment bank's ranks because of its almost $5 billion loss, Morgan Stanley's woes look comparatively trivial. Its equity traders, who are accustomed to being the top group across Wall Street quarter after quarter, will survive living with three months of bruised egos.
Gorman addressed Archegos within minutes of starting a conference call with analysts. The firm liquidated large blocks of shares through March 28, leading to a $644 million loss, then "made a management decision" to get out of the risk as rapidly as possible and "clean it up by quarter-end — we didn't want it to be lingering," costing $267 million more. "I regard that decision as necessary and money well spent," Gorman said. Meanwhile, he called prime brokerage "a gem of a business" that's "a core part of the backbone of the equities business." He acknowledged that they'll probably have to look more closely at family offices, but it certainly sounds as if Morgan Stanley views this episode as an unusual one-off event that it'll learn from.
Glenn Schorr at Evercore ISI asked an important question: Why didn't Morgan Stanley disclose the loss tied to Archegos ahead of time? Gorman argued that because the bank was having a record quarter, including in the equity trading business where the loss was reflected, it wasn't viewed as material.
Indeed, here's a chart of what analysts expected for equity underwriting revenue across Wall Street heading into this week: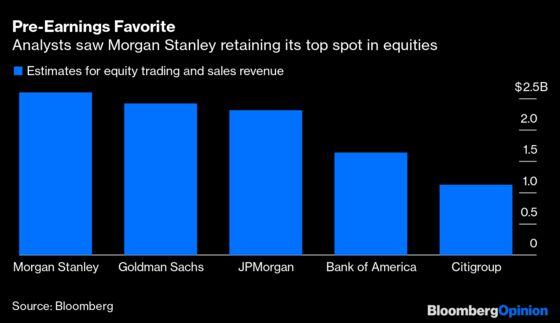 And here are the actual results, showing what Morgan Stanley's revenue would have been were it not for Archegos: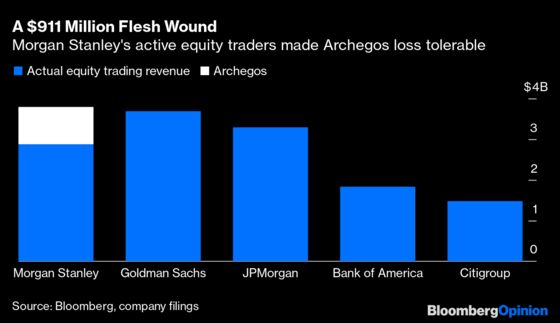 Basically, up until the final few days of the first quarter, Morgan Stanley was right on track to retain its No. 1 spot and beat analysts' estimates by a margin similar to that of its competitors. Even when factoring in the Archegos loss, it still managed to top expectations. According to Gorman and Chief Financial Officer Jonathan Pruzan, the bank has thoroughly reviewed its prime brokerage portfolio and so far hasn't found any other funds that, like Archegos, have large concentrated positions in stocks across multiple prime brokers. Pruzan, in one of the more scathing remarks on the analyst call, said the fundamental issue with Archegos was that the bank had collateral based on a certain set of facts that simply turned out not to be true.
No Wall Street CEO likes to take losses, but if they happen, better that they can be brushed aside as one-offs during an otherwise impressive period. It's somewhat like the time Goldman disclosed a  $1.09 billion legal charge in its fourth-quarter 2019 earnings tied to its role in the so-called 1MDB scandal. That left a mark on its results, but it also gave investors some sort of price tag on the damage done. Morgan Stanley, similarly, made clear that it contained the Archegos fallout by March 31. "We cauterize bad stuff," Gorman said.
The bank otherwise looks as healthy as ever. Plus, it doesn't have to contend with challenging lending conditions to the same extent as its more retail-facing competitors in what's arguably the largest existential crisis facing the industry. By comparison, a one-off $911 million loss is hardly an emergency.
This column does not necessarily reflect the opinion of the editorial board or Bloomberg LP and its owners.
Brian Chappatta is a Bloomberg Opinion columnist covering debt markets. He previously covered bonds for Bloomberg News. He is also a CFA charterholder.