Monster and Constellation Could Be a Potent Mixed Drink
(Bloomberg Opinion) -- Talk about a monster merger: Coca-Cola Co.-backed Monster Beverage Corp., whose logo has come to symbolize the Ultimate Fighting Championship's octagon cage, is said to be exploring a deal with acquisitive brewer Constellation Brands Inc. This megadeal would potentially fuse beer, energy drinks, liquor, soda and even marijuana in an unforeseen jolt to the global beverage industry. 
With Monster and Constellation each valued at nearly $50 billion, their tie-up would be the industry's biggest since Anheuser-Busch InBev AV's record-breaking $120 billion takeover of SABMiller in 2016. While Monster has discussed the idea with advisers, it's not clear that the energy drink maker is considering a full-out combination with Constellation, according to Bloomberg News, which first reported the deliberations on Sunday. A merger of this size and complexity could induce quite a hangover, so any talks may instead result in a joint venture or asset sale. Shares of Constellation dropped about 1% Monday morning as Monster gained slightly.
In any case, it could be a sinfully delicious recipe. Weed-infused drinks, caffeinated hard seltzers — the opportunities are endless for these companies to combine their strengths into new products popular with both sets of customers, including UFC fans.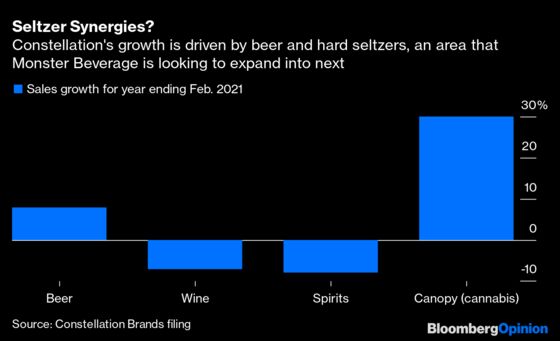 Constellation may not be a household name, but many of its products are. The company, based in Victor, New York, began as a wine producer with brands such as Robert Mondavi, before expanding into spirits including Svedka vodka and Casa Noble tequila and then buying the rights to sell Corona and Modelo beer in the U.S. Each step of its expansion has been into a new area of growth, as some alcohol segments slow. That led Constellation to become the first company of its kind to make a significant bet on a future legal U.S. marijuana market, taking a stake in the cannabis company Canopy Growth Corp. in 2017. That stake is now valued at about $1.7 billion, although President Joe Biden has moved slower than expected in paving the way for pot companies to operate more easily and legitimately across the country.
Even after all its deal-making, Constellation still generates virtually all its revenue in the U.S., while Monster, based in Corona, California, has a growing toehold in other parts of the world. Its sales to the Asia Pacific region jumped 69% from 2018 to 2020: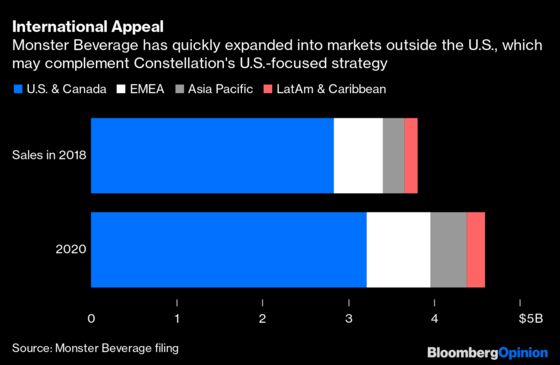 Monster has also signaled interest in alcoholic beverages, but its executives have moved carefully, aware as they are of the fast-changing nature of the space. In recent years, as hard seltzers became hot, that category got crowded, and their popularity may already have peaked. Monster recently launched True North Pure Energy Seltzer, a non-alcoholic product that only adds to speculation about the company's impending expansion into booze. 
Coca-Cola, as Monster's No. 1 shareholder, adds another layer of complexity to any deal. Its bottlers are some of Monster's primary customers and global distributors. The beverage trio could join forces using Constellation's U.S. alcohol distribution network and Coke's international might, but that arrangement could be too complex. Antitrust regulators also might not like such a company's ability to crush upstarts.
If the companies are putting out feelers on a deal, Monday's stock prices aren't reassuring — they almost never are for megamergers, which tend to involve overpaying and under-delivering. Even so, it's easy to see how energy drinks, ready-to-drink alcohols and pot would make a compelling mixture. At least, the idea is sure to energize other beverage giants looking for new ways to persuade consumers to keep reaching for their bottles and cans. 
Coca-Cola itself is also in the midst of buying out the remaining interest in sports-drink maker BodyArmor for $5.6 billion.
This column does not necessarily reflect the opinion of the editorial board or Bloomberg LP and its owners.
Tara Lachapelle is a Bloomberg Opinion columnist covering the business of entertainment and telecommunications, as well as broader deals. She previously wrote an M&A column for Bloomberg News.