Miners Are Sending Mixed Super-Cycle Messages
(Bloomberg Opinion) -- Are we on the verge of another commodities super-cycle? Maybe, big diggers tell us this week.
Rio Tinto on Wednesday became the third heavyweight in two days to report a bumper profit and an investor bonanza, with better-than-expected full-year underlying earnings of $12.4 billion, up by a fifth, plus a special dividend that took the total for the year to $9 billion. It adds to the optimism reported by Glencore, which reinstated its payout and said a greener post-pandemic recovery would fuel demand for its metals. BHP, like Rio a major producer of steel ingredients, pointed to robust Chinese demand and an improving economic trajectory elsewhere — key preconditions for further price improvements.
That's music to the ears of those predicting a sustained run on a par with the 2000s, such as Goldman Sachs Group Inc. Commodities have seen only four super-cycles over the past 100 years, the last running more than a decade before Beijing's infrastructure stimulus faded. Now, JPMorgan Chase & Co. and others view the market entering a new period of years-long gains, aided by loose monetary policies and a weak U.S. dollar. Certainly, the past few months look shiny. Economic bellwether copper is up more than 80% from March 2020 lows and is seen rallying from $8,400 a ton today toward $10,000 on the London Metal Exchange, testing records. Tin and battery ingredient nickel are on a tear. A surge in prices helped Rio's iron ore division, which accounted for some 80% of the company's earnings before interest, tax, depreciation and amortization last year, notch up an impressive 74% margin.
Yet miners' actions don't quite match the market's ebullience. Take the new chief executive appointments, which tend to follow a cycle of their own: fixer-uppers, technocrats, empire builders. This time, the cohort, including Rio's own Jakob Stausholm — hurriedly elevated from chief financial officer after the destruction of ancient Aboriginal caves resulted in the ejection of his predecessor last year — is as conservative as ever. Miners are looking at new projects, but there is no sign they are shifting money away from generous dividends, or feeling the need to rapidly accommodate a significant increase in demand. Investors are not pressing for growth. 
To be fair, this is in large part welcome proof that miners learned the painful lessons of the last boom. Then, too much empire-building wasted billions on unimpressive projects and acquisition gambles. Years of bumper payouts haven't wiped investor memories. A tighter grip on output helps prices. Rio is also busy rebuilding trust after the Australian cave scandal at the heart of its core iron ore business, and tackling a major government headache around its most significant new project, in Mongolia. And there may well be more board reshuffling ahead, not least a new chairman.
It reflects a level of reasonable level of caution that super-bulls would do well to heed.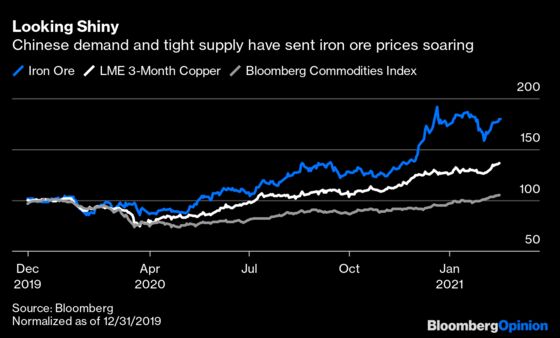 Certainly, there are supply concerns for certain metals. In copper, few better examples exist of that challenge than Rio's Oyu Tolgoi mine. A $6.75 billion underground expansion has turned into a red metal warning from the Mongolian steppe. It is technically challenging, overdue and over budget. The government, unhappy with its share of the economic benefits, wants to rework the deal underpinning the investment. More and more large projects will face similar hurdles.
But that's not true for all parts of the commodities universe, not to mention that the return to an economic status quo could well be bumpier than some strategists suggest. Part of Rio's circumspection may reflect questions around the appetite for iron ore through this year, as China moves away from a metal-intensive stimulus that saw steel consumption far outpace wider growth in 2020. 
Stausholm's appointment was a disappointment for those expecting an outsider who could shake up Rio's complacent internal practices. It reflected poor succession planning, given that he wasn't immediately brought in on an interim basis for outgoing boss Jean-Sebastien Jacques, suggesting he didn't start as an obvious contender. Yet it says more, too: Combine Stausholm with Mike Henry's arrival in the top seat at BHP at the start of 2020, and Glencore boss Ivan Glasenberg's replacement with Gary Nagle, plus ultra-generous dividends, and it feels more like a continuation that the dawn of a new era.
Vigilance is not unreasonable. No one wants diggers to chase bad deals and poor projects. But there's also the risk that high prices, plus investor appetite for cash, distract from the need for significantly increased capital expenditure, especially for those, like Rio, that need to shift from a heavy dependence on steelmaking ingredients. The miner says it is doubling down on development. For Stausholm and peers, it's the major investment decisions some way ahead that will test their mettle.
This column does not necessarily reflect the opinion of the editorial board or Bloomberg LP and its owners.
Clara Ferreira Marques is a Bloomberg Opinion columnist covering commodities and environmental, social and governance issues. Previously, she was an associate editor for Reuters Breakingviews, and editor and correspondent for Reuters in Singapore, India, the U.K., Italy and Russia.