Will a Democratic House Hurt Wall Street?
(Bloomberg Opinion) -- Bank stocks are down 10 percent since the beginning of August, as measured by the KBW Banking Index. Some of the biggest lenders, like Bank of America Corp., are down even more. The reason, at least in part, is Washington, according to some analysts.
Indeed, polling site FiveThirtyEight.com now puts an 86 percent chance on a so-called blue wave outcome in the coming midterm elections, up from around 70 percent in early August. But investors who are selling bank stocks based on the concern that a Democratic victory could mean revived regulation, or something worse, for the big financial firms are most likely ditching the sector for the wrong reason. What's more, the housing sector, and by extension, banks, at least in the short term, could actually see a boost from the midterms. Democrats could also provide more vocal support for the independence of the Federal Reserve, which has recently come under regular attack from President Donald Trump for gradually raising interest rates.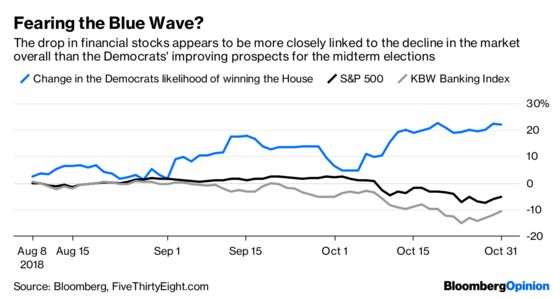 Few see Democratic victories as positive for the large banks or big business in general. But most political watchers think the midterms will be far from a sweep. Brian Gardner, who tracks Washington for KBW, a brokerage firm focused on financial stocks, said in a mid-October note to clients that while momentum seemed to be moving toward the Republicans, the Democrats were still likely to win the House. Gardner said he was equally confident that Republicans would retain control of the Senate, even picking up a seat or two. 
While it's true that Democrats, and in particular Representative Maxine Waters, who is likely to take over control of the House Financial Services Committee, have pushed for harsher bank regulation, they are unlikely to get far with just control of the House. Waters introduced a bill to break up the big banks a year ago. Instead, the Republican-controlled Congress passed a bill that relaxed financial regulation, though mostly for midsize banks, which received the support of a number of moderate Democratic lawmakers. 
At best, Waters and her colleagues could slow the rollback of rules by regulators by calling them to testify on those moves. A Democratic-led panel will have subpoena power. But it's not clear that would be enough to cause Trump-appointed regulators who favor deregulation to curtail their efforts. One sign of that came on Wednesday, when the Fed released new liquidity rules that are likely to benefit the large regional banks more than many expected.
Waters has shown some indication in the past that she would use the committee to investigate consumer abuses at Wells Fargo & Co. and credit-reporting firm Equifax Inc. But Equifax's serious data breach has faded from the news, and a recent reshuffling of top management at Wells Fargo is likely to mollify some of its critics. What's more, if Waters is somehow able to press CEO Tim Sloan to leave, as she has argued he should, Wells Fargo's investors might actually end up being better off.
In other cases, even Republican regulators can only go so far. In the case of annual stress tests, the big banks would like to move to an every-other-year schedule, which the Fed has hinted it would like to do as well. But that can't fully happen without a repeal of the provision of the Dodd-Frank financial overhaul law that mandates some annual testing. Of course, the Fed could face more scrutiny from Democrats if it makes the stress tests easier for the big banks in some other ways.
At least at first, Waters is likely to focus her efforts on the Consumer Financial Protection Bureau, which the Trump administration has sought to weaken significantly. Still, even there the impact on the big banks could be minimal. Most of the recent complaints about the CFPB are about how it seems to be cutting penalties or not pursuing cases against payday lending — high-interest loans that are generally made by small nonbank financial firms.
One place where a Democratic House might make a difference is in the housing market. Mel Watt, who heads the Financial Housing Finance Agency and is the last Obama-appointed financial regulator still in office, will leave in January. The Treasury Department has advocated for winding down federally backed mortgage insurance giants Fannie Mae and Freddie Mac and replacing them with private entities. That change might be good for the big banks down the road, potentially capturing some of the profits and market share that now go to Fannie and Freddie. (There's also a chance the change would be disruptive and further dent a weaker housing market.)
The biggest threat facing the banks might indeed be coming from Washington, but it's from the Fed, not Congress. Banks have been waiting for higher interest rates for a long time to benefit from more lending, but they have increasingly been unable to capitalize on it greatly. As the economic expansion ages and the Fed gets closer to its rate-raising goal, that window is closing. Trump has been trying recently to jawbone the Fed to quit increasing rates. Democrats generally think the Fed should keep rates lower as well to bolster job growth, but the president's attacks on the Fed's independence will most likely stiffen Democrats' resolve to give the central bank as much political cover as they can.
One potential worry for the big banks is that Trump's rhetoric at times has sounded a bit like a liberal Democrat's wish list. He called during the election for the return of the Glass-Steagall Act to effectively break up the big banks and ran ads that attacked Wall Street, and Goldman Sachs Group Inc., in particular. But Karen Shaw Petrou, managing partner of Federal Financial Analytics, says the chance of the populist movements on the right and the left joining up against the big banks is slim. Trump has dropped much of his anti-Wall Street rhetoric since entering the White House. And Democrats have shown little desire to work with him, and vice versa.
Of course, Democrats don't have to toughen regulations on the banks to hurt their stocks. The threat might be enough. So the blue wave could make the waters a little choppier for them, but it won't capsize them, either.
This column does not necessarily reflect the opinion of the editorial board or Bloomberg LP and its owners.
Stephen Gandel is a Bloomberg Opinion columnist covering banking and equity markets. He was previously a deputy digital editor for Fortune and an economics blogger at Time. He has also covered finance and the housing market.