With Michaels Buyout, Apollo Picked a Weird Time to Get Crafty
(Bloomberg Opinion) -- Michaels Cos.' management has crafted a lucrative exit for shareholders. 
The arts and hobby supplies chain announced on Wednesday that it had agreed to be acquired by Apollo Global Management Inc. at an equity value of $3.3 billion. The $22-a-share purchase price represents a 47% premium to the closing price of the stock on the day before reports first surfaced about a potential buyout, Michaels said. 
From the press release, it sounds as if Apollo paid up for Michaels because it believes it can apply some of the strategies it has used in other retail investments to strengthen a chain that has recently been riding a strong wave of consumer interest in its products. But this strikes me as a weird time to pursue Michaels, if only because it is exceedingly difficult to put a value on it. 
Michaels, like many other retailers, has gotten a big boost from stay-at-home living, with comparable sales rising by double digits in the quarters ended August and October. Results for the holiday quarter will be released on Thursday and are expected to show solid growth on this measure as well, according to estimates compiled by Bloomberg. 
While I believe some consumer changes born of the pandemic will be lasting, such as more online grocery shopping, I'm highly skeptical a crafting craze will endure as vaccines are distributed more widely. It is likely that many parents turned to Michaels for at-home school projects and other work to keep their kids busy during lockdowns; this spending probably won't continue once in-person schooling and other activities return. Similarly, some of the hobbyist adults who turned to crocheting or scrapbooking are likely ditch those pursuits — or at least do them less frequently — once gym visits, happy hours and concerts are again competing for their leisure time. Plus, Michaels has a heavy debt load, and even before the pandemic, its comparable sales figures were choppy.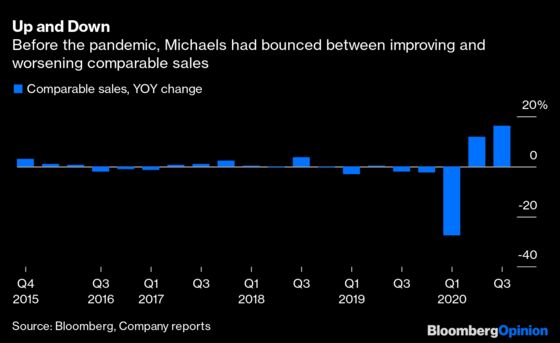 That said, I understand why Apollo sees potential in the company. Walmart Inc. veteran Ashley Buchanan took over as CEO last year amid a management overhaul, and in September he put forward a solid strategic plan at the company's investor day that includes decluttering its stores, and, most interestingly, focusing on the segment of its customers who are entrepreneurs or who aspire to make a business out of their crafts. Etsy Inc. reported 4.1 million active sellers on its platform in 2020, a hint of how big a group that might be. Servicing this core group of big spenders has much in common with the successful strategy Home Depot Inc. and Lowe's Cos. have long used of segmenting customers into pros and hobbyists and using this framework to inform merchandising and marketing decisions. These moves should help Michaels and its fleet of 1,275 stores take market share in the arts-and-crafts category, even if overall demand slows down.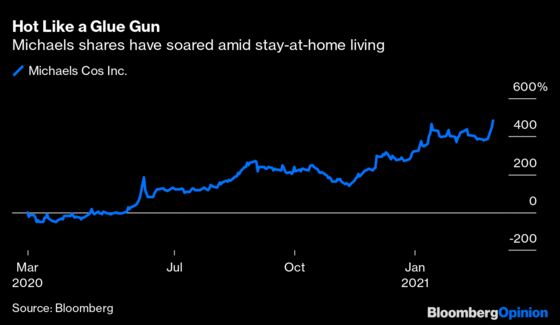 Michaels shares have been on a rocket ride in the last year, surging almost 500% from the day the pandemic was declared through yesterday's close. Perhaps Apollo wanted to strike now before another quarter of results arrived and potentially took shares even higher. But it's very difficult to know when and to what extent people will slow down on the floral arranging, scarf knitting and drawing that has gotten them through isolation, and that makes this a somewhat risky project. 
This column does not necessarily reflect the opinion of the editorial board or Bloomberg LP and its owners.
Sarah Halzack is a Bloomberg Opinion columnist covering the consumer and retail industries. She was previously a national retail reporter for the Washington Post.