Michael Klein Hits the SPAC Jackpot With Reddit-Adored Lucid
(Bloomberg Opinion) -- Having a $2 billion pot of cash is pretty nice but what if shareholders told you that cash is really worth about $15 billion? It sounds like a great problem to have, but it creates complications too.
This is essentially what's happened to Churchill Capital Corp IV, the largest of Michael Klein's seven special purpose acquisition companies. CCIV, the ticker by which the former Citi banker's SPAC is known by Redditors and other retail fans, is at the center of the stock market's latest bout of speculative mania. As with Tesla Inc., this one also involves an electric-vehicle company. 
Churchill Capital IV raised a bit more than $2 billion in an initial public offering last summer by selling shares for $10 a piece, the standard price for most blank-check companies. Those shares now trade at $58, even before the SPAC has agreed a takeover or said what the terms of a deal might be. SPACs are listed vehicles used to acquire promising companies, thereby taking them public. Most trade close to $10 at least until they've announced a merger, so what's going on with Churchill?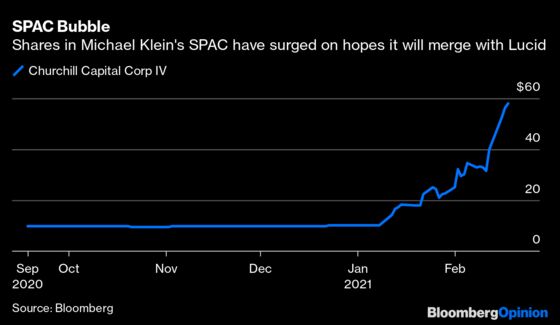 Bloomberg News reported last month that Klein's SPAC is in talks to merge with electric-vehicle company Lucid Motors Inc. Lucid hasn't begun delivering vehicles yet, or disclosed financials, but its fans think it could mount a serious challenge to Tesla and Mercedes-Benz in luxury electric cars.  
There are signs that a deal is near, with Reuters reporting that Lucid will be valued at about $12 billion and that Churchill has begun talks with investors about a concurrent capital-raising transaction, known as a PIPE. But Lucid and Churchill haven't confirmed any of that yet, so investors bidding up the SPAC's shares are taking a punt.
To me, $12 billion already seems a lot for a pre-revenue company, albeit one whose first model — the Lucid Air — is pretty desirable and whose British Chief Executive Officer Peter Rawlinson led the engineering for Tesla's Model S. The implied valuation, however, is far higher. Based on where the SPAC shares are trading, shareholders believe Lucid is worth about seven times as much.
In a world where Chinese carmaker Nio Inc. is valued at $85 billion despite delivering fewer than 50,000 electric vehicles annually, and Tesla's market capitalization is $750 billion, it seems that anything goes. Retail investors are driving Churchill's shares higher, possibly in combination with opportunistic hedge funds, as happened with GameStop Corp. 
CCIV has become one of the most discussed stocks on investor forums such as Stocktwits and a 17,000-member subreddit. Almost 240 million shares have changed hands in the last three trading sessions — remarkable considering only 207 million shares are tradable. 
Klein, a former Citigroup Inc. rainmaker who's raised about $7 billion across his SPACs, is an unlikely hero for amateur investors. He's more discreet than rival SPAC star Chamath Palihapitiya, but can the Reddit romance last? The biggest potential problem is that the more the Churchill price rises, the more Lucid will be tempted to renegotiate the terms of the deal, which might cause the SPAC's price to fall, thereby burning the retail crowd.
And while Lucid is shaping up as one of the most lucrative SPAC deals so far, retail investors — as usual — aren't the ones in line to make the truly big bucks. 
First, consider the sponsor. Klein and his investment partners paid about $43 million for shares and warrants that are now worth roughly $4.7 billion by my calculation.  If Churchill follows the typical SPAC approach, it would split those returns three ways: a third to its financial partners, a third to members of Churchill's brain trust (people like former Apple design boss Jony Ive and former Ford Motor Co. CEO Alan Mulally), and a third to Klein's firm M. Klein & Co. The sponsor shares are usually subject to lockups and vesting criteria and their capital is still at risk. Still, it's an astonishing jump in value.
Then there are hedge funds like Millennium Management LLC, Karpus Management Inc. and Citadel Advisors LLC who've made huge paper gains while taking no risk. Hedge funds often snap up SPAC units (shares plus free warrants) because they offer downside protection: Until a SPAC completes a deal, investors can redeem their shares and get their cash back. You'd imagine some arbitragers have already cashed in some of their Churchill profits. 
Finally, consider the lucky participants in the concurrent $1 billion-plus capital raising (PIPE) transaction that Churchill is reportedly considering. It's customary to price such deals at $10 a share, too, so if that happens the buyers would immediately realize huge paper gains because the SPAC's share price is now $58. Retail investors wouldn't benefit as only accredited investors get to participate in PIPE deals. Shareholder democracy, eh?
"I'd assume the $10 PIPE financing will be the most competitive deal of all time," Julian Klymochko, CEO of Accelerate Financial Technologies Inc., which manages a SPAC-focused ETF, told me.
One reason tech companies have gone off regular IPOs is that they're often mispriced. The massive "pop" on the first day of trading leaves the founders feeling shortchanged. Merging with a SPAC gives the founders price certainty — they get to negotiate the deal value directly with the acquirer — but they still run the risk of underestimating demand for their shares. Lately, there's been a big pop whenever SPAC deals involving electric-vehicle companies are announced.
What's strange in Lucid's case is that the pop has happened before a deal has even been signed. If it wanted, the carmaker could push for better terms — such as a smaller stake for Klein's SPAC — or walk away and do a regular IPO at a much higher valuation. I doubt that's going to happen, though.
First off, Lucid can't be sure how "real" this investor enthusiasm is. Its valuation could tumble if frothy market conditions change: Tesla's shares are already 10% below their peak. With Churchill, Lucid is guaranteed to raise at least $3 billion of capital. 
Relations between the two sides must be pretty convivial, too. Lucid's biggest shareholder is Saudi Arabia's Public Investment Fund, and Klein is one of the kingdom's most trusted financial advisers, having helped steer the listing of Aramco. This time he and the PIF are on opposite sides of the negotiating table, but neither gains if the SPAC's shares collapse.
As Tesla's many successful capital raisings have shown, it helps to have a sky-high valuation but it's imperative to keep retail investors sweet. Disappoint them and they might find another electric-car company to rally behind. There are plenty around.
That's changed recently with a lot of SPACs immediately trading at a premium to cash in trust. Still, even the really popular ones don't tend to trade above $20.
The SPAC's $2 billion pot of cash would in theory entitle it to a roughly 17% stake in the company at the valuation Reuters reported. But there's a lot we don't know about the transaction yet, so this is very back of the envelope stuff.
This filingshows the Churchill IV sponsor owns 51.75 million shares and 42.85 million private placement warrants. CCIV's financial partners may own shares directly in the SPAC and PIPE, which aren't included here.
This column does not necessarily reflect the opinion of the editorial board or Bloomberg LP and its owners.
Chris Bryant is a Bloomberg Opinion columnist covering industrial companies. He previously worked for the Financial Times.