A Metal Bull Run Isn't a Super-Cycle
(Bloomberg Opinion) -- Commodities super-cycles are tough to call. For most of us, as U.S. Supreme Court Justice Potter Stewart once said of pornography, we know one when we see one. That hasn't stopped Goldman Sachs Group Inc. and peers from nailing their colors to the mast and betting on the combined impact of fiscal support, a more climate-friendly economy and years of frugal investment.
In many basic materials, there have certainly been impressive runs since March or April 2020, thanks to rebounding demand, low interest rates and the impact of pandemic disruptions. Copper inventories are lower than they have been in years, and there's a dose of financial speculation. A bull market, though, isn't necessarily the start of a sustained, decades-long period of commodity gains.
For one, it's clear that a greener super-cycle wouldn't look like the last one, which ran from the late 1990s and arguably peaked just over a decade later. Support for oil prices will wane as we shift toward real decarbonization, even if supply is squeezed for now. The same will happen to metallurgical coal as steel producers clean up. None of these will hit past highs.
The biggest diggers are benefitting for now. Anglo American Plc on Thursday became the latest of the large diversified miners to beat full-year earnings estimates as it bounced back from supply interruptions. Copper just broke through $9,500 per metric ton for the first time since 2011. Battery ingredient nickel, also helped by hopes of a green economy boost, has risen 80% from last March's lows. Iron ore futures are holding up in Singapore trade at close to $170, roughly double a year ago. Even oil is defying gravity (and pandemic-dampened demand) at well over $60 a barrel. 
And the effects of that ebullience are beginning to show at the proverbial coalface, with displays of resource nationalism in places like copper producers Peru and Mongolia as politicians demand a greater share of benefits. Concerns over labor shortages are coming back, too.
Take copper, a bellwether of sorts and key to Goldman-type arguments. On the demand side, proponents of the super-cycle point to a coming surge in demand for green economy materials. Citigroup Inc., raising its 6-12 month target to $10,000 per ton last week, pointed to a better than expected recovery outside China and to the reappearance of a strong demand driver for the first time since the 2000s: decarbonization. Glencore Plc, a major producer of the red metal, expects consumption levels to double by 2050, requiring an extra million tons a year, twice the rate of increase between 2010 and 2019.
Unfortunately, evidence suggests that for now, copper demand is still coming from all the usual places. As Vivek Dhar at Commonwealth Bank of Australia points out, the transition is not yet as sustained or swift as it needs to be to replicate the above-trend prices caused by, say, China's acceleration in the 2000s. A look at post-pandemic stimulus bears this out. BloombergNEF calculates that governments have approved nearly $1 trillion in climate-friendly economic support, roughly 7% of the total stimulus pledged in response to Covid-19. Carbon-intensive sectors will get 8%. The balance is not specified.
China's monetary policy will eventually normalize, too.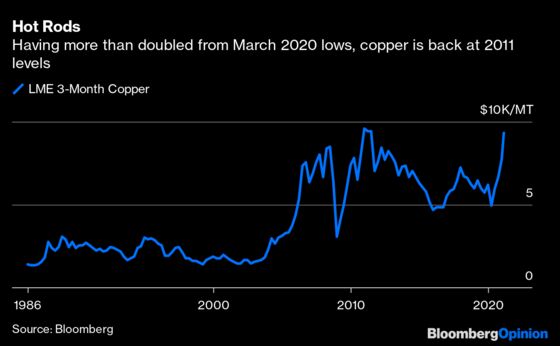 The other part of the super-cycle argument hinges on supply, particularly with copper, where bulls argue there are deep, structural deficits ahead. Miners, still atoning for the sins of the last boom, have certainly held back. Copper has been well below the price that encourages exploration, and the impact is visible. An S&P Global analysis last year found that 224 copper deposits were discovered from 1990 to 2019. But only 16 have been found in the past 10 years, and just one since 2015.
But that doesn't mean there has been the sharp dearth of investment seen through the 1980s and 1990s preceding the 2000s boom. There are projects which will come onstream over the coming years, from Rio Tinto's Oyu Tolgoi underground extension in Mongolia to Anglo's Quellaveco mine in Peru, on target to begin producing in 2022 despite Covid-19 setbacks.
More to the point, even for copper, the problem is less supply than location. Potential new mines exist, just in unpalatable locations, say Papua New Guinea, Russia or Pakistan.
A measure of whether miners see sustained demand ahead and have investor support will be their willingness to take on some of these digs that have long been clouded by political risk. One to watch is Cascabel in Ecuador, owned by SolGold Plc, which counts BHP Group Plc as a major shareholder. 
All of this does mean higher prices than we've seen over recent years. If the marginal ton of copper comes from low-grade expansions at existing mines in easy places, or from high-grade mines in difficult places, it won't come cheap, as BHP pointed out last week.
But healthier prices are one thing. A super-cycle is quite another. 
This column does not necessarily reflect the opinion of the editorial board or Bloomberg LP and its owners.
Clara Ferreira Marques is a Bloomberg Opinion columnist covering commodities and environmental, social and governance issues. Previously, she was an associate editor for Reuters Breakingviews, and editor and correspondent for Reuters in Singapore, India, the U.K., Italy and Russia.