Merck Is Happy With Its CEO. Should Investors Be?
(Bloomberg Opinion) -- Merck & Co. Inc. is going to be Ken Frazier's company for some time to come. 
The pharma giant announced Wednesday that it was making an exception to a mandatory retirement policy that would have required the CEO to retire at the end of 2019 when he turned 65. Investors have plenty of reasons to be happy about that.
Merck's shareholders have more than doubled their returns during his tenure, and the company's immune-boosting cancer treatment Keytruda is a key reason: It has become the leading medicine in its crowded and highly lucrative class. But Merck has also become heavily dependent on the drug, and any stumbles with it could quickly erode share price gains and confidence in Frazier's leadership — especially with no new, clear blockbuster appearing on the horizon.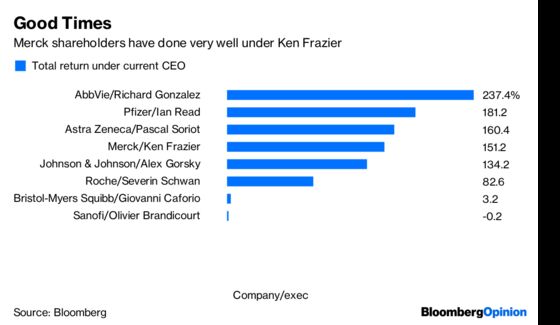 Keytruda was acquired via Merck's $47 billion purchase of Schering-Plough Corp. in 2009, when Frazier was still president of Merck's human health division. It was an obscure pipeline asset, not the focus of that deal. But much of the investment and many of the decisions that have turned Keytruda into a powerhouse were made during Frazier's tenure as CEO.
Bristol-Myers Squibb & Co's competing Opdivo was the initial class leader, but an overly aggressive approach led it to flub trials. A more cautious approach from Merck created a formidable lead in treating lung-cancer patients — the biggest group available to these medicines. The drug is now expected to approach a market-leading $11 billion in sales in 2020.
Merck has certainly made the most of Keytruda, and that could be a product of Frazier's decision-making and trust in his scientific leadership. It could also be a product of chance and competitor error. The question is whether Merck's more recent bets will pay off in the same way. 
Merck's earnings growth is expected to be relatively muted as many of the company's older medicines face competition and the company's heavy Keytruda-focused research spending weighs on profitability. The company is thin on growing medicines and promising pipeline projects beyond its core cancer franchise. This isn't an accident — Merck has aggressively doubled down on what's been working.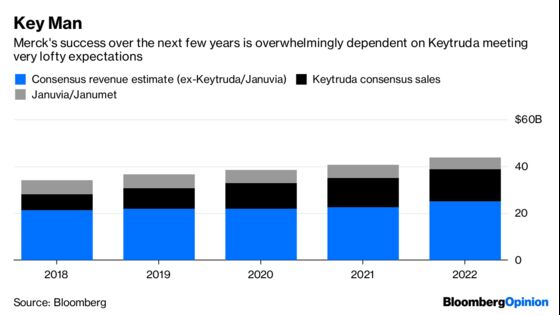 Keytruda's ability to overtake Opdivo and ascendance under Frazier is a reminder that competitive drug markets can be upended at any time. There are four other approved immune-boosting cancer drugs gunning for Keytruda's throne. A fifth is likely to hit the market later this year, and more are coming behind that. 
There's a likely time limit on Merck's dominance in any particular area as competitors fight for market share and create pricing pressure. Efforts to combine Keytruda and similar drugs with other novel medicines have seen limited success so far. But with hundreds of trials in progress, a disruptive breakthrough that erodes Merck's dominance is a real possibility. Many of those trials are sponsored by Merck, but there's no guarantee that it has picked the right ones. 
The rewards of going all-in on Keytruda have convinced Merck to go all-in on Ken Frazier. But the next few years will require him to prove he's more than a one-trick CEO. 
This column does not necessarily reflect the opinion of the editorial board or Bloomberg LP and its owners.
Max Nisen is a Bloomberg Opinion columnist covering biotech, pharma and health care. He previously wrote about management and corporate strategy for Quartz and Business Insider.