Medicare Needs to Cover Dental, Hearing and Vision Care
(Bloomberg Opinion) -- Medicare is a safety net with a conspicuous hole: It neglects to cover most dental, hearing and vision treatment, including preventive care. Democrats in Congress are right to try to finally fix this problem, via their proposed $3.5 trillion budget.
Because standard Medicare rarely pays for dental care and reimburses nothing at all for hearing and vision exams, eyeglasses or hearing aids, many Americans over 65 enroll in Medicare Advantage plans, administered by private insurers, that cover these services. Others buy supplemental insurance or rely on Medicaid to pay for dental, hearing and vision care. But even these strategies can leave beneficiaries paying almost as much out-of-pocket as people with no supplemental coverage.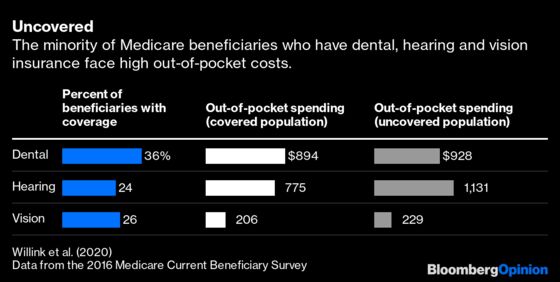 Yet about 39% of adults over 65 have trouble seeing even with glasses, and half report hearing problems. Fourteen percent have untreated cavities, and 68% have gum disease.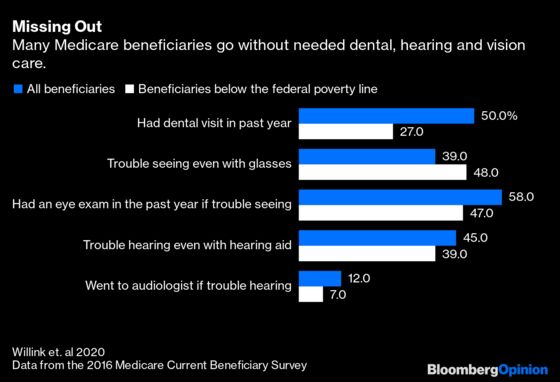 Going without care often leads to more health problems. Poor oral health, for example, can make eating difficult and is associated with diabetes and cardiovascular disease. Vision-related falls mean broken bones and restricted mobility. Hearing loss can bring depression, isolation and cognitive decline. These are problems that good health coverage should aim to avoid.
The only reason Medicare does not is that dental, hearing and vision treatment was not as expensive in 1965, when the program was created, as it is now. (Nor was this care as effective back then.) The need for coverage is also much greater today, and stands to become even more so, as people live longer.
Lack of coverage exacerbates health inequities in the U.S. National data show that Black and Hispanic Medicare beneficiaries have relatively more dental problems than White beneficiaries have, but are less likely to regularly visit a dentist.
Granted, this coverage is expensive. Adding it to Medicare's Part B outpatient benefit would cost $358 billion over 10 years, according to a Congressional Budget Office analysis. Some progressives want to spend more for more generous coverage, but even a modest expansion would be a significant improvement. 
It would also be popular; nine in 10 Americans say they like the idea, according to a Kaiser Family Foundation poll. Even seniors who are now signed onto Medicare Advantage plans with dental, hearing and vision coverage would benefit, because their private insurers would need to match or exceed the coverage Medicare provides.
This is not the only way in which Democrats would like to expand Medicare, of course. Many of them — including President Joe Biden, when he was running for office — have expressed support for lowering the Medicare eligibility age to 60. That's a worthy idea, too, because it would expand affordable health insurance and help control the cost of care. But it would be a more profound change, and would face stiff opposition from hospitals, doctors and other care providers. Adding dental, hearing and vision coverage will be much easier to accomplish.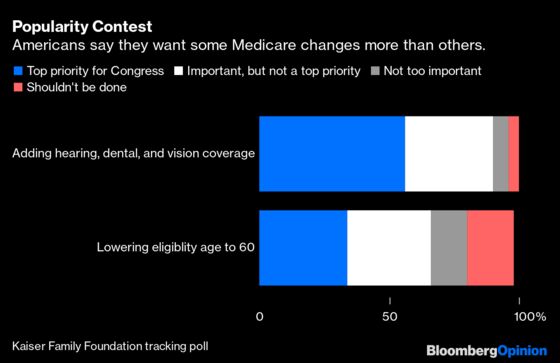 Congressional leaders, with White House support, should take this opportunity to update Medicare and meaningfully strengthen the senior health-care safety net.
This column does not necessarily reflect the opinion of the editorial board or Bloomberg LP and its owners.
Max Nisen is a Bloomberg Opinion columnist covering biotech, pharma and health care. He previously wrote about management and corporate strategy for Quartz and Business Insider.