Mass Evictions Are a Crisis the U.S. Knows How to Avoid
(Bloomberg Opinion) -- An "unprecedented" wave of evictions is expected to arrive soon as federal constraints on landlords expire. This isn't the first time over the past 18 months that the country has been warned of a big eviction spike. But it's never actually happened so far because, as it turns out, the government knows how to prevent huge numbers of people from being kicked out of their homes.
Exactly one year ago, in late July 2020, warnings of an impending eviction crisis were commonplace. News outlets released maps showing just how many renters were under threat of eviction, with the numbers typically ranging from 30% to 50%. Phrases like "unparalleled magnitude" and "like nothing we've ever seen" were thrown around.
But just a month later, people were noting how this crisis hadn't arrived. In fact, evictions were down across American cities.
In December 2020, the warnings of a looming eviction crisis arose again.  And again, it didn't happen. If you look at data from Princeton University's Eviction Lab, you'll see that while more people are being kicked out of their homes than during the initial lockdown in the spring of 2020, very few states or cities have yet returned to their pre-pandemic levels of eviction.  
One reason the wave hasn't come is that the Center for Disease Control has continued to extend its moratorium on evictions. Though it's legally porous and subject to interpretation, the moratorium has doubtless helped. Now the moratorium is again scheduled to expire at the end of July, and the warnings of a crisis are back in full force.
But even if the CDC's policy does actually end this time, it's far from the only reason a tsunami of evictions hasn't materialized. Various state-level restrictions have been in place as well. And even more importantly, it's not clear how many people would be out on the street in the absence of government diktats anyway. Most Americans are still paying their rent: 96% had paid on time as of the end of June, according to the National Multifamily Housing Council's survey of professional apartment managers. That's about the same as in June 2019.
They're still able to pay their rent for two reasons — rebounding employment and federal assistance. Seven million Americans are still out of work compared with before the pandemic, but that's a far cry from the 22 million in April last year. The prime-age employment rate is still way down from its peak, but only to the level of 2015: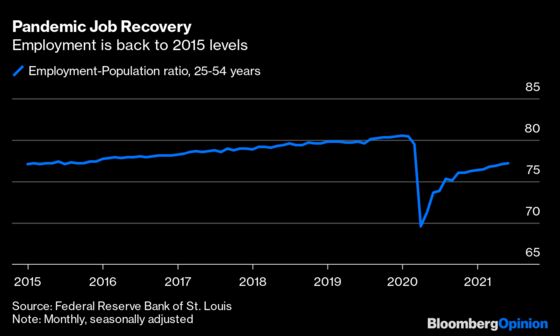 And on top of the economic rebound, there's been an enormous amount of federal pandemic assistance to households in the form of three huge relief bills. Real personal income never faltered throughout the crisis, and is still on its pre-pandemic trend: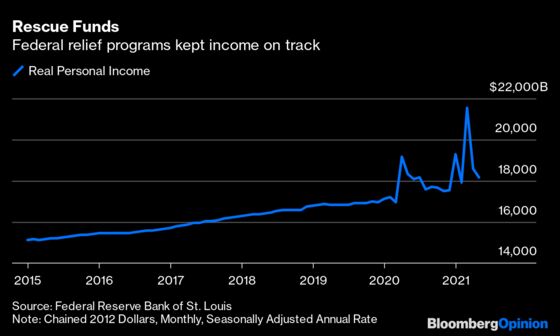 What's more, much of this income flowed into the hands of exactly the people who would have had trouble making rent otherwise. Special unemployment benefits were provided to people who lost jobs or income, while much of the housing assistance was aimed toward renters.
Of course, there are still some people who fall through the cracks — who lost their jobs but were unable to get relief money, or who are still unemployed now that benefits are running out. According to Census surveys, the percent of renters who owe back rent is falling, but still stands at 16%. Fortunately, many of these people are being helped by a patchwork of state systems — eviction moratoriums and relief money, the latter heavily subsidized by the federal government. California's innovative rent forgiveness program is perhaps the most ambitious of these, but there are many others.
In other words, while there might be a modest rise in evictions from the expiration of the CDC's moratorium, I wouldn't bet on the kind of catastrophic wave we keep getting warned about. But that definitely doesn't mean eviction isn't a problem worth worrying about — quite the opposite, in fact. It's precisely because the government was so terrified of a big eviction surge that they put in place all the policies that prevented the surge from happening.
So why should this urgency disappear after the pandemic is over? Eviction was a growing national problem before the pandemic, exacerbated by rising rents and by laws making it easier to kick people out on the street. Research shows that losing their home in such an abrupt and catastrophic manner exacerbates the poverty of families who were already struggling.
The U.S. can therefore learn from its success in preventing evictions over the past year and a half. Stricter rules about when landlords can give tenants the boot, combined with emergency financial relief to households that suffer a temporary inability to pay rent, would extend housing security to many of the Americans who need it most.
This column does not necessarily reflect the opinion of the editorial board or Bloomberg LP and its owners.
Noah Smith is a Bloomberg Opinion columnist. He was an assistant professor of finance at Stony Brook University, and he blogs at Noahpinion.