Mario Draghi Masks the Longer-Term Danger for Italy
(Bloomberg Opinion) -- Mario Draghi has given Italy a stature in Europe unparalleled in recent times. But his immediate success in becoming a guarantor for Italy in the eyes of Brussels and international investors masks a longer-term peril: Italy's fractious national politics, and the rise of the country's far right.
The European Union summit in Porto this month underlined Draghi's achievement in putting Italy back at the bloc's center. With Germany's Angela Merkel absent, the former European Central Bank chief fielded media questions about international affairs — Biden, China and India — with Rome's domestic matters apparently under control for once. Investors appear to consider Italy's in safe hands, even though its borrowing costs are shifting upward in line with the global rise in sovereign bond yields: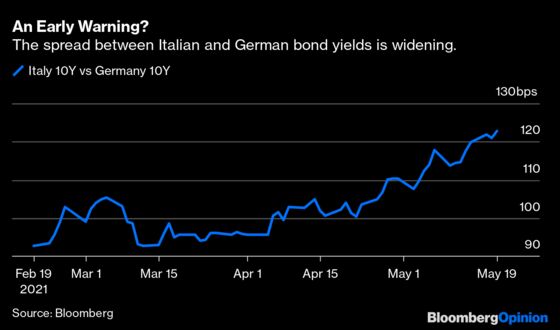 The spread between Italian and German benchmark bond yields is still much better than the 326 basis points in November 2018, when the markets recoiled at the former League-Five Star government, a nativist-populist coalition. It helps having friends in high finance. Draghi is an alum of Goldman Sachs Group Inc.'s management committee. Larry Fink of Blackrock Inc., the world's largest investment firm, describes the prime minister as "a friend."
Draghi's Italy looks more stable in other ways, too. Its vaccine rollout is underway finally. More than a third of Italians have received a first dose, so the country probably won't lose another summer of tourism. Another boost will come later this year when Italy should start to receive pandemic recovery funds from the EU equal to 0.5% of its gross domestic product.
Not content with leading the biggest spending spree in Italy since World War II, Jesuit-educated Draghi is also trying to inject some morality into the nation's sewage-filled politics. Having called on vaccine queue-jumping Italians to examine their consciences, he's waived his 115,000 euro ($141,000) prime ministerial salary to show solidarity with pandemic-hit Italians. He's also appointed women to head the secret services and the justice and interior ministries. It's very different from the "bunga bunga" days of Silvio Berlusconi.
In Brussels, Draghi has brought Italy back into the European mainstream after years on the fringes. At the same time, he's returned Italy to its postwar Atlanticist roots, reasserting U.S. ties and rolling back an Italian opening up to China. Last month Draghi blocked another attempted Chinese buyout of an Italian semiconductor business.
His good relationship with France's Emmanuel Macron is bearing fruit. The French president this month extradited 10 convicted Red Brigades members, ending a decades-old dispute with Italy. Moreover, Draghi's commitment to the European project looks set to become more crucial over the coming months, with Merkel due to retire and Macron facing a tough reelection fight against Marine Le Pen.
And yet, Draghi is not Italy. He's a technocrat without a popular mandate, albeit a charismatic one possessing unequalled experience. While the EU elite's decision to bestow on him the mantle of Italy's savior is understandable — given the country's capacity for blowing up the euro project — the clock of Italian politics is ticking.
Opinion polls indicate that if Italians were to vote in a general election today they would most likely bring in a far-right government. About 60% of votes would be more or less equally divided between the right-wing, anti-immigrant League, the far-right Brothers of Italy and the center-left Democrat Party. Crucially, polls suggest the League and Democrats have lost support while Giorgia Meloni's Brothers of Italy has gained. That's important because the League and Democrats are members of Draghi's coalition but the Brothers of Italy is not.
This heralds danger. Draghi's grand coalition must end in mid-2023 at the latest, if political squabbles don't end it sooner. Jitters in the League about being outflanked on the right by Meloni are the immediate threat. And recent history has shown that wobbles in market sentiment about Italy can turn brutal rapidly. There's no great appetite in Italy for quitting the EU. But the nation's enormous debt is a risk to the euro zone's financial stability if investors doubt the sagacity of Italy's leaders. 
Draghi's supporters consider the solution is for him to transition from the prime minister's office at Palazzo Chigi to the Quirinal Palace across town in Rome and become Italy's next president. In the past 10 years, this post has morphed from being a ceremonial role to that of kingmaker as Italy's fractured, angry politics failed to provide stable governments.
Delivering Draghi to the presidency, in this telling, would let Italy's guarantor stay above the political fray (the way he prefers it) but remain a stabilizing presence in Italian politics for another five years, perhaps even a decade.
It's a pretty story likely to calm markets. But the obstacles are significant. First, the move would be unprecedented. Second, Italy's presidency is up for grabs in 2022, and Draghi's government theoretically runs until 2023. He probably needs that time to get Italy's reform program underway. Still, the longer Draghi remains prime minister the more he risks losing the broad political support he'd need to get to the presidency. Divisive issues such as immigration, the upcoming appointment of bosses at state-owned companies, and a decision about the sale of state-owned bank Monte dei Paschi di Siena could each trip him up.
Draghi has given Italy and its establishment a breather, a chance to up its game. But the domestic political arena can't be avoided forever. 
This column does not necessarily reflect the opinion of the editorial board or Bloomberg LP and its owners.
Rachel Sanderson was Milan correspondent for the Financial Times from 2010 to 2020. She has also written about Italy for the Economist and reported for Reuters and Reuters TV from Rome, Paris and London.