For a Brief Moment, Everybody Wins in Retail
(Bloomberg Opinion) -- A torrent of consumer spending took place in March as stimulus checks and loosening pandemic restrictions encouraged shoppers to open their wallets. The Commerce Department said Thursday that retail sales advanced 9.8% in March from February, a blistering pace of growth that easily exceeded analysts' expectations. The gains were broad-based, with virtually every category recording growth from the previous month.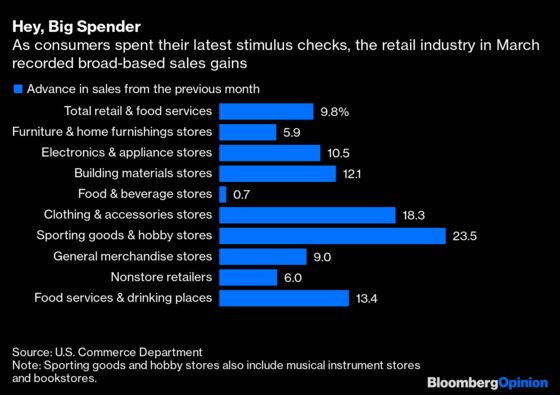 What's happening? Call it  a "cross-fade effect": the stay-at-home spending habits that took hold last year have not fully subsided even as reopening-related buying is starting to taking off. 
At apparel stores, for example, sales were up 18.3% from February and a whopping 101% from a year earlier, when many brick-and-mortar shops were shuttered for part of the month. With vaccine distribution ramping up, shoppers are starting to buy clothes again for the social occasions and vacations that no longer seem like a distant fantasy. Several major retailers have noted an outpouring of pent-up demand, including the corporate parent of Victoria's Secret, which recently bumped up its quarterly earnings guidance. Urban Outfitters Inc. said Monday that so far in its first quarter, comparable sales have not only improved from pandemic-ravaged levels a year ago but are up "high single-digits" from the same period two years ago.    
Sales at supermarkets and other food stores increased 0.7% in March from February, while general merchandise outposts reported a 9% jump. This likely reflects the fact that, despite consumers' increasing willingness to travel and socialize, they're still spending a lot of time at home. Online learning and teleworking continue to be commonplace and business travel remains moribund, conditions that are keeping people at home for meals and other activities. 
Some retailers are in a sweet spot where they can thrive no matter what the pace or trajectory of a return to normal. Sellers of building materials, for example, recorded a robust 12.1% monthly advance in sales in March. Even after a gangbusters 2020, I don't expect the likes of Home Depot Inc. or Lowe's Cos. to struggle to attract customers anytime soon. Contractors have enormous backlogs for projects people dreamed up during the pandemic, and the fresh desire to entertain at home — rather than just hunker down there with immediate family — will keep people investing in patio buildouts and basement refinishing jobs.
In another corner of retail, Dick's Sporting Goods Inc. had a monster 2020 as people loaded up on outdoor-related gear such as camping equipment and golf clubs when open-air activities were among the few options for safe leisure pursuits. Now it's poised to benefit from a resurgence of team sports as schools reopen and parents suddenly discover year-old cleats and baseball pants don't fit. 
There are plenty of things that could create obstacles for retailers over the next several months. A global shortage of shipping containers and congestion at U.S. ports could leave them with empty shelves and late-arriving seasonal inventory that ends up having to be sold at a discount. When stimulus checks are spent, it will be more difficult to compete for consumers' dollars, especially as they increasingly feel safe diverting their budgets toward travel, sports tickets and other experiences they missed out on in 2020. Those that have not extensively invested in their e-commerce operations will lose out to their rivals who have.   
But a firehose-spray of spending is going to be aimed at the retail industry this spring and summer, making for a brief moment where, across the consumer sector, almost everybody wins. 
This column does not necessarily reflect the opinion of the editorial board or Bloomberg LP and its owners.
Sarah Halzack is a Bloomberg Opinion columnist covering the consumer and retail industries. She was previously a national retail reporter for the Washington Post.