How to Make Billions From Supply-Chain Bottlenecks
(Bloomberg Opinion) -- Supply chains have rarely been under greater strain, but that upheaval is helping generate massive profits for shipping and postal companies. This week two European logistics giants — AP Moller-Maersk A/S and Deutsche Post AG (owner of courier DHL) — delivered record earnings, just as U.S. delivery giant United Parcel Service Inc. did the week before.
On the face of it, logistics groups are benefiting from their customers' woes during the pandemic: Consumers have been housebound and, as economies reopen, depleted businesses are rushing to restock. North American imports from the Far East jumped 40% in the first quarter, Maersk noted.
High demand for freight capacity has squeezed supply, meaning shippers and air carriers can charge more. But these companies spent years investing in globe-spanning networks and better technology. They've proved indispensable during lockdown and they're reaping the rewards.
Maersk now plans to buy back $5 billion of stock (about 10% of its market capitalization) in the next two years. After quarterly net profit quadrupled compared to a year ago, Deutsche Post predicts it will generate 9 billion euros ($10.8 billion) of free cash flow in the next three years. The two companies' shares surged to fresh highs this week.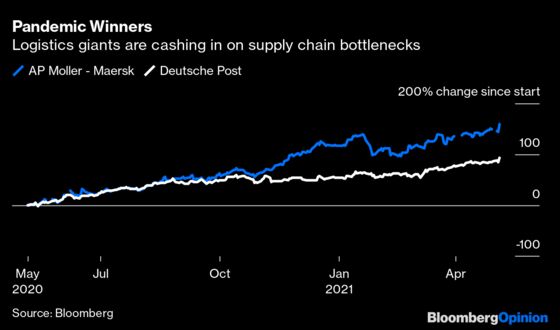 Other Covid factors are supporting the logistics industry. Ports are jammed and delivery companies have imposed surcharges to offset higher pandemic-related costs. The almost week-long blockage of the Suez Canal and India's Covid surge have exacerbated availability and pricing issues. Freight rates out of China have more than doubled over the past year.
It's hard for these companies to lose in such an environment. Congested ports help Maersk's shipping terminals make fatter profits selling storage space. Desperate to secure capacity, customers are also signing longer-term shipping contracts. Meanwhile, tight freight-forwarding markets have forced Deutsche Post customers to send packages by more expensive express delivery. The company's express unit achieved an impressive 17.5% operating profit margin in the January to March period. Deutsche Post boss Frank Appel admits his company is in a "sweet spot."
Some of these tailwinds will ease eventually, although it's hard to say when precisely. Once vaccinated, consumers will spend less on stuff and more on holidays and restaurant meals. Corporate inventories will be replenished, there will be more freight capacity in the bellies of passenger aircraft and port congestion will ease. The roughly $14 billion of Ebitda Maersk expects this year will probably mark the peak.
Fat profits also tend to encourage competition, which wouldn't be a bad thing: Express delivery and container shipping suppliers have consolidated via mergers and alliances, helping to cement their pricing powers. Higher freight rates have spurred rivals and industry entrants to place big ship orders, albeit from a low level. In the delivery world, Amazon.com Inc. wants to deliver more of its own packages.
Even so, the shift to e-commerce looks permanent and the incumbents' cash flows are funding investments that will entrench their dominance. Deutsche Post hiked its capital spending budget to 11 billion euros for the next three years. Maersk is promising to buy lots more shipping containers to ease the supply shortage, which should please harried customers.
Large boxes or small, the companies that transport them are big winners from this pandemic. "We didn't just get lucky," says Maersk boss Soren Skou. He may have a point.
As measured by the China Composite Freight Index (CCFI)
This column does not necessarily reflect the opinion of the editorial board or Bloomberg LP and its owners.
Chris Bryant is a Bloomberg Opinion columnist covering industrial companies. He previously worked for the Financial Times.