Amundi's Dealmaking Puts Deutsche Bank to Shame
(Bloomberg Opinion) -- Is Europe's long-awaited consolidation in asset management about to be unleashed?  Amundi SA won the bidding to buy Societe Generale SA's Lyxor unit, putting Europe's largest fund manager even further ahead of its peers. That should light a fire under Deutsche Bank AG's investment arm, DWS Group GmbH, to find a transformational deal that will propel it up the global asset management league tables.
Amundi is paying 825 million euros ($980 million) in cash to add Lyxor's 124 billion euros of assets to its 1.7 trillion euros. The key prize is Lyxor's 7.8% share of Europe's exchange-traded fund market. Combining that with Amundi's 6.2% will vault the French firm into second place behind BlackRock Inc., leapfrogging DWS.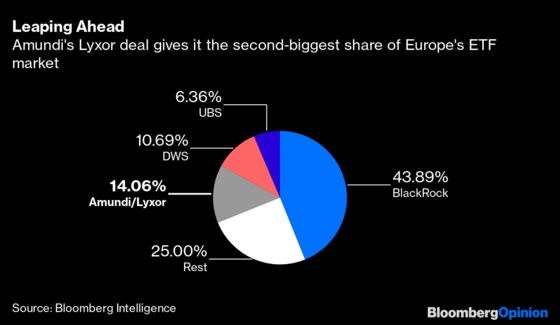 The deal means Yves Perrier, Amundi's acquisitive outgoing chief executive officer, will leave on a high. His successor, Valerie Baudson, has been with the firm since its inception. She built Amundi's ETF business from scratch, giving her the perfect background to integrate Lyxor's product range. The pop in Amundi's share price in early trading suggests investors are confident the deal makes sense and the combination can be achieved smoothly.
Europe's ETF market grew by more than a fifth last year to reach almost $1.2 trillion, according to data compiled by researcher ETFGI. It's become a key battleground for asset managers as their customers move more cash into low-cost index trackers.
DWS can't afford to get left behind. More than half of the net inflows of 30 billion euros that the German firm attracted last year went into its passive products, and more than a fifth of the money it oversees is in index-tracking funds. Slipping down the European rankings will rankle.
It's been three years since Deutsche Bank sold a fifth of its stake in DWS, vowing to grow the business into a top 10 asset manager. With assets of 793 billion euros at the end of last year, it ranks about 17th in the world. Organic growth alone won't deliver on that ambition.
My Bloomberg News colleagues Steven Arons and Jan-Henrik Förster reported last week that Deutsche Bank will allow DWS CEO Asoka Woehrmann to seek a major acquisition, freeing him to sell new shares to fund a transaction.
Talks about merging with UBS AG's fund management unit two years ago foundered on who would have majority control; those negotiations could resume. And given the current travails at Credit Suisse Group AG, the recently floated notion that its asset management arm — now led by Ulrich Koerner, who was previously at the helm of the UBS division — could become available for sale looks increasingly likely to come true.
Asset management mergers are hard to pull off, as evidenced by the struggles of Standard Life Aberdeen Plc and Janus Henderson Group Plc to integrate their expanded businesses in recent years. But they're not impossible, as Amundi has demonstrated and looks set to prove again. DWS needs to take a leaf from its French rival's playbook, or risk falling even further behind.
This column does not necessarily reflect the opinion of the editorial board or Bloomberg LP and its owners.
Mark Gilbert is a Bloomberg Opinion columnist covering asset management. He previously was the London bureau chief for Bloomberg News. He is also the author of "Complicit: How Greed and Collusion Made the Credit Crisis Unstoppable."