Louis Vuitton and Gucci Are Gobbling Up Our Covid Savings
(Bloomberg Opinion) -- Queues to get into Louis Vuitton stores have been snaking around the block. Waiting lists for brightly colored Rolex watches are long. Gucci sandals and Prada bucket hats are among this season's most wanted items.
Wherever you look, shoppers can't seem to get enough luxury fashion goods.
But swapping vacations for Versace may not continue at its current pace. That should be a worry for the big bling groups that are now trading at near-record valuations.
Two weeks ago Cie Financiere Richemont SA and Burberry Group Plc reported roughly doubling sales from their fiscal first quarter. On Monday it was time for LVMH Moet Hennessy Louis Vuitton SE, the world's biggest luxury goods group, to shine. Its fashion and leather goods sales, excluding mergers and acquisitions and currency movements, rose by 122% in the second quarter, compared with the year earlier, ahead of analysts' expectations. The group's first-half operating profit was almost five times higher than in 2020, and 44% ahead of  2019.
All three companies saw sales outstrip those of 2019 — quite a feat given the disruption they faced last year as stores closed and international travel ground to a halt.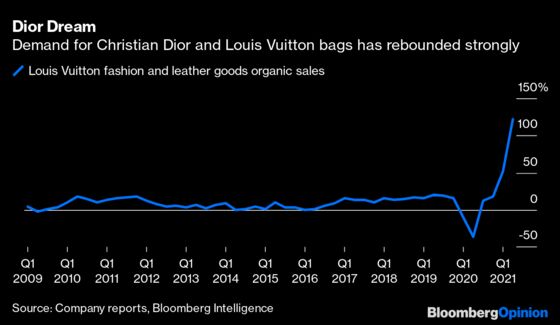 And yet, from inflation to competition, the luxury groups have reason to be cautious about the months ahead.
Many purchases of high-end goods over the last year were fueled by shoppers having little else to spend on. As economies continue to open up, there will be more competition from the hospitality sectors. LVMH said on Monday that it was seeing no signs of this so far: Luxury demand remained strong in the U.S., while Chinese consumers haven't lost their appetite for top-end goods amid the region's reopening.
Still, any changes are worth watching. Although the very wealthy will be able to afford both travel and trinkets, that won't be the case for others, especially those consumers newer to the luxury sector, who may have funneled lockdown savings into a steel Rolex or a Dior bag.
Meanwhile, higher prices for goods and services around the world may leave people with less cash for indulging.
Of course, a pick-up in travel and tourism would help the high-end fashion industry. Before the pandemic, tourism accounted for 50% of luxury sales in Europe. But trips continue to be disrupted with confusing rules and restrictions. LVMH said its duty-free and hotel operations remained held back by the limited return of international travel.
It's also important to put these recent luxury earnings in perspective. A big reason why second-quarter trading showed such a dramatic upswing is because it's being compared with the period from a year earlier — right when the pandemic was shutting everything down. Comparisons will become more demanding from here.
LVMH in particular enjoyed better-than-expected trading in its fashion and leather goods division in the second half of 2020. So the real test will be how the rest of 2021 stacks up. Hopefully it will get some extra sparkle from Tiffany, which became part of the group at the start of the year, while its scale and diversification should help too.
In the coming quarters, Kering SA may have an advantage over the other groups, at least optically. Its Gucci brand, which accounts for about 60% of overall sales, has had a difficult couple of years. In 2019, its U.S. sales were hurt by a sweater seen as resembling offensive blackface imagery. When the pandemic hit, its ostentatious designs (think garish prints and bold logos) looked out of touch with the more somber mood of consumers. Since then, Kering has also cut back on selling Gucci through third-party retailers and websites — a move that benefits the brand long-term, but comes with short-term costs.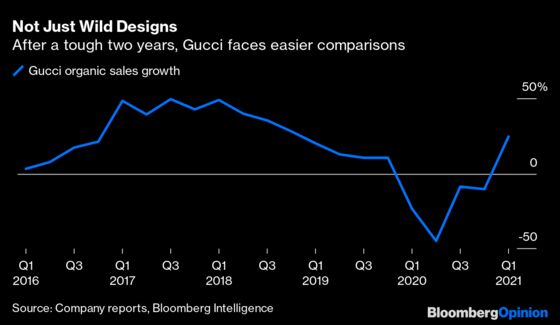 Consequently, Gucci's upcoming performance comparisons should be easier than those of LVMH. What's more, Kering has a string of activities planned to mark Gucci's 100-year anniversary. A major film on the brand will also be released this autumn, which will likely raise its profile.
Even so, Kering can't escape the pressure that comes with a sector boasting near-record valuations.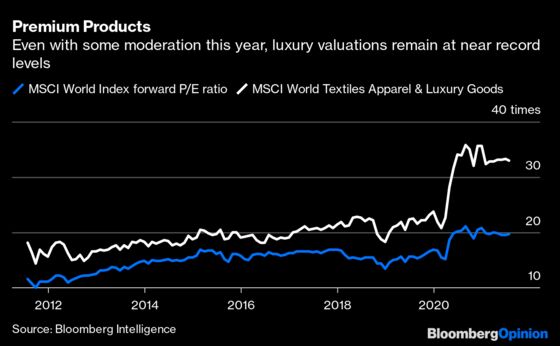 LVMH's stellar performance has reassured for now. The shares rose as much as 1.6% as stock indexes fell across Europe.
But for the rest of the companies reporting results this week — Kering on Tuesday and then Prada SpA and Hermes International on Thursday and Friday respectively — delivering anything less than spectacular could leave them looking so last season.
This column does not necessarily reflect the opinion of the editorial board or Bloomberg LP and its owners.
Andrea Felsted is a Bloomberg Opinion columnist covering the consumer and retail industries. She previously worked at the Financial Times.