Luckin May Put Lasting Stain on China Inc. Listings
(Bloomberg Opinion) -- Investors have been scalded by Luckin Coffee Inc.'s news this month that it inflated revenue numbers, a revelation that came less than a year after the chain went public on the Nasdaq exchange. Shares in the company — whose $645 million IPO was the second largest in the U.S. by a Chinese firm in the last 12 months — have swooned 74%. Suddenly, Chinese companies' opaque numbers are dinner-table conversation again, with the scandal sending other listings from the nation into a tailspin and threatening to close off the overseas market for new issuers. 
We have been here before. After short sellers such as Muddy Waters, which bet against Luckin,  spotted Toronto-listed Sino-Forest's overstated timber assets in 2011, Chinese listings in the U.S. evaporated. But they eventually came back  as tighter standards were put in place. By 2014, Chinese company IPOs in the U.S. hit an all-time high of $29 billion, buoyed by Alibaba Group Holding Ltd.'s record-breaking $25 billion deal — and reached its second-highest level in 2018 with $9 billion in listings, including that of Netflix-like video service iQiyi Inc. Should we expect a repeat of that comeback? Don't count on it. This time, a deeper freeze beckons for Chinese firms, one that will be hard to thaw even when the coronavirus outbreak opens up the U.S. IPO market again. Here's why.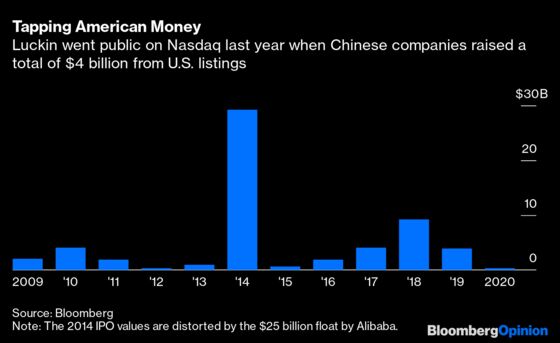 First, Chinese IPOs aren't the winning tickets they once were. China-based companies that listed in the U.S. this year are trading at 12% below their IPO price on average, while other new issues are down 7.5%, according to Bloomberg data earlier this week. That underperformance, which predated the Luckin scandal, makes it harder for investors to ignore the low accounting bar set on these listings in the U.S.
The U.S. Public Company Accounting Oversight Board, which was set up as a watchdog for audit firms in the wake of Enron Corp.'s collapse, can't access the books of Chinese companies because Beijing deems that data to involve sensitive state secrets. That hadn't been a problem for shareholders as long as they were being compensated for taking on the extra risk of accepting the lack of transparency. Now, though, investors will be less likely to take companies on faith. That's especially the case in light of Luckin's situation. 
Luckin's rapid expansion, which allowed the three-year old company to reach 4,500 outlets and overtake Starbucks Inc. —  a presence in the country since 1999 — had captured the imagination of not just retail investors in the U.S. but a slew of big names including Singapore's sovereign wealth fund, GIC Pte, and crop-trading giant Louis Dreyfus Co. Its inflated numbers are going to lead investors to question all unprofitable Chinese firms with unsustainable models.
Second, Chinese listing hopefuls have alternative funding routes now: In 2018, Hong Kong eased profitability requirements for new-economy listings, while Shanghai did so for candidates on its fledgling Star Market last year. Meanwhile, index provider MSCI Inc.'s inclusion last year of mainland Chinese shares in its emerging-markets index means domestically listed firms no longer have to go to Hong Kong or the U.S. to access American money.
By staying close to home, Chinese listing hopefuls also are shielded from both the class-action lawsuits Luckin now faces as well as the risk of getting caught in any trade war or other cross fire between Beijing and Washington, especially now with the virus outbreak escalating tensions. In November, New York-traded Alibaba began what many are expecting to be the start of a wave with a $11.3 billion secondary listing in Hong Kong.
Lastly, the gatekeepers of IPO due diligence — the big audit firms and the Wall Street banks and others — are under pressure like never before. Luckin's unreliable revenue numbers for the nine months to Sept. 30 last year include those presented to investors during the May IPO. Few will be assuaged by Ernst & Young's statement that it tipped off the board to the fraudulent numbers while auditing the coffee chain's 2019 figures. 
Banks, too, will be ramping up their due diligence as the reputational risk they incur from advising Chinese company listings comes into focus. Many of them face lawsuits, and underwriters will be keen to distance themselves from the Luckin fiasco.
Credit Suisse Group AG dropped off the $500 million-to-$1 billion IPO slated for later this year of WeDoctor — one of China's top online health-care startups, backed by Tencent Holdings Ltd. — after the Swiss bank was sued for its role on Luckin's U.S. share sale, Bloomberg News reported Monday. 
Investment banks that dole out loans in the hopes of winning more IPO business will also think twice. Six banks, including Goldman Sachs Group Inc. and Morgan Stanley, extended a $518 million margin loan to Luckin Chairman Lu Zhengyao and are now seizing and selling the stock after shares collapsed in the past week. The banks stand to lose more than $100 million from that loan, according to the Wall Street Journal.
Beijing is also taking notice. The China Securities Regulatory Commission has said it will  investigate Luckin "regardless of listing location," a rare move by the regulator, which tends to stick to its shores.
About 400 Chinese companies are listed in the U.S. with a total market value of $1 trillion, led by Alibaba, JD.com Inc. and Pinduoduo Inc. Luckin's fake sales could easily cause that number to shrink.
This column does not necessarily reflect the opinion of Bloomberg LP and its owners.
Nisha Gopalan is a Bloomberg Opinion columnist covering deals and banking. She previously worked for the Wall Street Journal and Dow Jones as an editor and a reporter.