Lucid Provides a Sobering Look Under the SPAC Hood
(Bloomberg Opinion) -- Lucid Motors Inc.'s plan to go public by merging with Michael Klein's special purpose acquisition company, Churchill Capital Corp. IV, was a poorly kept corporate secret. Bloomberg first reported on the talks about six weeks ago. And yet, the luxury electric-car start-up still delivered a few surprises when the $11.75 billion transaction was announced on Monday. Not all of them were pleasant.
Amateur investors have crowded into Klein's SPAC in the hope of backing the next Tesla Inc. They did so before knowing the terms of the proposed transaction or the state of Lucid's finances. Gambling doesn't always pay. Investors who bought the rumor are now selling on the news. CCIV shares fell 36% in pre-market trading on Tuesday, though that still implies a valuation of almost $60 billion for Lucid, higher than Ford Motor Co.'s.
So far Lucid has received a modest 7,500 reservations for its first model, an attractive and technologically advanced luxury sedan called the Lucid Air. It won't start production until the second half of this year, rather than the spring, as previously communicated.
But the thing that stood out in Lucid's financial disclosures was the level of projected cash burn: It expects to consume almost $10 billion of cash in four years. That far exceeds the $4.4 billion Lucid will receive from the SPAC and a concurrent PIPE financing — a type of equity funding open only to accredited investors. 
High cash burn is often a problem for new entrants to the automotive industry — just ask Tesla Inc. or NIO Inc. But some of the latest crop, such as Fisker Inc., have sought to cut their need for capital by outsourcing manufacturing and engineering.
Lucid is going the traditional route. It's built a small plant in Arizona, and faces a mounting bill to add factory capacity, develop technology and build a network of sales and service outlets. This may pay off in the long term, as it has for Tesla, but Lucid's near-term projected cash flows look like this: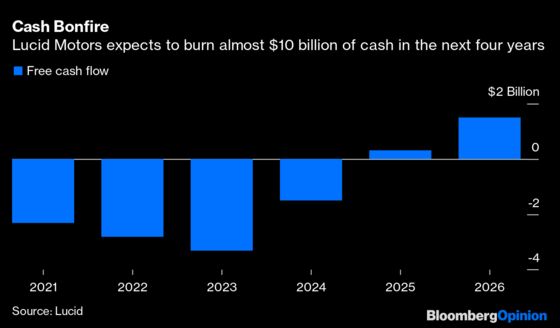 Right now its finances aren't in tip-top condition. Lucid's company statements include an "explanatory paragraph relating to Lucid's ability to continue as a going concern," the slide deck notes. It will need $600 million in bridge financing until the SPAC deal closes.
The big winner here is Lucid's principal shareholder, the Public Investment Fund of Saudi Arabia. The sovereign wealth find injected more than $1 billion into the carmaker in 2018, and it owns an 85% stake. Lucid's high valuation allows it to raise capital and list shares in New York without diluting the Saudis too much. Even after the deal closes, the PIF will still own 62% of Lucid, meaning it can influence decisions such as where it builds new factories.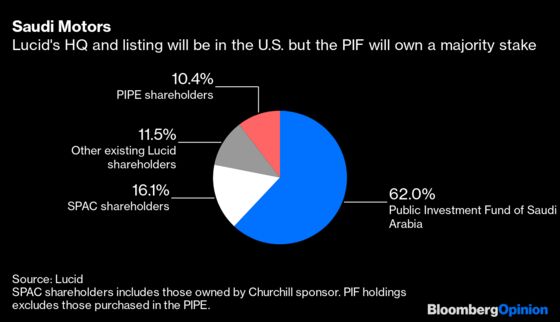 Institutional investors participating in the $2.5 billion PIPE transaction have also done very well here — on paper they've already more than doubled their money. However, their free lunch isn't quite as big as I'd anticipated. Instead of putting money in at $10 a share, as happens with most PIPE transactions, BlackRock Inc., Fidelity, Franklin Templeton and others will pay $15. They're also subject to a lock-up lasting at least six months. Even so, I doubt any of them is complaining.
And what of Michael Klein and Churchill? I described last week how the Lucid deal might turn out to be one of the most lucrative yet for a SPAC sponsor, thanks to tens of millions of founder shares and warrants Klein and his investment partners received. So it's good to see that the terms of those equity awards have been amended to better align them with Lucid's performance. 
A portion of Churchill's equity awards won't vest unless various share price targets are met and all are subject to an 18-month lock-up. It's right that Klein has to work for his money because the performance of some of his other SPACs has been mixed.
Shares in Multiplan Corp., another Klein transaction, have fallen 25% below the $10 price at which his Churchill Capital Corp III first sold shares. Multiplan was hit with a critical report from short seller Muddy Waters. 
The fact that a deal with Lucid was struck at all will be a relief for all those who took a punt that Churchill would be the one to take the electric-vehicle company public. Arbitrage hedge funds and others who bought CCIV shares at $10 have enjoyed huge gains. Doubtless some have taken profits already. 
It was imprudent, however, for retail investors to bid up the SPAC shares to as much as $60 before the deal terms were announced. Lucid has an experienced team of executives but for now it's operating in a small and increasingly competitive niche — luxury electric sedans.  It's bound to face manufacturing and other challenges, as Tesla did.
Most people wouldn't splash out on a car without viewing the vehicle and reading the full spec. Similarly, you shouldn't buy a stock until you know what's under the hood. Those who did were playing with fire.
The PIPE investment at $15 a share implies a $24 billion equity value for Lucid. The deal value I've provided here is based on the $10 a share SPAC deal.
Based on 1.6 billion pro forma shares outstanding.
There's also a large PIPE to fund the deal.
Lucid says an SUV will follow in 2023. It also plans to offer energy storage equipment.
This column does not necessarily reflect the opinion of the editorial board or Bloomberg LP and its owners.
Chris Bryant is a Bloomberg Opinion columnist covering industrial companies. He previously worked for the Financial Times.