Li Ka-shing Sprinkles Crumbs on a Sweet Deal
(Bloomberg Opinion) -- Li Ka-shing's CK Asset Holdings Ltd. is revising the terms of its $2.2 billion purchase of European infrastructure assets from the Hong Kong billionaire's charity, increasing the size of a related buyback offer. It's a tacit acknowledgment that the deal may struggle to win support from independent shareholders. The change looks to be only a marginal improvement in a transaction that delivers its most tangible benefits to the controlling family.
CK Asset, the group's property flagship, now proposes to buy back as many as 380 million shares, up from about 333 million, after completing the purchase of stakes in three U.K. utilities and a Dutch waste-to-energy company from Li Ka Shing Foundation Ltd. In an April 14 statement, the company said it was revising the deal "based on feedback received from shareholders." The larger buyback would be more financially accretive and enhance return on capital, CK Asset said.
Most of the objections to the original deal remain. The buyback is still tied to the purchase of the infrastructure assets. It is still subject to a price cap of HK$51. And the transaction still employs a convoluted structure that will enable the Li family to raise its stake in CK Asset by more than would normally be allowed without making a general offer for the company. In fact, the revised buyback will increase the Li stake by even more than originally envisaged, to about 45.6% instead of 45%, from about 36% pre-deal.
CK Asset had $7.7 billion of cash on its balance sheet and a very low net-debt-to-equity ratio of 6.9% at the end of last year, according to data compiled by Bloomberg. Yet rather than just paying cash for this related-party acquisition, CK Asset proposes to issue 333 million shares to its controlling shareholder to pay for the assets, and then to repurchase stock. In summary, this looks like an efficient and cost-effective means for the Li family to raise its stake in CK Asset at a relatively advantageous price. While the shares have rebounded by 34% from their pandemic low at the end of October, they are trading at about half book value, well below their five-year average of 0.68.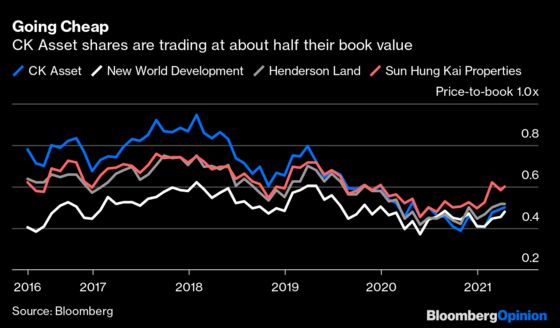 As for the assets being bought, the pricing looks reasonable, if hardly cheap, as we have observed. But is the deal really that compelling? CK Asset has described the acquisition as a "rare" opportunity to acquire interests in high-quality assets that provide stable recurrent revenue and growth potential. That's an odd choice of word. Given that the Li family controls both the buyer and the seller, the opportunity is as rare as the dominant shareholder decides to make it. It's hardly the product of fortuitous happenstance.
The hurdle of proof that any related-party deal has to overcome is: If this is such a good asset to own, then why is the seller selling it? And conversely: If this is such a good asset to sell, then why is the buyer buying it? There is an inherent conflict of interest. Naturally, Hong Kong, like other markets, has rules in place to protect the interests of minority shareholders: Independent financial advisers must scrutinize transactions and opine on their fairness and reasonableness; independent board committees must do the same. Yet there will always be an information asymmetry. Only the controlling shareholder knows the full motivations of both buyer and seller.
For this reason alone, minority investors are right to be cautious. Given CK Asset's overly conservative capital structure and depressed valuation, some would prefer to see a buyback program that isn't tied to a deal and without a price cap. The HK$51 limit may serve to put a ceiling on the stock price rather than act as a catalyst for gains — hardly what outside investors want to see. CK Asset shares rose 2.2% to HK$48.15 on Thursday after the company released its revised proposal, still below the cap. They traded at HK$75 as recently as 2018.
At the very least, this acquisition shows a poverty of ambition: Are there really no better investment opportunities available in the world than those already sitting in the Li family's private stable? It's for the controlling shareholder to convince other investors that this is the best use of their money.
This column does not necessarily reflect the opinion of the editorial board or Bloomberg LP and its owners.
Matthew Brooker is an editor with Bloomberg Opinion. He previously was a columnist, editor and bureau chief for Bloomberg News. Before joining Bloomberg, he worked for the South China Morning Post. He is a CFA charterholder.