The Bond Market Needs Just One Thing From Lagarde
(Bloomberg Opinion) -- Thursday's European Central Bank policy meeting was meant to be a snoozer. The important decisions on post-pandemic monetary stimulus aren't really expected until the quarterly review on Dec. 16. However, the recent sharp rise in short-end yields will probably compel ECB President Christine Lagarde to come up with dovish smooth-talk. It will take all her considerable political skills to calm down the freak-out over inflation, subdue the hawkish council members and convince bond markets she will stay the course on rates. 
The Bank of England can be blamed for making things uncomfortable for the ECB. Its sudden hawkish switch has dragged up money-market yields across Europe and the U.S. While the Fed can look after itself as it begins to reduce its quantitative easing purchases next month, the ECB is in a more precarious position.
Of all the major central banks, it needs to keep monetary stimulus  going on for a lot longer because of the fragility of Europe's economy. The euro area's QE bond-buying monster — the 1.85 trillion ($2.15 trillion) Pandemic Emergency Purchase Program — is due to expire in March, probably with a residual 100 billion euros left untapped. Markets are braced for a steady reduction of QE, but a safety net needs to be visible.
That would be the Asset Purchase Program — the main pre-pandemic vehicle for bond buying. It has only a quarter of the 80 billion-euro monthly buying power of the PEPP. While that can initially be enhanced to, say, 40 billion to 50 billion euros a month, the ECB must do more to assure markets that the flexibility of the PEPP will survive the handover.
It is also most important to amend the APP's limits so more than a third of any nation's debt can be held under the stimulus programs (PEPP allows 50%). Otherwise, it might hamper the ECB's ability to control the yield spreads between German bunds and those of peripheral nations. The lesson that euro area yields be kept low, but also not too far apart, was repeated early in 2020 when Lagarde opined "We are not here to close spreads" — which is exactly what they are there to do. The news media and the markets reacted negatively to that remark. The ECB could create a preventative "spread reduction" facility to act on market turmoil. It would be much simpler, however, to amend its existing tools.
Another item for the reform agenda: The EU on its own is now as big a bond issuer as Europe's big four: Germany, France, Italy and Spain. Clearly, the 10% ceiling on ECB purchases of its debt needs to be raised, again probably closer to the 50% cap on allowed in the PEPP. 
Pandemic support has to end eventually. And next year, overall net purchases by the ECB will probably be half of this year's 700 billion euros. The good news is that something like 350 billion euros of QE will pretty much cover the expected net new issuance from EU governments in 2022. So the heavy lifting from investors will be marginal. But these horses spook easily. And with the French presidential elections in the spring and a still-fragile recovery, there is not only a risk of a market tantrum but also of fewer ways to soothe it.

Which is why it is important that the governing council push back against elevated money market rates before repricing extends further along the yield curve. Italian three-year yields have jumped 13 basis points since mid-October, more than twice as much as the 10-year yield. But that might not remain the case if bickering between ECB hawks and doves leads to a fumble.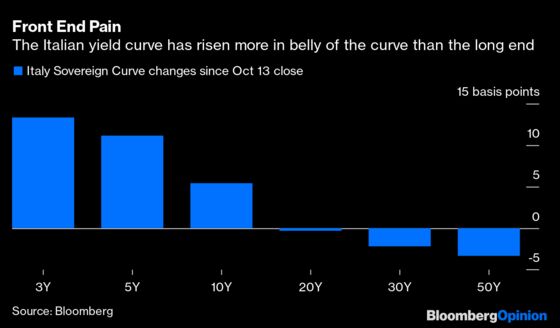 So, what happens on Thursday could be a critical moment for Lagarde. Her press conference performance will be scrutinized for any signs of dissent from the Governing Council hawks. It will be a key exercise in how she formulates forward guidance. The ECB forecasts inflation at 2.2% this year, falling to 1.7% next year and as low as 1.5% in 2023 — this might be optimistic with widespread logistical logjams across the continent and sharply raised energy prices. The ECB has to show the courage of its convictions on its still-subdued inflation outlook.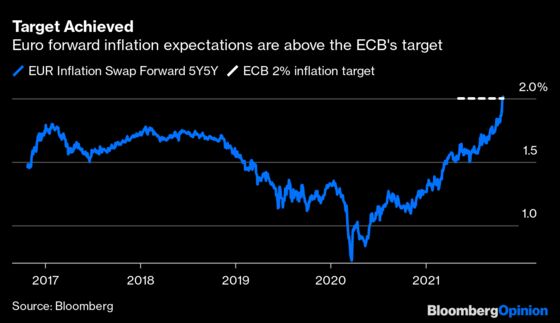 Bundesbank President Jens Weidmann, the ECB's superhawk, may have announced his retirement but he will still be voting in the next two ECB Governing Council deliberations. He is unlikely to suddenly go mute on his strong reservations on how big and for how long the monetary stimulus programs should continue. Reducing stimulus is always the hardest part and the ECB has very little experience at it. But some silky ministrations from Lagarde could present a unified ECB front and cement her position as the true heir to Mario Draghi.  
This column does not necessarily reflect the opinion of the editorial board or Bloomberg LP and its owners.
Marcus Ashworth is a Bloomberg Opinion columnist covering European markets. He spent three decades in the banking industry, most recently as chief markets strategist at Haitong Securities in London.