Warren Buffett Would Be Nuts Not to Love This Deal
(Bloomberg Opinion) -- It's a deal Warren Buffett would be nuts not to like: Debt-ridden packaged-food giant Kraft Heinz Co. is selling its Planters peanuts line to Hormel Foods Corp. for $3.35 billion in cash. 
Kraft Heinz, which counts Buffett's Berkshire Hathaway Inc. as its largest — and undoubtedly most frustrated — shareholder, remains saddled with $28 billion of debt nearly six years after the megamerger that formed the packaged-food giant with the billionaire's assistance. Kraft Heinz's shares have since fallen 50% as the company under-invested in its aging brands. In fact, the Planters sale arrives amid the two-year anniversary of Kraft Heinz's stunning $15 billion writedown that sparked a new strategy and brought in new leadership.
The increased value consumers are placing on snack foods can be seen in the price Hormel is paying for Planters. The deal works out to roughly three times the $1.1 billion of revenue that was generated last year by Planters and the other assets being sold along with it. That's not bad for a somewhat tired brand. Comparable deals in the food industry over the last decade have tended to fetch prices on par with annual revenue, while the more enviable premiums were reserved for the upstart, healthy-food brands that offered the fastest growth. On a profit basis, Hormel is paying 17 times 2019 Ebitda, according to Fitch Ratings, which said Thursday that it now has a positive outlook on Kraft Heinz's credit position. It sees Kraft Heinz's net-debt-to-Ebitda ratio falling to 3.5 after the Planters deal and an earlier sale of its natural cheeses division, down from about 4.5 times in 2019. 
Even though it may make sense for Hormel to consolidate power over the peanut-snacking space, for Kraft Heinz parting with Planters is hardly a nutty idea. The brand had been facing tougher competition from private-label products and losing market share in the process. "Planters is one of the brands most affected by private label in our portfolio," CEO Miguel Patricio said on a conference call with analysts Thursday. "To improve our portfolio, we must focus on areas where we see the greatest competitive advantage, the greatest potential and returns."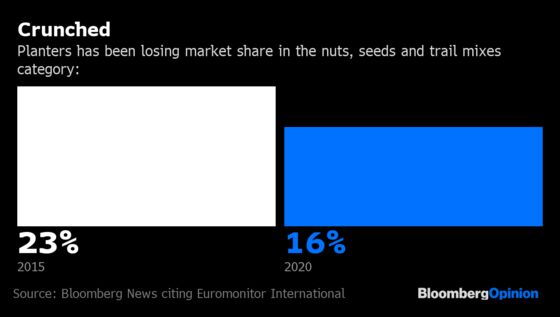 As the all-cash transaction helps Kraft Heinz pay down some debt and provide more resources to its most promising brands, perhaps that will get it back into investors' good graces. And Buffett certainly won't miss Planters — he's always been more of a candy person anyway.
This column does not necessarily reflect the opinion of the editorial board or Bloomberg LP and its owners.
Tara Lachapelle is a Bloomberg Opinion columnist covering the business of entertainment and telecommunications, as well as broader deals. She previously wrote an M&A column for Bloomberg News.