Kominers's Conundrums: Something to Play on Valentine's Day
(Bloomberg Opinion) -- Happy Valentine's Day! To help celebrate this heartwarming holiday, we've got a Conundrum composed by Eric Berlin, creator of the book and web site Puzzlesnacks. It's the perfect riddle to solve with your sweetheart, family or friends!
You'll see two columns of words below. Each word on the left can somehow be married to one of the words on the right. Then, you'll uncover a new word or phrase that matches one of the listed clues. (Each word will be in exactly one marriage.)
The precise way these marriages work is for you to figure out. But the rule is always the same — so once you find the way to the hearts of these words, you should be able to play matchmaker pretty quickly.
You'll also see some numbers in parentheses — one for each word in each column. Once you've figured out the marriages, those numbers indicate letters to pull out of the resulting words or phrases. Putting those letters together in order will spell out this week's answer, which is a Valentine's message that should be music to your ears.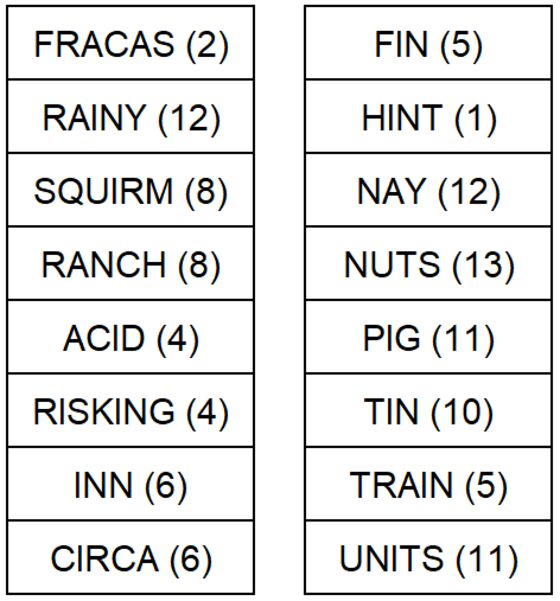 Ability to see the future
Hardly an extrovert (2 words)
How many medicines are administered
Lieutenant, captain, admiral, etc. (2 words)
Obsessive person's flaw (2 words)
Top of one's class
Watchmen is a notable one (2 words)
What Jeff Dunham is known for
If you succeed at playing word-Cupid — or if you even make partial progress — please let us know at skpuzzles@bloomberg.net before midnight New York time on Thursday, February 18.
If you get stuck, there'll be hints announced on Twitter and in Bloomberg Opinion Today. To be counted in the solver list, please include your name with your answer.
Previously in Kominers's Conundrums…
We investigated a group of darkness enthusiasts who were hoping to ensure Groundhog Day would be shadowy every year. We gave clues to the identity of each "shadowy figure," but the numbers of letters in their names often didn't quite seem to add up to the numbers suggested.
"Shire denizen who darkened after finding a ring in his pocket," for example, suggested BILBO BAGGINS, but his name has 12 letters in it rather than the indicated 13. Likewise "Italian philosopher-novelist who wrote of semiotics and the Apocalypse" suggested UMBERTO ECO, but we were looking for 13 letters again, rather than 10.
Heavy hinting in the Conundrum text and clue phrases themselves suggested that the names had been transformed to somehow make them darker ("part of each name seems to have been obscured … you might even say they've been overshadowed").
And indeed, careful inspection revealed that each name could be made into a shadow pun — for example, SHADOW BAGGINS and UMBERTO SHADOW matched the intended letter counts perfectly (both 13).
Thus solvers could fill in the clues as follows:
Shire denizen who darkened after finding a ring in his pocket (13) = SHADOW BAGGINS (BILBO)

European political philosopher known for making social contracts in unenlightened times (17) = JEAN-JACQUES SHADOW (ROUSSEAU)

Bosnian Nobel laureate who lived through dark times before bridging the Drina (12) = SHADOW ANDRIĆ (IVO)

Inventor friend of Scrooge and Donald who's often in need of a lightbulb (15) = SHADOW GEARLOOSE (GYRO)

Bloom County schoolteacher whose role was sunset  in the 1980s (11) = BOBBI SHADOW (HARLOW)

Massachusetts naturalist who walled himself in next to a pond so he could live in the dark (16) = HENRY DAVID SHADOW (THOREAU)

Italian philosopher-novelist who wrote of semiotics and the Apocalypse (13) = UMBERTO SHADOW (ECO)

Devilish child with a penchant for fruits who only trusts pirates in straw hats and one piece suits (11) = SHADOW ROBIN (NICO)

Heisman Trophy winner known for prayer and Jet setting before going over to the dark side (i.e., the Mets) (9) = TIM SHADOW (TEBOW)

Illusionist and escape artist whose stunts turned a bit grim when he first moved to Hollywood (13) = SHADOW HOUDINI (HARRY)

Nervous, savantish stand-up known for performing dark comedy in falsetto (13) = SHADOW PHILIPS (EMO)

MSNBC host who just recently sold her apartment in New York's setting sun village (12) = RACHEL SHADOW (MADDOW)

American cartoonist who chronicled mortal fools and murky politicians, then changed his name and later sold his father's puck (13) = SHADOW KEPPLER (UDO)

Spanish Cubist whose blues lasted for a multi-year period (13) = SHADOW PICASSO (PABLO)
To obtain the puzzle answer, solvers had to string together some of the characters' initials. But we hadn't specified which ones. The trick, of course, was to use the initials that were "uncovered" after replacing "SHADOW" with the proper first or last name, indicated in parentheses above. That spelled out "what we need to do in order to have hope of a shadow-free Groundhog Day in 2022." The answer: BRIGHTEN THEM UP.
Some solvers commented that this clue to a character from the anime series "One Piece" could equally well have pointed to Monkey D. Luffy – but of course his name would not have fit the shadow mechanic.
Thanks also to Zoe DeStories, Ross Rheingans-Yoo, and Adam Rosenfield for test-solving!
This column does not necessarily reflect the opinion of the editorial board or Bloomberg LP and its owners.
Scott Duke Kominers is the MBA Class of 1960 Associate Professor of Business Administration at Harvard Business School, and a faculty affiliate of the Harvard Department of Economics. Previously, he was a junior fellow at the Harvard Society of Fellows and the inaugural research scholar at the Becker Friedman Institute for Research in Economics at the University of Chicago.