Kominers's Conundrums: Meet Me in the Metaverse — If You Can
(Bloomberg Opinion) -- We think you'll find our latest Conundrum as enchanting as a peek inside a metaverse-transformed future.
Escape room extraordinaires Logan Giannini, Cassandra Many, and Victor van Doorn from Sherlocked have discovered a potential software backdoor that would let us access the subconscious of a crafty but grumpy artificial intelligence named Marvin — the villain of their virtual adventure games Marvin's Island and Marvin's Moonbase, the latter of which debuted just this week.
But we need your help to determine how accessing Marvin's subconscious works. Can you figure out what to do?
Connecting to Marvin's network revealed this puzzling captcha: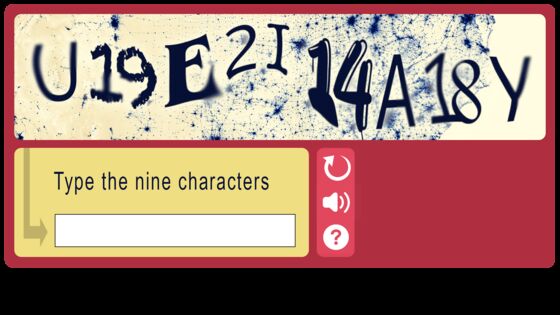 The captcha is apparently looking for nine characters, but unless we're miscounting, at first glance it looks like there are more than that in the box.
Meanwhile, the display screen pictured below seems equally cryptic. The digits showing are as follows:
But so far we're not at all sure what they mean. Plus while the screen refers to a password, it's not at all clear where to enter it. Can you take a closer look? You might need to study the problem from top to bottom — this is, after all, a puzzle column!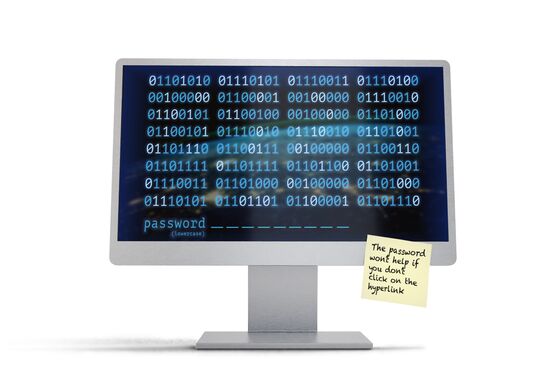 The Marvin games are run on an online platform developed by one of Sherlocked's neighbors in Amsterdam, Mibo, where players can interact with each other directly. There, you can experience truly collaborative puzzle-solving in a virtual world — a way for friends to have the escape room experience from anywhere, as well as for more corporate applications like virtual team-building.
And when you make it inside Marvin's subconscious, you'll learn a phrase that's been particularly on his mind. That's this week's answer, and it also doubles as a promotional code to get you a discounted entry to the Marvin's Moonbase game.
Like our previous escape room-style Conundrums, this puzzle opens up a world beyond just the descriptive text. You'll need to watch out for red herrings. And you'll definitely want to look around this page a bit to see if there are any bonus clues outside the main puzzle text. You're also welcome to search for helpful tools on the internet as you work your way to the solution. Plus if you time things right, you might even get to meet some of your fellow solvers at the end.
If you figure out how to 2001 this Space Odyssey — or if you make even partial progress — please let us know at skpuzzles@bloomberg.net before midnight New York time on Thursday, December 16.
If you get stuck, there'll be hints announced next edition, on Twitter, and in Bloomberg Opinion Today. To be counted in the solver list, please include your name with your answer. And don't forget to sign up for our Conundrums email list!
Programming note: The next Conundrums will run on December 12.
Our Previous Conundrum: There's Still Time to Solve!
You can still find the pot of gold at the end of our "looping letters" Conundrum, but to do that you have to figure out how to put the letters in order. The background and letter colors provide clues — can you sort and then sequence?

Previously in Kominers's Conundrums…
The first was a jack-o'-lantern rebus — three pumpkins carved with somewhat unusual iconography, that together spelled out a message.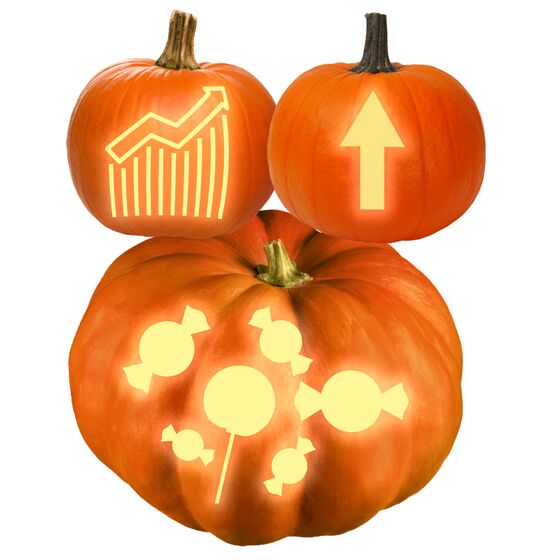 And what were the jack-o'-lanterns trying to tell us? The upper left looked like a stock chart, and the right was clearly an upwards-facing arrow. The large one at the base was flush with candy. Combining these images with their physical positions relative to each other led to the message STOCK UP ON CANDY — good advice for Halloween, to be sure.
Up next were seven ghosts, each one speaking a cryptic message. Each was labeled with a letter that needed to "disappear" from some other ghost's statement before the remaining letters could be unscrambled.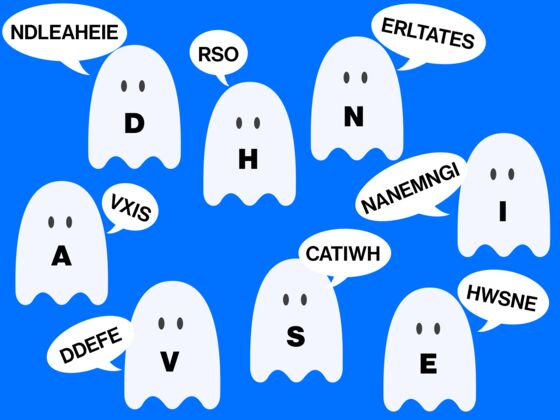 Sharp-eyed solvers may have noticed that the letters on the ghosts spelled out the word "VANISHED," and that implied an order — the "V" had to disappear from the "A" ghost's message, taking "VXIS" to "XIS"; the "A" disappeared from the "N" ghost's message, and so forth.
Dropping letters this way and then unscrambling yielded the riddle "SIX LETTERS MEANING WATCH OR NEWS HEADLINE FEED," with the answer "TICKER."
The last puzzle was a "monster mashup," where solvers had to fill in the missing Halloween-themed words in a series of song names. There were two clues for each, with the same missing word — and stringing together the indicated letters spelled out "TREAT."
___ In The Belfry (Dispatch) / Five Little ___ (The Kiboomers) = BATS
Boris the ___ (The Who) / The ___ and the Fly (The Rolling Stones) = SPIDER
Roll the ___ (Rush) / I Feel It in My ___ (The Killers) = BONES
Behind the ___ (Michael Jackson) / Drop the ___ (Diana Ross) = MASK
Season of the ___ (Donovan) / Which ___ (Florence + the Machine) = WITCH
Combining the answers from the three individual puzzles gave the full answer to the Conundrum, which was the Conjurer's favorite pun:
STOCK UP ON CANDY — TICKER TREAT!
This Bloomberg-appropriate answer of course also matched up with the confirmatory clue that the Conjurer wanted "equity in your confection-gathering operation."
Ross Rheingans-Yoo solved first, followed by Zoz, Lazar Ilic, Zarin Pathan, Ellen & William Kominers, Eric Wepsic, Nancy & Murray Stern, Sanandan Swaminathan, Sabine Chishty, Daniel Dantas, Tai Chien Hwa, Yannai Gonczarowski & Elee Shimshoni, and Dave Matuskey. Ariful Islam, Athang Jain, Christina Kahale, and five others solved an abridged version that was posted on Instagram. And we enjoyed hearing about your Halloween costumes, especially the deeply creative choice to dress up as a "suburban dad." And thanks especially to Zoe DeStories for test-solving!
Some of the digits on the screen are in a lighter color than others; we've indicated those here with underlines.
This column does not necessarily reflect the opinion of the editorial board or Bloomberg LP and its owners.
Scott Duke Kominers is the MBA Class of 1960 Associate Professor of Business Administration at Harvard Business School, and a faculty affiliate of the Harvard Department of Economics. Previously, he was a junior fellow at the Harvard Society of Fellows and the inaugural research scholar at the Becker Friedman Institute for Research in Economics at the University of Chicago.