Kominers's Conundrums: Looping Letters in a Narrative Arc
(Bloomberg Opinion) -- How's the weather? This week's Conundrum is perfect for a rainy day — or a sunny one, for that matter. We've encoded a message letter by letter, using a colorful cipher that looks absolutely breathtaking in the right light. It's up to you to spell out a message by creating order out of the alphabetical chaos. The puzzle ripples out from there: one more logical leap should lead you to a single word, which is this week's answer.

As you start solving this puzzle, you might want to take some notes on what you're seeing. And don't worry — the animation plays in a loop, so it's okay to oscillate back and forth between it and your notes in order to get everything down.
If you figure out how to get on our frequency — or if you even make partial progress — please let us know at skpuzzles@bloomberg.net before midnight New York time on Thursday, December 2.
If you get stuck, there'll be hints announced on Twitter and in Bloomberg Opinion Today. To be counted in the solver list, please include your name with your answer. And don't forget to sign up for our Conundrums email list!
Programming note: We're off next week, so the next Conundrums will run on November 19.
Last Week's Conundrum: There's Still Time to Solve!
Halloween is officially over, but our Conundrums spooktacular continues! If any of the images carved into the jack-o'-lanterns below look familiar to you, then you may be able to break the Conjurer's curse.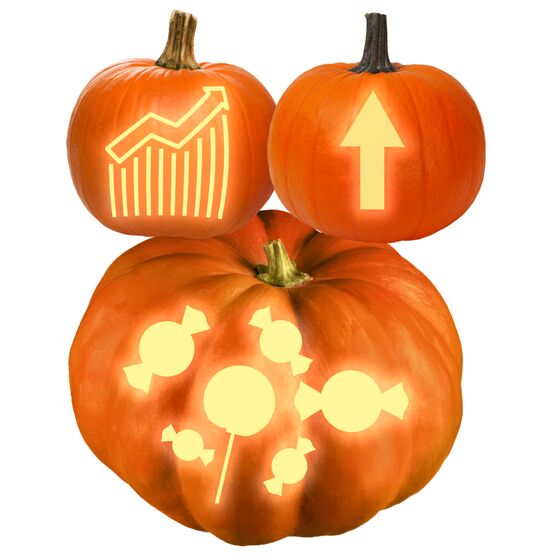 And if you're having trouble finding order in the ghosts' mysterious message, you might try looking more closely at the letters that vanished.
Previously in Kominers's Conundrums…
In collaboration with Don Laackman & Dan Zaharopol of BEAM — "Bridge to Enter Advanced Mathematics," we presented a multi-layered puzzle fusing logic and trivia. The puzzle started with a true/false section, but many of those questions relied on each other, or on questions in the subsequent trivia section.
Some of the trivia questions were initially underdetermined, in the sense that there were multiple possible correct answers, and you needed to solve some of the logic clues to figure out which answer was intended. But others could be solved at the outset:
3. A discontinued brand of car, marketed as "a new kind of car company." = SATURN

4. A metallic element that is liquid at room temperature and pressure. = MERCURY

5. During World War II, the crew of the British submarine the HMS Trident received an improbable gift from their Russian allies. This fully-grown animal lived on the submarine for six weeks. She slept under the captain's bunk and ate one of the submarine's navigation charts! What type of animal was it? = REINDEER

7. This Alfred Hitchcock movie was the first American film to show a toilet being flushed on screen. = PSYCHO
You could then start solving some of the true/false questions based on those trivia answers:
D. Every trivia answer contains the letter "E." = FALSE (multiple answers already found don't contain "E")

G. One of the trivia answers results in a common English word when you append "sis" to it. = TRUE (referencing PSYCHO)

H. One of the trivia answers is closely associated with Santa. = TRUE (referencing REINDEER)
From there, you could start applying logic. For example, it was possible to conclude immediately that:
M. Statement H is true. = TRUE (since we have already determined that H is true)
But the next deduction was more subtle. The trick was to look at statements B, J, and K:
B. There are more than four false statements in this section.

J. Statement K is false.

K. Either statements B and J are both true, or they are both false.
If statement J were true, then K would have to be false — and then given J being true, we would know that B is false. How's that helpful? Well consider what would happen if instead J were false — then K would be true, which would again imply that B is false. So although we can't yet determine the truth value of either J or K, we can conclude either way that:
B. There are more than four false statements in this section. = FALSE
So then we know that there at most four false statements. Moreover, B is one of them, D is another, and so is one of J or K because those two can't be true simultaneously.
That leaves at most one more potentially false statement. Now looking at statements N and O, we see that if N were false, then O would have to be false, and vice versa. Since at most one additional statement can be false, that means they must both be true:
N. Exactly one of statements E, G, and J is true. = TRUE

O. Statement N is true. = TRUE
Then since we already figured out that G is true, we can conclude that E and J must be false. With that, we've identified the maximum number of false statements — four of them, B, D, E, and J — and we know that all the other statements are true.
In particular, we learn that:
C. There are three single-word trivia answers which, when pronounced, sound like pairs of common English words put together. = TRUE

F. In one of the trivia answers, the only vowel is a "U." = TRUE

I. Exactly four trivia answers are the names of planets. = TRUE
That helps pin down more of the trivia answers. First, having already found SATURN and MERCURY as trivia answers, it's clear we have to find two more planets. That gives us:
2. Well-known company that makes chocolate and candy. = MARS

6. First name of a famous tennis star. = VENUS
We are then short one trivia answer that sounds like a pair of common English words put together, and a trivia answer with the only vowel being "U." Checking Netflix and the list of 2010s NBA championship winners leads to:
1. This team won at least one NBA championship in the 2010s. = SPURS

8. A Netflix/Marvel superhero show. = DAREDEVIL
To extract the final answer, we then had to look a new set of statements corresponding to the "true" statements in the true/false section:
A.  The Conundrum answer's third letter is "A."

G. The second-to-last letter in the Conundrum answer is the same as the third letter of trivia answer 1.

H. The Conundrum answer starts with a "B."

I. When you add a certain name to the end of the Conundrum answer, you obtain a well-known Science Fiction television catchphrase.

K. The Conundrum answer contains two "M"s and two "E"s.

M. The Conundrum answer contains exactly the same number of letters as trivia answer 5.

O. The last letter of the Conundrum answer is the same as the first letter of trivia answer 7.
These clues together indicated that the answer was eight letters long (the number of letters in "REINDEER") and could be combined with a certain name to give "a well-known Science Fiction television catchphrase." Moreover, the answer's first letter was "B"; its third letter was "A"; its second-to-last letter was "U" (from "SPURS"); its last letter was "P" (the first letter of "PSYCHO"); and the other four letters were two "M"s and two "E"s.
The given letters filled in "B _ A _ _ _ U P," and it didn't take too many leaps of logic from there to realize that the answer was BEAM ME UP!
Lazar Ilic solved first, followed by Zarin Pathan, Eric Wepsic, Paul Kominers, Luke Harney, Ross Rheingans-Yoo, Daniel Dantas, Sanandan Swaminathan, Patrick Warren, Robbie Stern, Tai Chien Hwa, Mason Arbery, and Zoz.
This puzzle format is based on a similar one Luke Crawford and I recently developed for SupDucks.
This column does not necessarily reflect the opinion of the editorial board or Bloomberg LP and its owners.
Scott Duke Kominers is the MBA Class of 1960 Associate Professor of Business Administration at Harvard Business School, and a faculty affiliate of the Harvard Department of Economics. Previously, he was a junior fellow at the Harvard Society of Fellows and the inaugural research scholar at the Becker Friedman Institute for Research in Economics at the University of Chicago.