Kominers's Conundrums: Free a Phoenix So It May Rise Again
(Bloomberg Opinion) -- Nothing quite brings puzzles to life like escape rooms. They create an alternate reality where a group of friends can walk into a place filled with clues that have to be solved before time runs out. And they've been popping up everywhere — as of early 2020, there were a couple thousand of them in the United States alone, representing twentyfold growth since 2014.
Then the pandemic hit, putting the burgeoning industry under threat. But like a Phoenix rising from the ashes, these games came back in new online and hybrid forms. There have been so many innovations, in fact, that a conference is convening to consider them: The Reality Escape Convention — or "RECON," for short. There'll be lectures and workshops on new puzzle designs and technologies, plus a healthy dose of live gameplay.
RECON's mascot is that Phoenix we mentioned — representing the "reignition" of the industry after a challenging year. But there's a problem: Before the mythical bird can show up at RECON, it has to rise from the ashes. And unfortunately, it's currently trapped in a jumble of puzzling clues.
Can you help us RECON-stitute the Phoenix? The grid below represents the Phoenix rising upwards from the ASHes, and the clues describe words and phrases that make up the Phoenix's form.
Three words or phrases ascend in each column. But there's a challenge: The entries in each column don't just stack one on top of each other — they overlap by some amount. So for example the words "EXAMPLE" and "PLEASE" might go into the grid as "EXAMPLEASE." And the amount of overlap isn't always the same — it could be anywhere between one and four letters.
The clues for each column are presented in order, which means that if you figure out one word, then the overlap will give you a few letters of the next or previous words. But it's up to you to figure out how much overlap the different pairs of words have.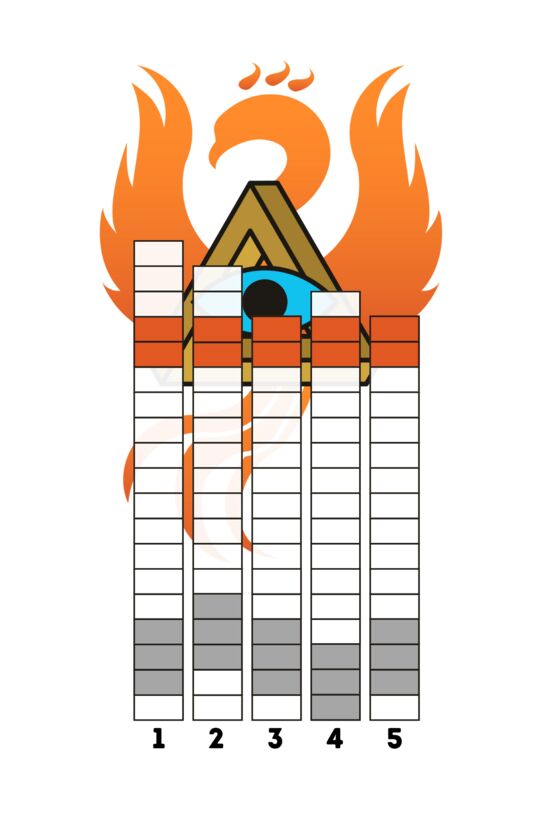 COLUMN 1

Place to buy drinks at a reception

Without shoes

2010 cop comedy starring Ferrell and Wahlberg, with "The"

COLUMN 2

"The" place by which she sells seashells

Japanese energy healing

1000 cycles per second

COLUMN 3

Alternate name for taro

Audience request after a symphony or at the end of a recital

Beethoven's third symphony

COLUMN 4

"Happy" R&B singer named for a Ghanaian empire

The liquid in a radiator

Before first and second

COLUMN 5

Expensive sweater or scarf material

Grey of "Grey's Anatomy"

Rose bush's defenses
Once you complete this puzzly resurrection, the highlighted squares at the top should spell out this week's answer, which is a message from the rising Phoenix.
But that's not all! REturning to the grid and REvisiting certain spots in each column will yield a bonus word that — when combined with the directional flow of the puzzle — describes how the Phoenix now feels.
If you manage to resolve this RECON-undrum — or if you even make partial progress — please let us know at skpuzzles@bloomberg.net before midnight New York time on Thursday, August 26.
And if you solve before RECON wraps up on August 23, you can mention your answer at check-in to gain access to an exclusive "Conundrums Club" on the RECON Discord server.
Programming note: We're off next weekend because of RECON, so the next Conundrums will run on August 29.
Previously in Kominers's Conundrums…
We sought to recover our lost NFT avatar hoard by matching up avatar images with their associated cryptic addresses. Each address came with a "public" key that identified the artwork, as well as the "private" key (in brackets) that we had hinted "should help with decryption."
Solvers quickly noticed that the public keys were comprised of sequences of numbers or letters that seemed to match up with the numbers of avatars in the different images. And indeed, each public key somehow referenced features of one of the avatar sets.
This meant there were two ways to go about discovering the matching: you could either try to extrapolate from the address to what might be being counted or indicated, or you could look for distinguishing features in the images and try to match them up with the addresses.
For example, one of the most noticeable features of the "RudeFruit" collection was the number of teeth visible on each avatar — and indeed, the tooth counts matched up with one of the addresses: "3 2 0 0 0 7" (reading from left to right and then top to bottom). From there, the next step was to look at the letters in the collection name indicated by the private key — in this case, "F" and "I" in positions 5 and 8.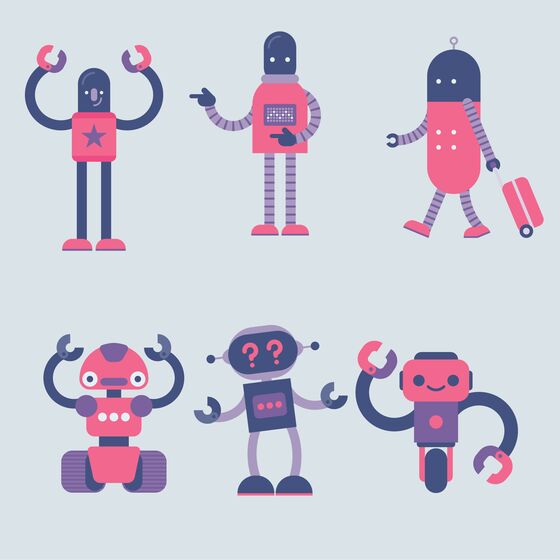 Many people expected "Trendy Safari" to match with one of the addresses that had only five elements, but it in fact went with the six-element address "Pa Re Pa Rh Ta Go [1, 2, 8]." The letter pairs indicated the names of the different animals pictured — "Panda" "Red Panda" "Rhinoceros" "Tarsier" and "Gorilla" — and the trick was to notice that "Red Panda" is two words long.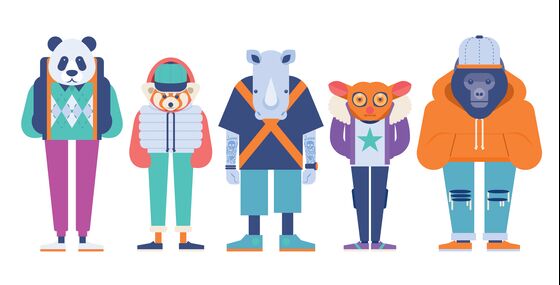 The "Cutesy Monstas" matched with "5 10 12 6 4 [1, 11]," which counted the monsters' legs or digits.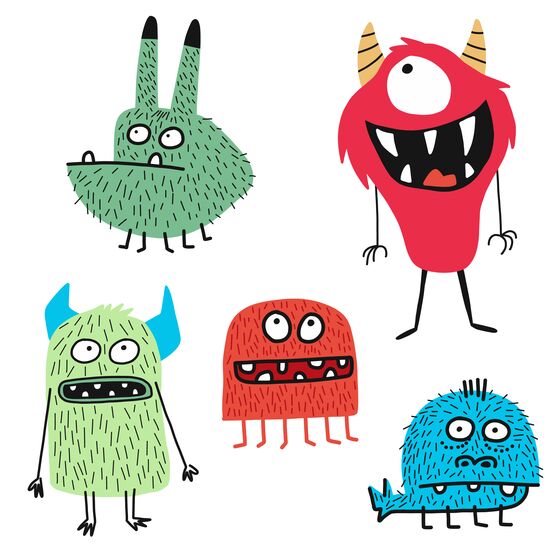 And as already mentioned, "3 2 0 0 0 7 [5, 8]" counted the teeth of our "RudeFruit."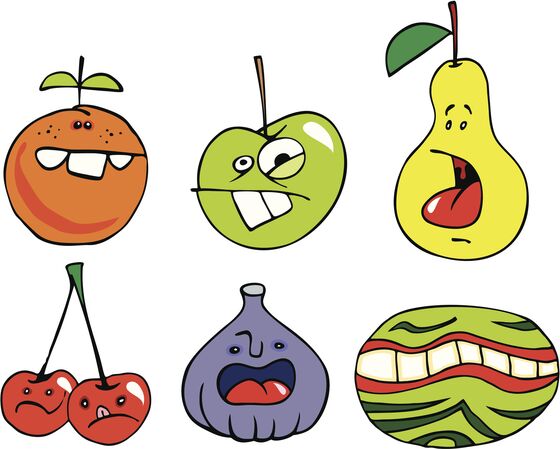 Finally, "LoveLoveDogz" corresponded to the other address made up of letters, "Bo G Or Bb P Y [3, 8]"; here, the letters indicated the dogs' primary colors with a capital letter and secondary colors with a lowercase letter. For example, "Bo" for the first dog described "Blue" and "orange."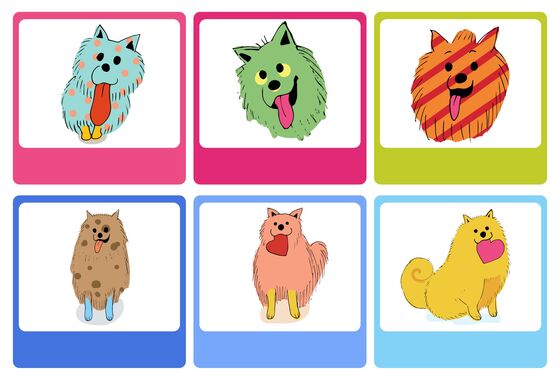 Putting together the letters indicated by the private keys spelled out "SUBTRACT FIVE." But that wasn't the final answer — it was a hint as to how to decrypt one last address, "6 25 24 10 6 [5]." Subtracting 5 from those numbers  gave "1 20 19 5 1," corresponding to the letters "A," "T," "S," "E," and "A."
Our fabulous avatar artworks were stored "AT SEA" for safekeeping! That matched with a confirmatory clue in the columns about NFTs "making waves." And NFT aficionados could recognize a second confirmatory clue: we had mentioned that the artworks were "stored in the open," and one of the top NFT marketplaces is called OpenSea.
Franklyn Wang & Cindy Yang solved first, followed by Zarin Pathan, Anna Collins, Maya Kaczorowski, Nathaniel Ver Steeg, Nancy & Murray Stern, Matthew Stein, Warren Sunada-Wong, Sanandan Swaminathan, Paul Kominers, Michael Thaler, Luke Harney, Lazar Ilic, and Yannai Gonczarowski & Elee Shimshoni. Thanks especially to Andrew Garber and Jay DeStories & Michele Mei for test-solving!
And while Conundrums doesn't really have a secret stash of NFT artworks, one of our fans just sent us the next best thing: A reader who goes by the Twitter handle @dinosaurteef produced a spectacular rendition of our columnist decked out in "SupDucks" NFT regalia. You can check it out here.
As is standard in these sorts of puzzles, spaces didn't count – but apologies to those who were tripped up by the fact that some of the collection titles had spaces in them and others didn't!
Zarin Pathan caught a minor error in the originally posted version of this address – we had missed two of the dots on the fifth robot. Also note that the count for the third robot does not include the dots on the suitcase, since it's not a part of the robot.
If you didn't know what a "tarsier" is, then that's more news you can use, courtesy of Conundrums!
And "subtracting" the private key, which happened to be equal to 5.
You have no idea how many inquiries we got about this.
This column does not necessarily reflect the opinion of the editorial board or Bloomberg LP and its owners.
Scott Duke Kominers is the MBA Class of 1960 Associate Professor of Business Administration at Harvard Business School, and a faculty affiliate of the Harvard Department of Economics. Previously, he was a junior fellow at the Harvard Society of Fellows and the inaugural research scholar at the Becker Friedman Institute for Research in Economics at the University of Chicago.