Kominers's Conundrums: A Heist Leads to a Virtual Adventure
(Bloomberg Opinion) -- One of the most extraordinary puzzle innovations of the last year has been the rise of virtual escape rooms, which make it possible to play immersive puzzle games from your home or office.
The Escape Game has been a pioneer of this new format. In the early stages of the pandemic, they took their nationwide series of brick-and-mortar puzzle games online. Remote solvers worked with on-site game guides to solve a series of puzzling rooms. Anyone could play from anywhere — providing opportunity for family fun, get-togethers among friends or even cross-country virtual team building. It pushed the boundary of digital space, transporting people through computer screens and into a world of fun and surprises.
At Conundrums, we love trying out the newest innovations, so we've teamed up with Troy Armstrong and Ben Enos of The Escape Game, along with our own Lara Williams, to bring you an escape room-style Conundrum that's truly immersive. This puzzle will take you into the world of "The Heist," one of The Escape Game's signature adventures.
By solving it, you can set up the story of "The Heist" game, putting yourself in a position to save a priceless work of art.
Ready? Then let's dive in:
International art thieves have struck again!

Following the theft of Monet's "Water Lilies" last week, art thieves broke into the The Magura Museum of Fine Arts and stole another painting. There are indications that the two thefts may be linked — in each case, a handkerchief was left hanging where the painting was. But the FBI and AIR (Agency for International Reconnaissance) are stumped.
We're keeping quiet about it, but we managed to capture the thief and recover the painting. It appears that he was scheduled to drop off the piece with his contact at midnight on Thursday, September 9. They're supposed to meet at an intersection near the Barclay Museum, but we don't know precisely which one. If we figure out the location before then, we can get there ourselves and hopefully catch a glimpse of the contact — and if we're lucky, that might lead us to the "Water Lilies."
The only problem is that the thief isn't talking — and the instructions he had on his person are rather puzzling.
Can you figure out where the drop is supposed to take place?
The thief was carrying this note:
And he also had this museum brochure: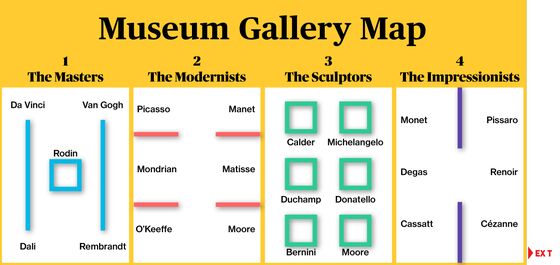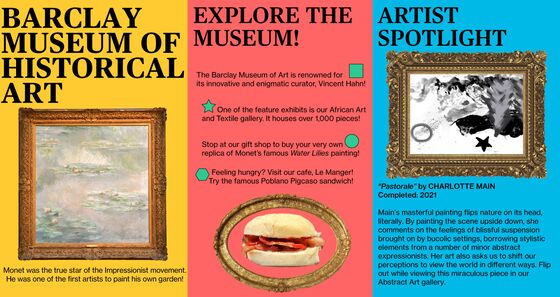 That all looks pretty cryptic, but there must be a reason he had these objects on his person. It's up to you to find clues and patterns. Although the answers might be hidden in plain sight, you'll need to figure out the right way to see or interpret them.
If you manage to draw any conclusions — or if you even make partial progress — please let us know at skpuzzles@bloomberg.net before midnight New York time on Thursday, September 9.
If you get stuck, there'll be hints announced on Twitter and in Bloomberg Opinion Today. To be counted in the solver list, please include your name with your answer. And don't forget to sign up for our Conundrums email list!
Programming note: Happy Labor Day! The next Conundrums will run on September 12.
Previously in Kominers's Conundrums…
The goal was to fill in a grid representing the Phoenix — RECON's mascot  —  rising from the ashes in order to uncover a secret message. It was like a crossword, except all the words were written vertically from bottom to top, and the words in each column had to overlap in order to fit into the grid. Solvers had to figure out the clues, and then work out the overlap.
The answers were as follows: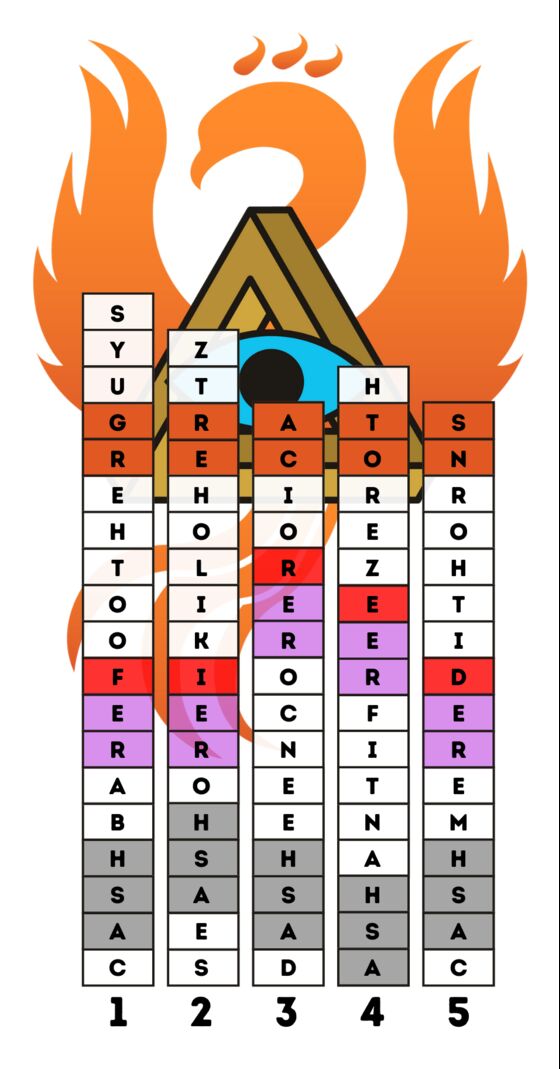 COLUMN 1: Place to buy drinks at a reception = CASHBAR; Without shoes = BAREFOOT; 2010 cop comedy starring Ferrell and Wahlberg, with "The" = OTHERGUYS.
COLUMN 2: "The" place by which she sells seashells = SEASHORE; Japanese energy healing = REIKI; 1000 cycles per second = KILOHERTZ.
COLUMN 3: Alternate name for taro = DASHEEN ; Audience request after a symphony or at the end of a recital = ENCORE; Beethoven's third symphony = EROICA.
COLUMN 4: "Happy" R&B singer named for a Ghanaian empire = ASHANTI; The liquid in a radiator = ANTIFREEZE; Before first and second = ZEROTH.
COLUMN 5: Expensive sweater or scarf material = CASHMERE; Grey of "Grey's Anatomy" = MEREDITH; Rose bush's defenses = THORNS.
Solvers quickly noticed that the gray squares towards the bottom of the grid provided a subtle hint: Each one contains the word "ASH," so the Phoenix really was "rising upwards from the ASHes," as we had said.
And then the highlighted rows at the top provided the answer. If you read them as "GRATS RECON," they didn't make a ton of sense — but the fact that they included the name of the conference was a good way to know you were on the right track.
The last trick was to remember to read from bottom to top, just like everything else in the grid. That gave "RECONGRATS," the RECON Phoenix's message of congratulations, written in the same word overlap format as the clues in the columns.
Finally, there was a bonus puzzle: We clued that "REturning to the grid and REvisiting certain spots in each column will yield a bonus word that — when combined with the directional flow — describes how the Phoenix now feels." Astute solvers noticed that each column (again reading from bottom to top) contained one instance of the prefix "RE"; looking at the letters directly above that gave the word "FIRED." Our Phoenix was totally "FIRED UP" for RECON!
Zarin Pathan* solved first, followed by Franklyn Wang & Cindy Yang, Ellen & Bill Kominers*, Zoz*, Noam E. Elkies*, Warren Sunada-Wong*, Lazar Ilic*, Diane Stein*, Denise Kuehner*, Nancy & Murray Stern*, Maya Kaczorowski*, Ross Rheingans-Yoo*, Riley Haemer, Patricia Miron, Zach Wissner-Gross* (a.k.a. FiveThirtyEight's Riddler), Luke Harney*, Summer Herrick*, Michael Andersen*, Yannai Gonczarowski & Elee Shimshoni*, Phill F-N*, and Aiden Guinnip*. The other solvers were Agent Agatha*, Jakal Blackwell*, Ryan Brady*, Richard Burns*, Sid Cairae, Marissa Chan*, Tara Chien*, Alan Coo*, KD Dekker*, Sarah Eve*, Daniel Gale-Rosen*, Todd Geldon*, Guest User 17*, Kreeshtin*, Brett Kuehner*, Will L.*, MartyAustx, Marvelous Millers*, Andrew Reynolds*, Vivien Ripoll*, Ben Rosner, Mike Schnurr*, Kevin Schraith*, Jessica Seidl, Robbie Stern*, Sanandan Swaminathan*, Theresa!whale*, Rachel Walker, Jennifer Walsh & Dan Rubin*, Craig Whitmore*, Yoni Yon, and Ryan Yu. (Asterisks denote solvers who also solved the bonus puzzle.) Wissner-Gross submitted an emoji solution. And thanks especially to Rachel Donley* and Paul Kominers* for test-solving — and to the RECON Team for hosting a special "Conundrums Club" channel for our solvers at the convention!
Note also that if you're solving the version posted on the Bloomberg Opinion webpage, you should be able to click on the images to enlarge them.
And also a "Jeopardy!" cameo performer.
Yes, "dasheen" is another name for taro. Bubble tea news you can use, courtesy of Conundrums!
Also, in a callback to our recent NFT avatar Conundrum: Thanks to @NFToDJo, who sent in some fantastic "Conundrums King" avatar art!
This column does not necessarily reflect the opinion of the editorial board or Bloomberg LP and its owners.
Scott Duke Kominers is the MBA Class of 1960 Associate Professor of Business Administration at Harvard Business School, and a faculty affiliate of the Harvard Department of Economics. Previously, he was a junior fellow at the Harvard Society of Fellows and the inaugural research scholar at the Becker Friedman Institute for Research in Economics at the University of Chicago.