Kohl's Activists Have a Point, But Why Now?
(Bloomberg Opinion) -- Many investors have left department stores for dead. But a coalition of activists sees potential in one such retailer — Kohl's Corp. — as it overhauls its board. 
A group consisting of Macellum, Ancora, Legion Partners and 4010 Capital said Monday that it aims to install a slate of nine new directors at the struggling retailer, attributing years  of weak sales and eroding profit margins to strategic failures. The coalition is calling for a wide range of changes, including generating cash through sale-leaseback agreements and improving its merchandising capabilities and inventory management.
The presentation makes a compelling case that Kohl's, a chain with more than 1,000 stores, has not been managed to its fullest potential in recent years. But I question whether the timing is right for this kind of campaign.   
The activists note that Kohl's operating margin shank from 11.5% in 2011 to 6.1% in 2019. They also estimate that diminished rivals such as Sears and J.C. Penney Co. gave up $12 billion in sales between 2015 and 2019, which should have represented an easy opportunity for Kohl's to pick up market share. Instead, the chain lost $300 million in sales in that time. That's a damning portrait, especially when you consider Kohl's built-in advantages, such as stores that are not located in moribund enclosed malls and its extensive efforts to drive traffic, including adding more active wear to its shelves and allowing Amazon.com Inc. purchases to be returned to its stores.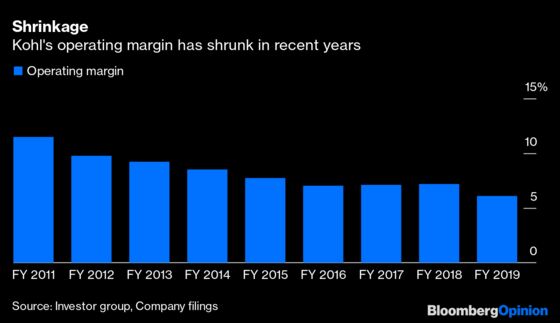 One idea in the presentation, for Kohl's to monetize its real estate, has particular merit. The activists estimate Kohl's could generate $3 billion through sale-leaseback transactions. Kohl's has tried in the past to get creative with its real estate portfolio, in some cases making its stores smaller and leasing the remaining square footage to the likes of Aldi and Planet Fitness. But a more traditional sale-leaseback approach might make more sense now, and not just because it could provide a quick infusion of cash after a devastating year. The pandemic has revealed the importance of being able to fulfill online orders within local markets, leading retailers to experiment with creating micro-distribution centers in back rooms. Kohl's might be better off designating the space it was leasing to others for its own digital efforts.
The activists are also correct to say that Kohl's has serious work to do on its merchandising. Kohl's leaders always say the right things about how their women's apparel needs to improve, but they don't have much to show for it. The company said in its October investor presentation that sales in the women's business have declined at a 1.8% compound annualized rate over the past three years. 
That said, will a board overhaul make a difference? Kohl's just put forward a fresh medium-term strategy in October; it is too early to know if it's bearing fruit. The activists point out that the 2020 plan is awfully similar to Kohl's 2014 strategy, and that's a fair criticism, perhaps an indication that the company has been stuck in neutral. But I'd also note that some of the changes the coalition is calling for are ones that Kohl's has recently committed to or undertaken. For example, Kohl's has said it will eliminate eight private brands and add new ones to repair its women's business, consistent with the activists' calls to "re-establish women's apparel as a traffic driver" and "fix problems with private label." 
Why not give the management team a chance to execute that vision? That's especially true given that they seem to have some faith in CEO Michelle Gass and her C-suite team; after all, they're not calling for her ouster. That faith isn't misplaced: Gass, who became CEO in 2018, is a smart executive who has shown more creativity than many of her peers in reimagining the department-store format. 
Also, clothing retailers have just been through a year in which the pandemic forced them to rethink virtually every aspect of their business. They had to devise safety protocols for stores, reconfigure their workforces for a more digital-centric world and upend their marketing, merchandising and inventory strategies for stay-at-home living. All of that has likely served as a distraction for Kohl's and virtually every one of its competitors. Now that the initial pandemic shock has passed, the Kohl's team should be able to hasten progress on turnaround initiatives, with or without a push by activists. Plus, it is possible that a fight over board seats may create another distraction that makes it harder for the company to focus on the changes it needs to make. 
The best outcome is a quick settlement in which some, but not all, of the activist group's candidates are added to the board. That will give Kohl's the benefit of some fresh perspective but lets Gass and her team quickly get back to the tricky task of overhauling the business. 
This column does not necessarily reflect the opinion of the editorial board or Bloomberg LP and its owners.
Sarah Halzack is a Bloomberg Opinion columnist covering the consumer and retail industries. She was previously a national retail reporter for the Washington Post.