Kazakh and Chilean Energy Solutions Have a Politics Problem
(Bloomberg Opinion) -- Two of the most important and low-cost chemical elements in the world's transition to zero-carbon energy are running into the mining sector's evergreen problem: Political risk.
Unrest in Kazakhstan and regulatory uncertainty in Chile have already affected the prices of uranium and lithium, which are both extracted using elements dissolved in liquids evaporated from groundwater or pumped into the rock. That's often better value than the more energetic blast-and-grind methods used in hard-rock mining, and as a result the places where it's viable have traditionally dominated output.
Kazakhstan, where acid and soda is piped down into uranium-rich rock to bring up the mineral in a technique similar to fracking for oil, produces about 41% of the world's mined atomic fuel. In the arid salt flats of South America, brines are pumped into shallow ponds where evaporation leaves behind a lithium-rich residue. As recently as 2016, Chile and Argentina together accounted for about 53% of that crucial battery material.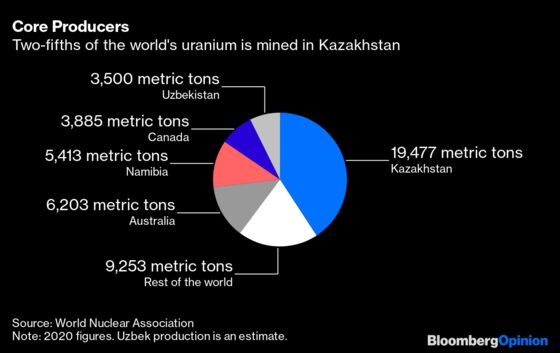 Production techniques aren't the only thing that determines the viability of a mining project. Unpredictable government policies are a perennial issue for resources companies, and one that can cancel out the advantages of favorable geology and processing technologies. There's a reason that Afghanistan's lithium reserves, by some estimates the world's largest, remain locked underground. Should Kazakhstan's political crisis drag on, that may lead to instability in uranium prices similar to what we've seen in recent years with lithium. Backed by Russian-led troops, Kazakh forces are trying to restore control after crushing the biggest protests in decades.
Consider a fortunate miner operating in a world free of politics. Its decision on hunting down uranium or lithium is a simple one: Go wherever you'll get the best returns. In Latin America, production costs for lithium carbonate are in the region of $2,000 to $3,000 a metric ton before royalty payments, according to Morgan Stanley, compared to $6,000 to $12,000 a ton in Australia and China. That should make lithium mining in the altiplano far more profitable than elsewhere in the world.
That's not what happens, however. Indeed, the largest lithium deposits of all may well be in Bolivia, a country that now barely produces the element and where precise measurements don't exist, thanks in part to laws nationalizing mining. Instead, more marginal producers have taken the lion's share of new output.
Thanks to booming demand from electric vehicles and utility-scale batteries, the world produced more than two-and-a-half times as much lithium in 2020 as it did in 2015, but half of that increase came from Australia, with another quarter from China. Argentina and Chile together accounted for just a fifth of the additional output.
That failure has been tied up with politics. Chile's dominant lithium producer is Sociedad Quimica y Minera de Chile SA or SQM, whose largest shareholder is the son-in-law of former dictator Augusto Pinochet. The company has been embroiled in a long-running series of cases around alleged political corruption, and the incoming leftist President Gabriel Boric has mooted setting up a state lithium producer.
That move is unlikely to be a great success, if Bolivia's experience is any guide. Combined with a doubling of royalty payments, the political backdrop has caused Chile's lithium industry to underperform its potential, pushing prices — and the cost of electric vehicle batteries — higher than they'd otherwise be.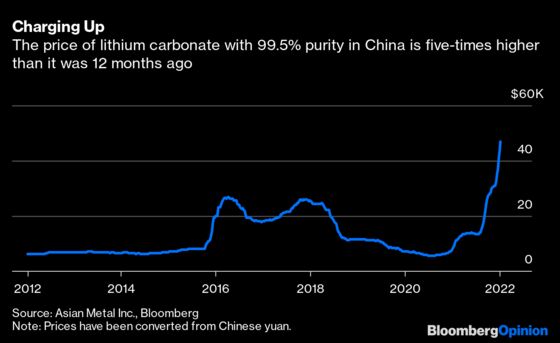 Kazakhstan's situation is, on the face of it, more stable. Uranium producer NAC Kazatomprom JSC is already state-controlled, with the public holding just 25% of the stock. Unlike Chile and Argentina, which have swung between right-wing and left-wing governments over the past few years, the central Asian republic was, until the events of recent weeks, a place of chilling political stability.
The crushing of protests in recent days is a tragedy for a population with legitimate grievances against an authoritarian government they've lived under since the fall of the Soviet Union. If all you're worried about is security of uranium production, however, you'll have little reason to lose sleep.
However, counting on suppression to guarantee your supply of minerals is a risky game. Even the most cynical miner recognizes that authoritarianism has a nasty habit of leaving anarchy in its wake when things ultimately fall apart.
Of the top 40 jurisdictions among the Fraser Institute's latest ranking for the countries with the most favorable policy backdrops for mining, just one, Mali, was not a democracy . Australia and Canada, with substantial reserves of lithium and uranium, will be the key beneficiaries of any uncertainty in Chile, Argentina, and Kazakhstan — as well as China, which despite its own lack of democratic rights is both producer and consumer of the elements.
The risk in all this is that the economic viability of those higher-cost, hard-rock mining jurisdictions depends on political dysfunction in the more intrinsically profitable regions which use liquids to produce their elements. If you're looking for low-cost minerals, it's democracy and consistent government, rather than novel extraction technologies, that's the ideal solution.
More From Other Writers at Bloomberg Opinion:
Bolivia's Santa Cruz region also made the top 40, but the survey was taken around the same time as the 2020 elections which restored democracy, and at a time when winning candidate Luis Arce was already seen as the front-runner.
This column does not necessarily reflect the opinion of the editorial board or Bloomberg LP and its owners.
David Fickling is a Bloomberg Opinion columnist covering commodities, as well as industrial and consumer companies. He has been a reporter for Bloomberg News, Dow Jones, the Wall Street Journal, the Financial Times and the Guardian.