In Evergrande's Shadow, a Developer With a Past
(Bloomberg Opinion) -- We all hit rough patches at some point in our lives. Do we get second chances? Will family and friends forgive and forget? Or are we as good as dead?
Kaisa Group Holdings Ltd. will soon find out. In recent days, its dollar-denominated bonds have gone through wild swings amid a ratings downgrade and rampant market speculations. Earlier this week, the company had to dismiss a rumor that it might have overdue wealth management products, as reported by Debtwire. It also canceled meetings with some investors, according to Bloomberg News. 
A real estate developer that ranks only 26th by contracted sales in mainland China, Kaisa, nonetheless, has an outsized influence in the offshore dollar bond market. With about $12 billion in bonds outstanding, it's the second largest real estate issuer after China Evergrande Group, whose financial distress has grabbed global headlines. 
Kaisa has a history of near-death experience. In 2015, it became the first Chinese developer that defaulted on dollar-denominated bonds. Two years later, after debt restructuring, it came back to life and tapped into Hong Kong's deep pools of money again. Now, with its 2022 bonds trading at near-default levels, it feels like a return to the graveyard.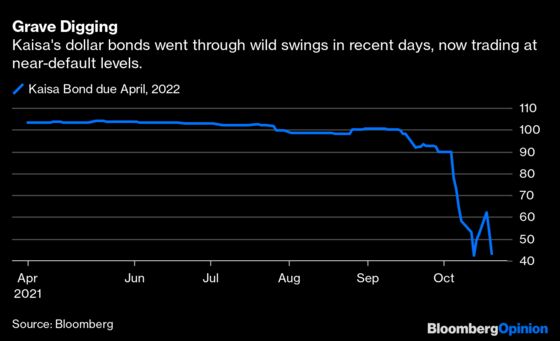 Kaisa might argue that its past sins have brought unfair scrutiny in the current marketplace. In relative terms, it isn't doing too badly, especially compared to Sinic Holdings Group Co., the latest developer to default, or Evergrande, the world's most indebted. Going by China's "three red lines", the company has passed all the accounting metrics that the government uses to decide which developers get to borrow.
In terms of liquidity and how Kaisa has managed its working capital, the situation is nothing like the crisis at Evergrande. Kaisa's exposure is to the Greater Bay Area, the prosperous southeastern region of China that includes Hong Kong. Evergrande, by comparison, bought land mostly in smaller cities all over China, which means its apartments and projects are harder to offload. As of the first-half of 2021, inventory turnover at Kaisa was 719 days, roughly half of Evergrande's incredibly 3.7 years. 
Still, its financials are not entirely spotless — just better looking than some really bad ones. Investors are now asking questions about off-balance sheet financing  — inspired by the news Evergrande had privately guaranteed debt to one of its joint ventures. On that front, Kaisa is far from pretty.
As of the first-half of the year, minority interest accounted for over half of its total equity, evidence of how many joint ventures it was involved in. In February, Kaisa guaranteed a HK$3 billion ($386 million) recapitalization facility raised by Rich Fast International Ltd., in which it has 50% stake in, reported Debtwire. Despite the guarantee, the debt would not be consolidated by Kaisa because Rich Fast itself was not consolidated, said Debtwire. That sounds like shadow financing. 
Money is superstitious in China's skittish real estate industry. A negative rumor plus the specter of unfriendly government action can bring down a big enterprise. And memories are long. Kaisa's 2015 default came in the aftermath of a political purge in Shenzhen, the company's home base; at around the same time, the government had blocked apartment sales in 11 of Kaisa's projects in the city, damaging its cash flow. Kaisa would argue it is guilt by association and should not stain its current standing. But these things linger.
Kaisa might once again avoid doom. But its current troubles are proof that the markets have not forgotten its previous sins. They remember past performance — even if Kaisa will argue that other factors were in play.
This should be a lesson to the likes of Fantasia Holdings Group Co., which made a capricious decision not to repay its debt and sent the entire market spinning. Pay up. When markets turn sour, a checkered history will provoke a harsher look. 
This column does not necessarily reflect the opinion of the editorial board or Bloomberg LP and its owners.
Shuli Ren is a Bloomberg Opinion columnist covering Asian markets. She previously wrote on markets for Barron's, following a career as an investment banker, and is a CFA charterholder.