Junk Bond Investors Should Embrace Reddit Mentality
(Bloomberg Opinion) -- Stocks only go up. And junk-bond yields only go down.
The first part is more or less the mantra of the Robinhood and Reddit crowd, which have brought terms like "diamond hands" and "to the moon" into the Wall Street lexicon as these retail traders helped drive the tremendous rally in U.S. equity markets over the past year. The latter is no one's motto — but maybe it should be.
In the span of hours on Tuesday, Bloomberg News published two articles about the froth forming in the most speculative corners of the high-yield market. "Bond Investors Take Ever-Riskier Bets in Hunt for Returns," wrote Jack Pitcher and Laura Benitez, noting that insurers and pension plans in the U.S. and Europe are among those buying larger swaths of junk-rated debt to meet their yield targets, often venturing into triple-C rated securities, private credit and collateralized loan obligations. "Rally in Risky Corporate Debt Starts Raising Red Flags on Prices," read the headline from Tasos Vossos and Alice Gledhill, who interviewed portfolio managers who are cutting back on risk with triple-C yields at a record low in the U.S. and near the lowest since 2017 in Europe. 
There's no disputing what these investors see on their screens. Just about any way you measure it, corporate bonds are in uncharted territory after rallying for more than 13 months since the Federal Reserve swooped in with its unprecedented credit-market backstop. Yields on junk bonds broadly remain below 4%, which until February had never happened in more than three decades of Bloomberg Barclays index data. Double-B rated securities yield 3.16%, less than the going rate on benchmark 10-year U.S. Treasuries in late 2018. Perhaps most remarkably, the average yield on triple-C debt has tumbled to just 5.88%, easily a new record low for obligations that are one or two bad breaks from going bust, and the spread to Treasuries of less than 500 basis points was last seen in the period leading up to the 2008 financial crisis. On its face, it seems untenable.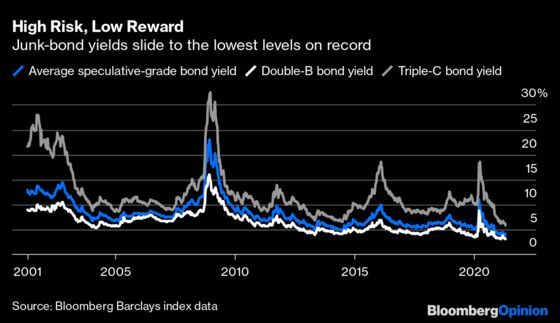 Yet now more than any time in years, you'd be hard-pressed to find anyone who sees much in the way of turbulent times ahead for American companies. As my colleague Lisa Abramowicz flagged last week, Fitch Ratings estimates a 2% default rate for U.S. junk bonds in 2021, which would be the lowest since 2017, and its analysts see a good chance that it may drop to just 1%, which hasn't happened since 2013. That's quite a bit more optimistic than S&P Global Ratings and Moody's Investors Service, but even default rates of 4% or 5% seem benign considering the once-in-a-century shock to the economy and the huge amount of corporate borrowing over the past year to get through the pandemic.
So if you believe that businesses as diverse as Ligado Networks, Tenet Healthcare, Diamond Sports Group, Bombardier and Caesars Entertainment will ultimately make good on their debt, much of which comes due over the next three to six years, there's still a reasonable case to be made that buying triple-C bonds at sub-6% average yields makes good sense with the Fed not even thinking about thinking about raising interest rates. Indeed, there's a risk that shifting to cash now will only make future risky debt purchases more painful.   
Consider the lessons from U.S. equities. On Jan. 25, my Bloomberg Opinion colleague John Authers wrote a column titled "The Stocks Bubble-O-Meter Is Flashing Bright Red," noting that few deny that U.S. shares look extremely overpriced. Soon thereafter, I made the argument that "The Bond Market Case for Stocks Is Getting Weak." Since those went out into the world, the S&P 500 has rallied 8% or so. Analysts still see stock valuations as stretched, but the pain trade has been selling at any point this year as equities have shrugged off everything from a spike in Treasury yields to a potentially big increase in capital gains taxes.
Why shouldn't junk bonds be just as impervious to valuation concerns? It's worth noting that the market is hitting all-time low yields at what should be an unfavorable time when looking at supply and demand. This has been the busiest April on record, with more than $39 billion of speculative-grade sales. At the same time, investors pulled $1.32 billion from U.S. corporate high-yield funds in the week ended April 21, the second consecutive period of outflows. Yet there's still no evidence of widespread weakness, and it's doubtful that investors will be willing to sit for very long in cash that pays nothing.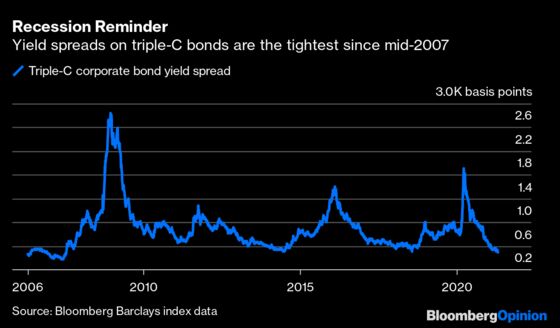 It's understandably difficult for risk-averse bond investors to throw caution to the wind in the face of seemingly ominous signs. The average triple-C bond yields 493 basis points more than Treasuries, the lowest since mid-2007, when the spread dipped to a record low of 368 basis points. That was also just a few months before the start of the Great Recession, which caused a cascade of defaults. But yield spreads aside, it's hard to draw any sort of direct parallels between the two periods, given that the fed funds rate was at its cyclical peak of 5.25% then and is near zero today. Then there's the fact that the average junk bond spread has broken through the recent lows from 2018, around the time that I called the high-yield market "a runaway train" ahead of its biggest quarterly selloff in more than three years. The Wall Street Journal last week tied the rally in junk bonds to the boom in special-purpose acquisition companies, with Citigroup Inc.'s Michael Anderson noting "there's a lot of deja vu of the late 1990s happening in the high-yield market right now."
Still, high-yield bonds will only truly suffer if the risk of defaults starts to rise considerably, or an economic slowdown is in the offing as it was in 2007. Few, if any, are calling for either possibility. Yet fixed-income investors are nevertheless sounding the alarm on valuations. I've said before that the biggest risks are the ones that no one sees coming. The flip side of that: As long as enough people are fretting over the persistent decline in junk-bond yields, there's probably little to worry about for now.
This column does not necessarily reflect the opinion of the editorial board or Bloomberg LP and its owners.
Brian Chappatta is a Bloomberg Opinion columnist covering debt markets. He previously covered bonds for Bloomberg News. He is also a CFA charterholder.