The Most Important Number of the Week Is 0.3%
(Bloomberg Opinion) -- It may be a cliche, but there's a lot of truth to the saying that anecdotes aren't the economy. Just consider the latest U.S. monthly employment report. Even with all the breathless reporting of late about how companies are having a hard time finding employees and are resorting to boosting starting salaries and offering signing bonuses, there's surprisingly little evidence of broad wage inflation. In fact, average hourly earnings grew just 0.3% in June — in line with the pre-pandemic average and lower than the previous two months — despite the addition of 850,000 jobs last month, the most since August. 
The issue is important because the inflation hawks are worried the Federal Reserve is too complacent with its wait-and-see approach. They say by not acting now, the central bank risks stoking a "wage-price spiral" in which higher earnings spark a surge in consumer spending that strains production capacity. Companies respond by increasing prices, which leads to workers demanding bigger pay increases to stay ahead of the rising cost of living. But if wage inflation is muted, it reduces the pressure on the Fed to prematurely tighten monetary policy, which could hinder the recovery and throw financial markets in disarray.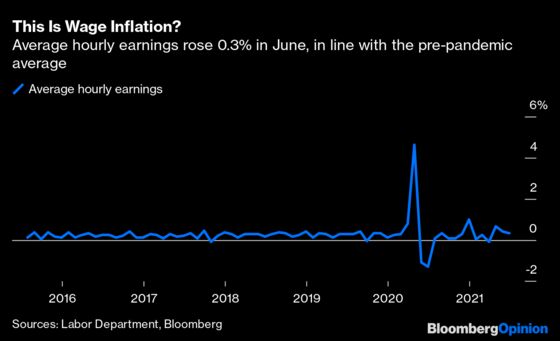 To be clear, even though average hourly earnings growth has decelerated from 0.4% in May and 0.7% in April, it's too soon to sound the all clear on a wage-price spiral. Some industries such as construction have slowed production amid a dearth of supplies, which has led to reduced shifts and hours worked. But investors seem becalmed nevertheless. That's evident in the bond market, where breakeven rates on five-year Treasury notes, a measure of what traders expect the rate of inflation to be over the life of the securities, have fallen since mid-May.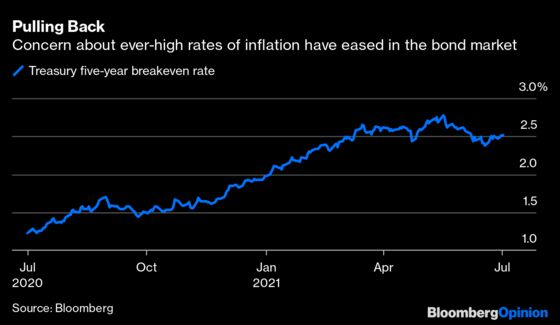 The thing to understand about wage growth is that much of it is coming in the low-paying leisure and hospitality sector. Average hourly earnings there rose 1% in June to $18.23, compared with a 0.33% gain overall to $30.40, according to the Labor Department. It's also notable that leisure and hospitality accounted for the largest portion of last month's job gains, adding 343,000. Manufacturing contributed only 15,000 jobs. The point here is that even though leisure and hospitality workers are enjoying the fruits of a tight labor market at the moment, their pay is still far below what wages are in the broader economy. Their earnings barely meet what many economists consider a "living wage," meaning even a sustained and significant increase from current levels is unlikely to spark a broad wage-price spiral.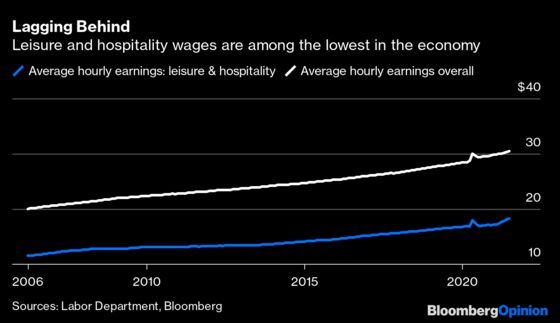 What about those signing bonuses? They may be a bit overhyped. Even though the percentage of postings tracked by jobseeker firm Indeed that included some kind of incentive beyond basic pay and benefits has more than doubled from this time last year, it's still only at 4.2%. Plus, incentives vary widely by geography and job type, with Bloomberg News reporting that some nursing jobs are offering signing bonuses of as much as $30,000, while in food preparation and service they typically range from $100 to $2,500. Also, signing bonuses typically allow employers to avoid committing to higher levels of pay over the longer term. 
And it's not as if companies aren't adapting. Despite a shortage of workers, nonfarm productivity shot up 5.40% in the first quarter, according to the Labor Department, blowing away the pre-pandemic average of 2.20% going back to 1946. As Bloomberg News pointed out, the latest survey of manufacturers by the Federal Reserve Bank of Kansas City uncovered one respondent who said, "We are choosing to invest more in equipment and automation, which over time should lead to our company to have a lower number of workers."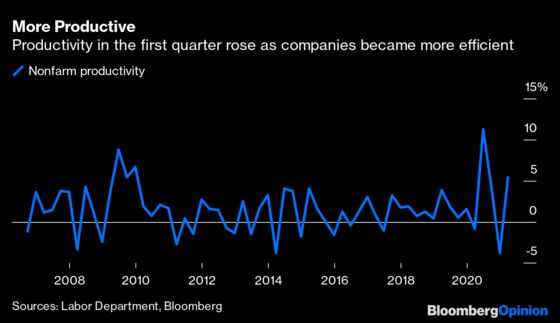 The Fed has taken a lot of heat for its wait-and-see approach to monetary policy. Many economists and investors are worried that that it's too sanguine about the potential for the economy to overheat, leading to sustained inflationary pressures that will be impossible to contain without seriously damaging the economy. That might still happen, but with some 6.76 million fewer workers on payrolls compared with February 2020, the wages portion of the June employment shows we're far away from that point. 
This column does not necessarily reflect the opinion of the editorial board or Bloomberg LP and its owners.
Robert Burgess is the Executive Editor for Bloomberg Opinion. He is the former global Executive Editor in charge of financial markets for Bloomberg News. As managing editor, he led the company's news coverage of credit markets during the global financial crisis.