Jamie Dimon Secures JPMorgan's Fortress With Billions
(Bloomberg Opinion) -- During the past decade, when the U.S. economy could seemingly do no wrong, analysts could be forgiven for rolling their eyes every time JPMorgan Chase & Co. Chief Executive Officer Jamie Dimon mentioned the resilience of his bank's "fortress balance sheet."
Now, though? In the midst of a global pandemic, taking refuge in a fortress sounds quite appealing.
JPMorgan, the biggest U.S. bank, reported second-quarter earnings on Tuesday that showed adjusted revenue of $33.82 billion, up 14% from a year ago and beating the highest analyst estimate. That's an impressive counterbalance to $10.47 billion set aside for credit losses, more than anyone predicted and exceeding its record $8.6 billion in loan-loss provisions from the beginning of 2009. 
Digging further into JPMorgan's earnings presentation, these provisions appear conservative relative to the current trajectory of the U.S. economic recovery and the health of household balance sheets. Consider its snapshot of consumer-lending relief programs. Just 2.1% of its consumer card accounts have a payment deferral, along with 4% of business cards, 6.9% in home lending and 7.4% in automobiles. Of those needing a delay, about nine in 10 were less than 30 days past due at the time of the request, an indication of otherwise creditworthy clients falling on temporary hard times. More than half of card accounts with a deferral have made at least one payment anyway. The trailing seven-day average of deferrals granted is down 95% from its peak in early April, right around the time JPMorgan last reported earnings. Even though net charge-offs, which are loans the bank no longer expects to recover, increased by 6% from the first quarter to $1.56 billion, it fell far short of analysts' predictions for $2.78 billion. By and large, these are positive trends.
So, why the huge build-up in provisions for loan losses? Simply put, because JPMorgan could afford to do so, given the bank's record quarterly revenue. Plus, for all of Dimon's star power on Wall Street, he admits he can't be sure what will come next for the global economy: 
"Despite some recent positive macroeconomic data and significant, decisive government action, we still face much uncertainty regarding the future path of the economy. However, we are prepared for all eventualities as our fortress balance sheet allows us to remain a port in the storm.  We ended the quarter with massive loss-absorbing capacity — over $34 billion of credit reserves and total liquidity resources of $1.5 trillion, on top of $191 billion of CET1 capital, with significant earnings power that would allow us to absorb even more credit reserves if needed. This is why we can continue to serve all of our stakeholders and to pay our dividend — unless the economic situation deteriorates materially and significantly." 
JPMorgan is in an enviable position among its Wall Street peers. While Wells Fargo & Co. posted its first quarterly loss since 2008 and Citigroup Inc. managed to salvage a $1.3 billion profit, JPMorgan's second-quarter profit dropped less than forecast to a solid $4.69 billion. It has huge sales and trading operations and a fleet of investment bankers to go along with its consumer-focused divisions. Markets revenue overall surged 79% from a year ago while investment banking fees jumped 91%. That presented Dimon with the opportunity to ramp up loan-loss provisions and boast about his "fortress" while still topping bottom-line estimates. It's a win-win all around.
Yet the opening and closing parts of Dimon's statement seem to contain a not-so-subtle message to elected officials squabbling over the next round of fiscal relief. Thanks to expanded federal unemployment insurance payments, overall compensation received by Americans bounced back swiftly to a record high rather than remaining depressed like in past recessions, according to Commerce Department data. That, in turn, boosted banks' deposits. It's impossible to know specifics, but it stands to reason that without the government's actions, fewer of those who requested a deferral on their credit-card payments would have had the means to cover their expenses anyway.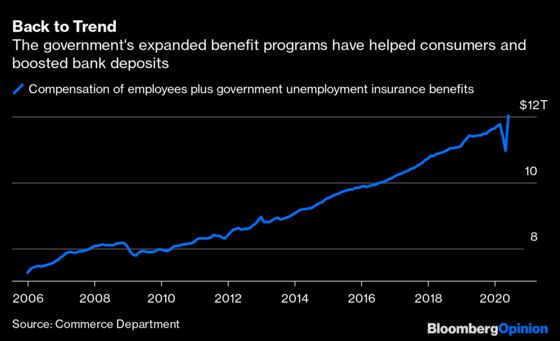 Meanwhile, since April, JPMorgan's economic projections have only worsened. The bank now expects the U.S. unemployment rate to be about 10.9% at the end of the year, compared with its forecast for 6.6% in its first-quarter earnings results. However, it was clear three months ago that expecting the jobless rate to just rise "above 10%" and then recover was overly optimistic. JPMorgan's $8.3 billion of loss provisions in the first quarter suggested a more dire economic scenario. Those assumptions seem to be more aligned now.
"In my short lifetime, I've seen crises over and over and over and over," Dimon, the only bank leader who was at the helm in 2008, said during a call with analysts. "We're not predicting them, we're just prepared for them."
As Chief Financial Officer Jennifer Piepszak laid out the bank's results, Dimon briefly stepped in to hurtle through all the ways in which JPMorgan's balance sheet is fortified. He said it could withstand an additional $20 billion of loan-loss reserves, even though that's not the expectation. In fact, "if the base-case happens, we may be over-reserved. I hope the base case happens," Dimon said. He later added that he "wouldn't completely rule out" buying back shares in the fourth quarter. "I hope we can do it before it goes way up." 
Earlier this year, I called JPMorgan the "king of Wall Street." That's proving to hold true even during the coronavirus pandemic. With this kind of performance, expect Dimon to keep bragging about his fortress.
This column does not necessarily reflect the opinion of the editorial board or Bloomberg LP and its owners.
Brian Chappatta is a Bloomberg Opinion columnist covering debt markets. He previously covered bonds for Bloomberg News. He is also a CFA charterholder.