JPMorgan Is King, But How Does It Top This?
(Bloomberg Opinion) -- Heading into this earnings season for the biggest U.S. banks, analysts said they would be laser-focused on the outlook for 2020 rather than the results from the last three months of 2019.
Then JPMorgan Chase & Co. posted fourth-quarter numbers that were simply too impressive to ignore.
Most notably, JPMorgan reported fixed-income trading revenue of $3.45 billion, an 86% increase from a year earlier that clobbered estimates by $1 billion. It also beat forecasts for equity sales and trading revenue and, importantly, net interest income. Overall, the bank's profits jumped 21% in the fourth quarter, which lifted its total annual earnings to $36.4 billion, an unprecedented figure for both JPMorgan itself and U.S. banks as a whole.
This earnings report should leave no doubt that JPMorgan, under Chief Executive Officer Jamie Dimon, is the king of Wall Street. It's unlikely to relinquish the throne anytime soon. Even after the bank's shares soared 43% in 2019, leaving some analysts wondering whether they had become too expensive, they rose as much as 2.4%, approaching an all-time high, after the blockbuster earnings were announced.
And yet I can't help but wonder where JPMorgan goes from here. Dimon has obviously earned the right to do whatever he wants after making the bank more money than ever, but I wouldn't blame him for getting serious about going out while on top. For now, he's still in a joking mood. "My statement stays the same — it's five years," the 63-year-old billionaire said. "When and if we ever set an actual retirement date, we'll let you know."
For one thing, fixed-income trading revenue isn't exactly the most stable pillar of a bank's earnings. That fact wasn't lost on analysts. Vital Knowledge's Adam Crisafulli, who used to work for JPMorgan, expected that "people will question the sustainability of that number." Atlantic Equities analyst John Heagerty noted that the "beat mainly came from the more volatile P&L components." To be fair, Citigroup Inc.'s earnings on Tuesday were also buoyed by a 49% jump in revenue from fixed-income trading.
The most important number for JPMorgan, as always, is net interest income and net interest margin. There, the numbers are less spectacular. Looking back at the fourth quarter, NII basically met analysts' expectations and dipped slightly from the previous year, while NIM continued to slip lower to 2.38% after three interest-rate cuts from the Federal Reserve. The bank said that for the first three months of 2020, NII may reach about $14 billion, compared with estimates of $13.95 billion. As far as upward revisions go, that's about as meager as they get. And it would be down from $14.5 billion in the first three months of 2019. For all of 2020, JPMorgan expects NII will be flat or slightly lower.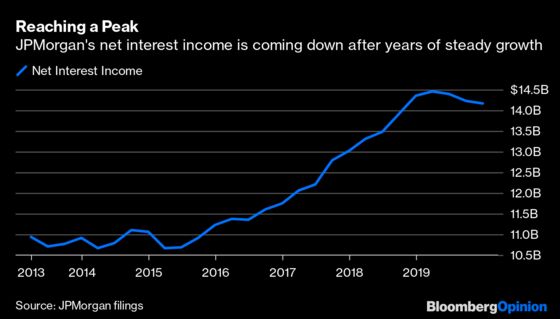 Now, JPMorgan is in as strong a position as any of its competitors to find other ways to bring in revenue. Dimon, in a statement, highlighted that the company continues to grow and invest. "In 2019, we added over 70 new branches in 16 new markets, continued our Commercial Banking international expansion, and became the first U.S. bank to be approved for a majority-owned securities business in China," he said. "We continue to make large investments in technology, including AI, cloud, digital and payments, as well as other investments in innovation, talent, security and risk controls." To put it simply, Dimon is not just satisfied with being the largest U.S. bank today — he's constantly pushing to make sure it keeps its top spot tomorrow.
Jennifer Piepszak, JPMorgan's chief financial officer and a potential successor to Dimon,  answered a media question about whether this is the best it gets for the bank. She noted a growing market for credit cards and said that the company is expanding both in the U.S. and internationally. "We certainly don't think this is as good as it can be," she said. Of course, that's the only possible response.
JPMorgan's market-leadership position across a range of diverse businesses should give its executives confidence heading into an uncertain 2020. But topping this most recent quarter won't be easy. For all the talk of a steepening yield curve, the spread between two- and 10-year Treasuries is already down 10 basis points so far this month, to 25 basis points, which could further pinch NII. Few expect 2019's spectacular year for financial markets to spill over into 2020, which could constrict trading revenue. On the other hand, as long as U.S. consumers are confident, the core of JPMorgan's business will remain in good shape.
Investors and analysts were understandably awestruck by how JPMorgan ended 2019. But in the end, it's still about the path ahead. If Dimon is truly planning to remain at the helm for five more years, he has set a high bar for himself to top. 
Not to read too much into it, but Piepszak answered the vast majority of analysts' questions. At one point, Mike Mayo from Wells Fargo had to ask whetherDimon was on the call at all.
This column does not necessarily reflect the opinion of Bloomberg LP and its owners.
Brian Chappatta is a Bloomberg Opinion columnist covering debt markets. He previously covered bonds for Bloomberg News. He is also a CFA charterholder.