Italy's Warren Buffett Is Missing a Few Billion Dollars
(Bloomberg Opinion) -- John Elkann, scion of Italy's billionaire Agnelli family, makes a point of hiring the highest-quality managers to oversee the clan's automotive, reinsurance and media holdings — leaders who can "walk the talk" as he puts it. One hopes he applies the same rigor when recruiting someone to organize his calendar.
Besides his main job at the family holding company, Exor NV, Elkann added the title of acting chief executive officer of Ferrari NV shortly before Christmas when Louis Camilleri unexpectedly stepped down. The 44-year-old Elkann told investors this week that he won't rush the search for a successor. Last month he also became chairman of the merged Fiat Chrysler and Peugeot, a giant carmaker with the uninspiring name Stellantis NV.
"I guess if you are the main Agnelli heir you expect to have a lot on your plate," a top Exor shareholder told me. Still, it's a heavy load and after the year Elkann's had, the globetrotting polyglot may be feeling a little fatigued. 
The pandemic forced Fiat Chrysler and Ferrari to shutter plants temporarily and implement exhaustive hygiene measures. The Agnellis' truck, bus and farm equipment group CNH Industrial NV parted ways with its CEO, too, and a plan to spin off some of those assets was delayed. Most important, the new coronavirus torpedoed the $9 billion sale of Exor's reinsurance business PartnerRe to France's Covea.
Fiat also had to revise its plan to pay shareholders — the Agnellis have the largest stake — a 5.5 billion-euro ($6.6 billion) special dividend ahead of the Peugeot merger. Fiat investors shared 2.9 billion euros instead. Ferrari's F1 team continued to perform poorly on the track and the family's Juventus Football Club SpA has been knocked off its perch so far this season.
All of this has left Elkann with much less financial firepower than he expected for new investments. He was hoping to use the proceeds from asset sales to snap up some pandemic bargains, but the stock market has rebounded so quickly that the sort of things he's looking for have again become extremely expensive. One exception is Exor itself, which is trading at a substantial discount to the value of its holdings.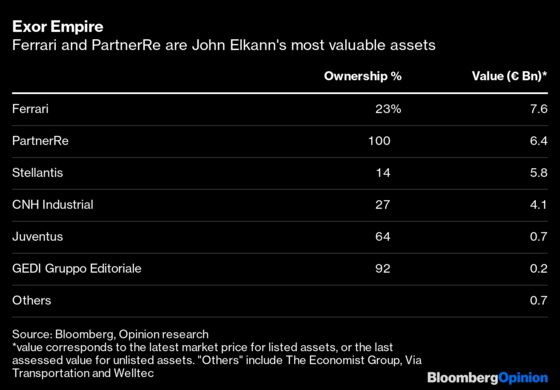 Having missed the opportunity to "be greedy when others are fearful" Elkann should now heed another of his investing hero Warren Buffett's maxims: "When there's nothing to do, do nothing."
Exor has made a number of savvy tech bets — it owns small stakes in online grocer Ocado Group Plc and robotics company Welltec, for example. Its core skill, however, has been unlocking value from Fiat's once troubled Italian industrial holdings. Exor has recycled that capital into more lucrative international assets such as Jeep, while its purchase of PartnerRe made the family holding firm less vulnerable to a cyclical automotive downturn (insurance has been the foundation of Buffett's success).
Such patience is unfashionable in a world where fortunes are made overnight betting on "pre-revenue" companies with no hard assets, but Exor's longer-term record shows talk of the demise of Buffett-style value investing and active portfolio management is premature. Since Exor's creation in 2009, shareholders who reinvested dividends have enjoyed a 1,100% return, according to Bloomberg data. That's far better than Berkshire Hathaway's record in that period.
The spin-off of Ferrari, masterminded by the now deceased Sergio Marchionne, was a triumph. Exor's 23% stake in Ferrari is now worth almost 8 billion euros, a stunning amount when you consider that the carmaker manufactures only 10,000 or so vehicles annually. Remarkably, Exor's 14.4% stake in Stellantis is worth less, even though that company includes more than a dozen mass-market car brands and shipped 8 million vehicles last year. Still, the merged entity should be more resilient than Fiat was and Elkann appears to have found a leader who can fill Marchionnne's shoes: former Peugeot boss Carlos Tavares.
Exor is looking for targets in areas adjacent to the industries where it's already invested and recently made a couple of small additions, including a stake in mobility data company Via Transportation and Chinese luxury goods company Shang Xia. It also boosted its holding in Italian media group GEDI Gruppo Editoriale SpA, which publishes la Repubblica and La Stampa.  
Finding something that would really move the needle on Exor's portfolio value will be challenging. In addition to the massive pools of unspent private equity, family-office funds and venture capital that is swilling around the market, Exor now faces competition for deals from special purpose acquisition companies (SPACs). Buffett has the same problem.
Perhaps that's no disaster. Exor must work harder first to get investors to recognize the value of the stuff it already owns. Exor shares trade at a 40% discount to the net value of its assets, estimates Alphavalue analyst Jorge Velandia. That's far wider than comparable holding companies such as Investor AB and Kinnevik AB, and corresponds to several billions euros of missing market value.
Exor investors may be worried that PartnerRe faces more Covid-related claims, and that the holding company is still too exposed to the automotive industry, which has been rocked anew by lockdowns and semiconductor shortages.  
When nothing else is cheap, Elkann could do worse than repurchase Exor's own stock. It's tough for patient allocators of capital right now, but their time will come again.
This column does not necessarily reflect the opinion of the editorial board or Bloomberg LP and its owners.
Chris Bryant is a Bloomberg Opinion columnist covering industrial companies. He previously worked for the Financial Times.