The Most Important Number of the Week Is 3.66%
(Bloomberg Opinion) -- Senator Joe Manchin jolted the Democrats this week by writing an op-ed for the Wall Street Journal demanding a "strategic pause" on President Joe Biden's $3.5 trillion economic agenda. The West Virginia Democrat, who is a key vote in the evenly divided Senate, cited "an overheating economy" that warranted a go-slow approach. Has Manchin even seen the economic data lately?
Regardless of whether you think the economy demands more fiscal stimulus, it would be a stretch to say it is overheating. The Federal Reserve Bank of Atlanta's widely followed GDPNow index, which aims to track the economy in real time, has fallen off a cliff amid a string of disappointing data, dropping to 3.66% from around 10% a couple of months ago. The team at Morgan Stanley led by chief U.S. economist Ellen Zentner just slashed its forecast for gross domestic product growth this quarter to 2.9% from 6.5%.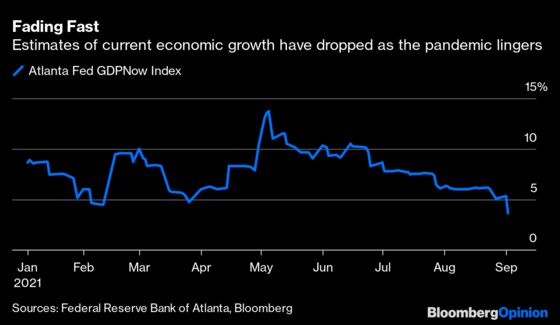 Citigroup Inc.'s Economic Surprise Index, which measures the degree to which data is either beating or missing expectations, is not only back below zero but is at levels not seen since the early days of the pandemic when it looked as if the economy — and world — was falling apart. Of the firm's 17 such indexes tracking countries and regions, only Norway is underperforming to a greater degree than the U.S.
Here's what is concerning: As ugly as those indexes are, they have yet to be updated to account for the monthly employment report that was released Friday. It showed that the economy added 235,000 jobs in August, far below the 733,000 median estimate of economists and strategists surveyed by Bloomberg.
To be clear, none of this suggests the economy is teetering on the edge of a recession. Annualized GDP growth of 3.66%, or even 2.9% for that matter, would compare favorably with most quarters since the financial crisis more than a decade ago. The average in those years was a measly 2.2%. Still, it is not hard to be just a little concerned. After all, the delta variant of Covid-19 is raging through the economy when some 6 million Americans are out of work and supplemental pandemic unemployment insurance programs are set to expire on Sept. 6 for the roughly half of U.S. states that haven't ended them already.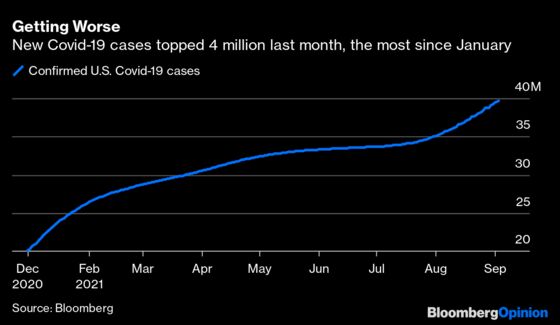 It's no wonder consumers are worried. The Conference Board said Tuesday that its consumer confidence index for August tumbled to a six-month low. That gauge dropped to 113.8 from a revised reading of 125.1 in July, missing the 123 median estimate of economists surveyed by Bloomberg. Consumers said they were somewhat less likely to purchase cars, homes and appliances.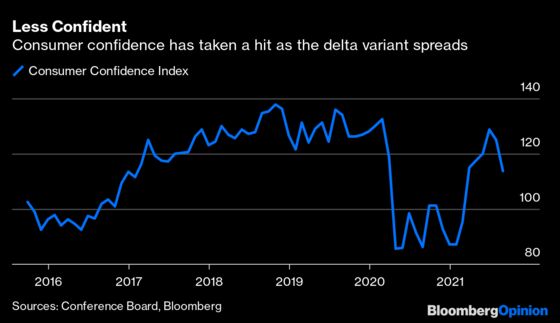 The reference to homes in the Conference Board was interesting, given how hot the housing sector has been. Perhaps it's just a case of sticker shock after the big run-up in prices, but it's still concerning that the National Association of Realtors said this week that pending home sales unexpectedly fell in July for a second consecutive month and for the third time in four months. Fewer sales mean less of a knock-on effect to the broader economy through things like furniture purchases, new landscaping and home improvement projects.
Let's not forget that consumer spending accounts for about two-thirds of the economy. But conditions are deteriorating so fast that the economists at Morgan Stanley are already cutting their estimates for August retail sales even though the next report from the Commerce Department isn't scheduled to be released until Sept. 16. They now forecast a steep 2.1% drop for August after July's 0.7% decline.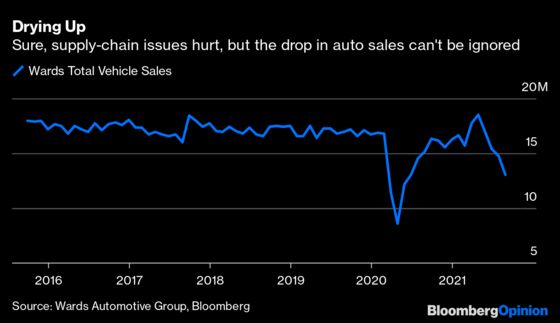 So, despite consumer demand waning rapidly, Manchin is worried about inflation getting worse from more fiscal stimulus. The thing is, the evidence suggests that the recent spike in prices has much more to do with supply-chain disruptions that will eventually ease than broad-based consumer demand. Manchin said he is also worried about rising debt levels, even though bonds yields are at all-time lows despite the surge in borrowing during the last decade.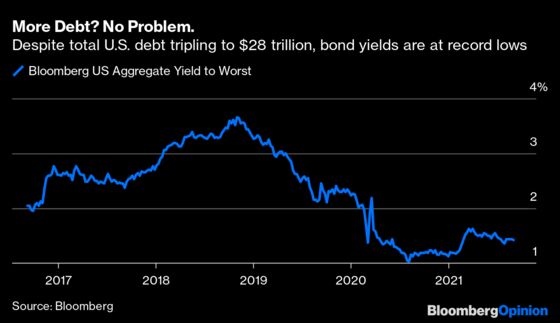 It's fine to debate the merits of Biden's $3.5 trillion economic agenda and what it would and would not do to improve the lives of Americas. Claiming that it would overheat the economy seems to just be willful ignorance. 
This column does not necessarily reflect the opinion of the editorial board or Bloomberg LP and its owners.
Robert Burgess is the Executive Editor for Bloomberg Opinion. He is the former global Executive Editor in charge of financial markets for Bloomberg News. As managing editor, he led the company's news coverage of credit markets during the global financial crisis.