One Million U.S. Jobs Heralds New Economic Era
(Bloomberg Opinion) -- If the February U.S. jobs report signaled that America is truly rounding the final corner on the Covid-19 pandemic, then after a month of ramped up vaccinations and warmer weather, the latest data suggest that the world's largest economy is now in an all-out sprint to herd immunity and a full reopening.
U.S. employers added 916,000 jobs in March, easily beating the 660,000 gain projected by economists in a Bloomberg survey and surpassing even the more optimistic crowd-sourced "whisper number" of 800,000. The unemployment rate fell to 6%, matching estimates, while the labor force participation rate ticked higher to 61.5%, though it remains stubbornly close to the most depressed level since the 1970s. February's payroll additions were revised higher by 89,000 to 468,000, meaning that combined with the new March figures from the Labor Department, the U.S. gained just more than a million jobs.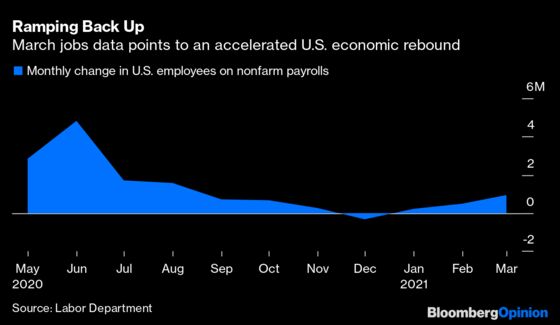 While the jobs report tends to attract the most attention, even if it falls on a U.S. stock market holiday such as Good Friday, like this one, it's hardly the only economic indicator that suggested a strong showing for the labor market. Neil Dutta, head of economics at Renaissance Macro Research, pointed out in a March 24 note that the Census Bureau's Small Business Pulse survey showed the biggest increase in paid employment and hours worked in several months. Meanwhile, a Conference Board index released on Tuesday showed U.S. consumer confidence rose in March by the most in nearly 18 years, reaching a 12-month high and exceeding the most optimistic forecast in a Bloomberg survey of economists. On Thursday, Institute for Supply Management data showed U.S. manufacturing expanded in March at the fastest pace since 1983, beating all but one estimate.
Channeling Federal Reserve Chair Jerome Powell's message that "it's good to be optimistic," Dutta, who accurately predicted both January's blockbuster retail sales data and February's surprisingly weak figures, concluded that the U.S. job market could be "headed to the moon," using a phrase more commonly used to describe shares of GameStop Corp. and other meme stocks. "For payrolls, we are about to scream 'seven-figure months only!'" he wrote in an article for Business Insider. In a similar vein, Atlanta Fed President Raphael Bostic said this week that "a million jobs a month could become the standard through the summer."
That target is lofty, no doubt, and that kind of sustained monthly pace would bring employment back to its pre-pandemic level by early next year. Employment grew by more than a million each month from May through August after contracting by an unprecedented 20.7 million in April 2020. Before last year, monthly payrolls increased by more than a million only once, in September 1983.
Regardless of whether the U.S. labor market persistently eclipses the seven-figure mark, the jobs data from March heralds a new era for economic data. And it goes beyond payrolls. Thanks to base effects from the sharp slowdown around this time last year, year-over-year inflation numbers are virtually guaranteed to be elevated in the coming months. The median forecasts in a Bloomberg survey of economists (mostly from early March) suggest the consumer price index will increase 2.9% in the second quarter from a year earlier, while the Fed's preferred inflation gauge, the core personal consumption expenditures price index, will jump 2.1%. Several other gauges look to be on the upswing as well.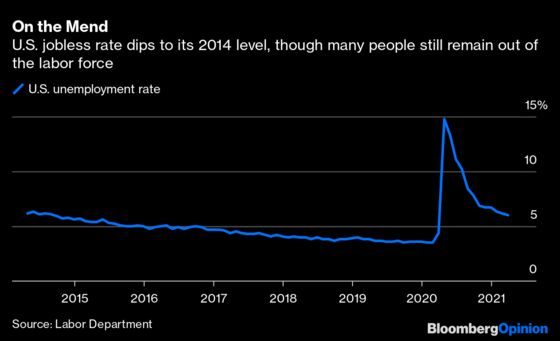 For markets, the question is how much investors have already priced in this potential boom. Citigroup Inc.'s U.S. economic surprise index is near a 10-month low, suggesting that forecasters are getting better at anticipating the data. Meanwhile, benchmark 10-year Treasury yields haven't yet been able to convincingly break through 1.75%, nor have 30-year yields managed to stay above 2.5%. That seems to suggest there's still doubt about how quickly the labor market will improve and whether 2021's economic growth, which is poised to be the strongest in decades, can be sustained in the long run.
The March jobs report leaves little doubt that the U.S. recovery is gaining even more momentum. With President Joe Biden keeping his foot on the gas with a $2.25 trillion U.S. infrastructure plan that his administration says is the most sweeping since investments in the 1960s space program, maybe the labor market truly is headed to the moon.
This column does not necessarily reflect the opinion of the editorial board or Bloomberg LP and its owners.
Brian Chappatta is a Bloomberg Opinion columnist covering debt markets. He previously covered bonds for Bloomberg News. He is also a CFA charterholder.