Covid-Decimated Jobs Rebound Faster Than Expected
(Bloomberg Opinion) -- During a webinar on Thursday with The Wall Street Journal, Federal Reserve Chair Jerome Powell made a not-so-subtle pivot at the end of the discussion when he was asked whether he would like to serve a second term at the helm of the central bank if it were offered (emphasis mine).
"I have nothing for you on that today. My focus is on, you know, the current challenges that we face and doing my job. There's a lot left to do. We have a lot of ground left to cover and good reason for optimism.

I mean, the last thing – the last maybe lesson would be even if terrible times try to take counsel from your hopes as well as your fears. Because, you know, when – in March and April of last year, I mean, you know – but you saw the way that people responded and the way – you know, the response and then where we are, it's really – we should never sell ourselves short. And so I would just point out that it's good to be optimistic."
That story of American resilience turned out to be a near-perfect setup for the Labor Department's February jobs report on Friday. It showed U.S. employers added 379,000 jobs last month, much higher than the 200,000 gain projected by economists in a Bloomberg survey, and January's payroll additions were revised higher by 117,000 to 166,000. The unemployment rate fell to 6.2% and the labor force participation rate held steady. Especially after a handful of disappointing months, this data indicates that the worst economic damage from the pandemic is squarely in the past.
U.S. Treasuries faced another torrent of selling after the release, with the benchmark 10-year yield reaching as high as 1.62% and five-year yields touching 0.84%, almost double the rate of a month ago. Though they pared those immediate moves, both yields have increased by about 10 basis points since Powell began speaking Thursday.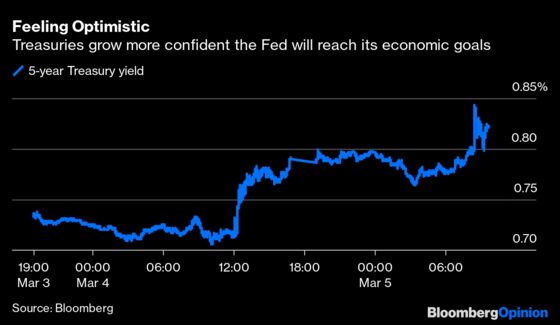 As I wrote yesterday, the bond market is betting that the U.S. economy will reach the Fed's clearly stated requirements for raising interest rates, perhaps sooner than previously anticipated. Policy makers need to see inflation hit 2% and remain on track to moderately exceed 2% for some time. And they also need to see a labor market that's consistent with their view of "maximum employment." 
Powell's optimism on that front went only so far, of course. When asked if the U.S. could reach maximum employment this year, he said bluntly: "No. I think that's highly unlikely. I think we have significant ground to cover." But he noted that when it comes to hiring, "we don't think it's really picked up much yet" after the U.S. winter months and the spike in Covid-19 cases. It's unclear whether the Fed itself had data that foreshadowed the better-than-forecast February jobs figure, but either way it suggests potentially even better days ahead.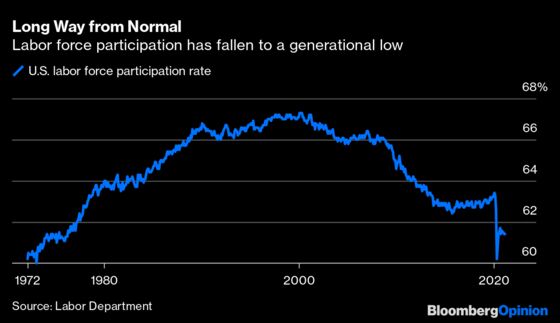 Perhaps the key indicator to watch is the labor force participation rate, which if it had dropped even slightly in February would have been the lowest since last May. It's still effectively the most depressed since the 1970s. Among those who have dropped out of the labor force, "the vast bulk of them actually want to go back to work — but they're not currently looking because perhaps the business where they worked is still temporarily closed or permanently closed," Powell said. "Four percent would be a nice unemployment rate to get to, but it'll take more than that to get to maximum employment."
Still, February's data was an encouraging indication that the U.S. economy is truly rounding the final corner on the Covid-19 pandemic this time. Leisure and hospitality jobs increased by 355,000, the biggest jump since September, after two consecutive months of declines. A 286,000 increase in employment at restaurants was the largest since July. There may yet be fits and starts, but the trend is clear: America's labor market is on the mend. When it comes to thinking about future jobs reports, as Powell said, take counsel from your hopes as well as your fears.
This column does not necessarily reflect the opinion of the editorial board or Bloomberg LP and its owners.
Brian Chappatta is a Bloomberg Opinion columnist covering debt markets. He previously covered bonds for Bloomberg News. He is also a CFA charterholder.