Jardine Matheson's Charmed Life Challenges China Wisdom
(Bloomberg Opinion) -- It's been a good week for Jardine Matheson Holdings Ltd. Shares of the Hong Kong-based, Singapore-traded conglomerate set off on their biggest two-day gain since the 2008 financial crisis on Monday after the company announced a $5.5 billion buyout of its second-largest unit. On Thursday, the Jardines flagship reported a profit and maintained its dividend after a year of what it called "major challenges." The 189-year-old group is surviving the pandemic and political change in Hong Kong in better shape than two fellow businesses with historic British roots, Swire Pacific Ltd. and HSBC Holdings Plc.
If that isn't a surprise, perhaps it should be. Jardines is intimately associated with the establishment of Hong Kong as a colony, having been founded in Guangzhou in 1832 to trade opium, among other products, and playing a key role in events that led to China ceding the territory to Britain a decade later. When the group delisted from Hong Kong's stock exchange ahead of the 1997 handover, China condemned the decision as "very irresponsible." Analysts told Bloomberg News at the time that the move was a logical result of Jardines' poor relations with China. The group had already moved its place of incorporation to Bermuda from Hong Kong in 1984, the year that Margaret Thatcher signed the Joint Declaration on the territory's return.
Few, then, in the early 1990s might have expected Jardines by now to be outshining Swire and HSBC, peers that have both assiduously courted better relations with China. Swire, which posted a wider-than-forecast loss Thursday, incurred Beijing's wrath after some employees of its 45%-owned Cathay Pacific Airways Ltd. joined Hong Kong's pro-democracy protests in 2019, while HSBC found itself embroiled in controversies over its role in the detention of Huawei Technologies Co.'s chief financial officer in Canada and the bank's position on the Hong Kong national security law. By contrast, Jardines has sailed (mostly) under the radar during the city's past two years of turmoil. This week's transaction serves to underline just how robust its condition is in comparison with the travails of others.  
In buying out Jardine Strategic Holdings Ltd., the group is unwinding a cross-shareholding structure that has long irked investors. Brandes Investment Partners LP made more than one attempt to end the arrangement, the last failing in 2001. Brandes declined to comment this week, though the buyout is belated vindication of its stance. Jardine Matheson shares rose a combined 24% on Monday and Tuesday, adding about $8.5 billion of market capitalization — a succinct illustration of just how much value was trapped in its inefficient corporate structure.
Like the delisting and the change of domicile, the interlocking shareholdings between Jardine Matheson and Jardine Strategic were a takeover defense designed to entrench the control of the Keswick family, descendants of the family of co-founder William Jardine. After years of buybacks that have helped to raise their equity interest, the structure has outlived its usefulness. Post-transaction, the family and related interests will have about 43%.
In a sense, the cross-shareholdings created an investment proposition not unlike the weighted voting rights popular with technology companies such as Facebook Inc. Outside investors were offered a bet on the stewardship of the controlling shareholders with no realistic prospect of dislodging them if things went awry. Those who took that deal and kept faith with the Keswicks have been rewarded. Since the end of 1994, when Jardine Matheson shares left the Hong Kong exchange, they have returned 2,118% including reinvested dividends, versus 474% for HSBC and 215% for Swire.
The gap with Swire, the closest direct comparable, has grown wider over time. On a price-to-book basis, the two tracked each other fairly closely until about a decade ago. As of Wednesday's close, Jardine Matheson was on a P/B ratio of 0.83, versus only 0.31 for its rival "hong," as the Hong Kong-based British trading groups have been known.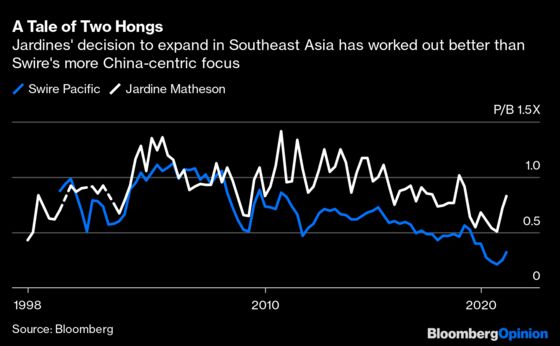 That owes much to Jardines' expansion in Southeast Asia, in particular its success with PT Astra International. The Indonesian auto distributor had grown to rival Hongkong Land Holdings Ltd. as the group's biggest profit contributor, before being hit particularly hard by the pandemic last year.
Yet how has the conglomerate managed to sidestep trouble during such a turbulent period in Hong Kong? Having a large Southeast Asian business and no listing in the city has perhaps allowed Jardines to view Greater China more dispassionately, diluting the existential importance of this one market. Even so, the group has also invested time and effort in its China relationships.
The biggest lesson may be a negative one. Jardines wasn't punished for decisions that angered China in the past, as some assumed it might be. But neither did Swire or HSBC win any greater understanding for their overtures of friendship. Jardines did what it deemed necessary to protect its own interests, and that pragmatism appears to have been accepted, whatever the initial noise. The Chinese government doesn't let relationships cloud judgments around its core interests, and — the evidence would suggest — doesn't expect others to either. This may challenge some of the prevailing narrative around how business should be conducted by foreign investors in China. 
Time and chance play a part. It may simply be luck that Jardines didn't own an airline at the start of a global pandemic (though it does have the Mandarin Oriental hotel chain), or a bank subject to U.S. regulation. Other than that, what stands out is what doesn't stand out. Jardines is such an unobtrusive presence in Hong Kong that it's easy to forget what a gigantic company it is: a total of 464,000 employees as of the end of 2019.
Its interests in the city include the Wellcome supermarket chain, Mannings drugstores, IKEA outlets and 7-Eleven convenience stores, as well as a vast portfolio of prime office space in the central business district. Yet unlike HSBC and to a lesser extent Swire, the Jardines name isn't particularly visible. That may be one reason that Jardines avoided some of the heat showered on other companies when the group declared its support for the national security law.
This has been a good time for companies to keep their heads down in Hong Kong, particularly if foreign owned. That's unlikely to change in the near future.
This column does not necessarily reflect the opinion of the editorial board or Bloomberg LP and its owners.
Matthew Brooker is an editor with Bloomberg Opinion. He previously was a columnist, editor and bureau chief for Bloomberg News. Before joining Bloomberg, he worked for the South China Morning Post. He is a CFA charterholder.