Jamie Dimon's Bond Warning Isn't Like Ray Dalio's
(Bloomberg Opinion) -- Bond bears have their sound bite from JPMorgan Chase & Co. Chief Executive Officer Jamie Dimon's annual letter to shareholders: "It's hard to justify the price of U.S. debt."
Dimon would hardly be the first captain of finance to suggest that the $21.4 trillion U.S. Treasury market, where 10-year notes currently yield 1.66%, is mispriced. Ray Dalio, founder of Bridgewater Associates, famously said last month that "the economics of investing in bonds (and most financial assets) has become stupid." Mike Novogratz, chief executive officer of Galaxy Digital Holdings Ltd., said Tuesday in a Bloomberg Television interview that he's "short a lot of interest rates."
However, as is typically the case when it comes to Dimon making predictions about the economy and financial markets, the 65-year-old de facto spokesman for the banking industry was masterful at hedging his views. Remember 2018? He created headlines like this one: "Dimon Doubles Down on Higher U.S. Yield Call With 5% Warning." Yet in reality, all he said was that the benchmark 10-year yield reaching 5% "is a higher probability than most people think." Considering that the odds of that happening at the time were virtually zero, it was hardly a bold prediction.
Throughout Dimon's latest letter, I couldn't help but draw a similar conclusion. Here's more context on his bond-market view:
I have little doubt that with excess savings, new stimulus savings, huge deficit spending, more QE, a new potential infrastructure bill, a successful vaccine and euphoria around the end of the pandemic, the U.S. economy will likely boom. This boom could easily run into 2023 because all the spending could extend well into 2023 … in this boom scenario it's hard to justify the price of U.S. debt (most people consider the 10-year bond as the key reference point for U.S. debt). This is because of two factors: first, the huge supply of debt that needs to be absorbed; and second, the not-unreasonable possibility that an increase in inflation will not be just temporary.
That's a lot to unpack. First, researchers at the Federal Reserve Bank of New York have a different opinion about the role that savings will have on U.S. economic growth in the years to come, arguing in a blog post this week that "spending out of excess savings won't be one of its major drivers." The new potential infrastructure bill is still a work in progress. All this for a "likely" boom that "could" last until 2023.
Dimon, who runs one of the Fed's primary dealers, also questions who will purchase Treasuries. He estimates that markets will be hit with $2.2 trillion in government debt, and that while many institutions have no choice but to keep buying, investors looking to take risk-off positions might not. "All of these buyers will seek out alternatives — and there are always some — if they become worried about the long-term, sustainable value of Treasury bonds. And remember, annual inflation is already running at 1.7%," he wrote. 
Of course, the letter conspicuously omits any examples of the other options available. And for all the hand-wringing about February's awful seven-year note auction, there have been few signs that apathy toward Treasuries is widespread. Negative inflation-adjusted yields are hardly a new phenomenon, either: The real 10-year yield was below zero from late 2011 through mid-2013 and briefly turned negative in 2015, 2016 and 2019 before this latest yearlong stretch.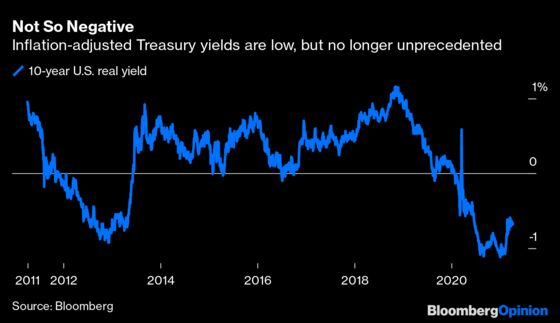 The last thing that stuck out from Dimon's letter is that he twice used the word "Goldilocks" to describe the outlook for the economy. That should immediately trigger everyone's contrarian instincts. Recall that heading into this year, the median forecast for the 10-year yield at the end of 2021 among analysts surveyed by Bloomberg was about 1.3%. The highest estimate for the end of March was also 1.3%. Instead, the benchmark rate finished at 1.74%, wrapping up the Treasury market's worst quarter in decades. It's trendy to question the value of bonds, but yields have already moved a long way.
Dimon considers a Goldilocks moment "fast and sustained growth, inflation that moves up gently (but not too much) and interest rates that rise (but not too much)." My Bloomberg Opinion colleague John Authers recently referred to a similar set of circumstances as "nirvana for stocks." Again, though, Dimon has caveats:
Being who we are, while we are going to hope for the Goldilocks scenario – and we think there is a chance for that to happen – we will anticipate and be prepared for two other negative scenarios: 1) the new Covid-19 variants may be more virulent and resistant to the vaccine, which could obviously reverse a booming economy, damage the equity markets and reduce interest rates as there is a rush to safety, and 2) the increase in inflation may not be temporary and may not be slow, forcing the Fed to raise rates sooner and faster than people expect.
As the largest U.S. bank, JPMorgan obviously has an incentive to cheer for both a steeper yield curve and inflation that doesn't rise so high that it punishes lenders. Still, Dimon's tone is markedly different than that of Dalio, who warned that the U.S. "could become perceived as a place that is inhospitable to capitalism and capitalists," though in some ways that's just him  talking his own book and his negative view on the dollar. Dimon doesn't mince words about America's political dysfunction, but remains optimistic that "we can build a stronger and more equitable nation."
That makes Dimon's warning about the value of Treasuries unlike Dalio's. He sees the U.S. economy reaching the Fed's goals, perhaps even sooner than policy makers anticipate. It's worth cheering for his Goldilocks scenario, even if things rarely play out that way.
This column does not necessarily reflect the opinion of the editorial board or Bloomberg LP and its owners.
Brian Chappatta is a Bloomberg Opinion columnist covering debt markets. He previously covered bonds for Bloomberg News. He is also a CFA charterholder.