Knicks Owner James Dolan Shoots Air Ball With MSG Deal
(Bloomberg Opinion) -- James Dolan shoots and misses. 
The media mogul is stitching back together two companies that were once one: Madison Square Garden Entertainment Corp. and MSG Networks Inc. They're part of a trio of assets tied to the New York Knicks basketball team that Dolan had split into three publicly traded companies in recent years, making Friday's deal a partial undoing of that breakup strategy. MSG Entertainment (MSGE), which owns the arena, agreed to acquire MSG Networks (MSGN) — the owner of the cable channel that airs Knicks games — in a tax-free, all-stock transaction valued at $1.5 billion including debt, according to data compiled by Bloomberg.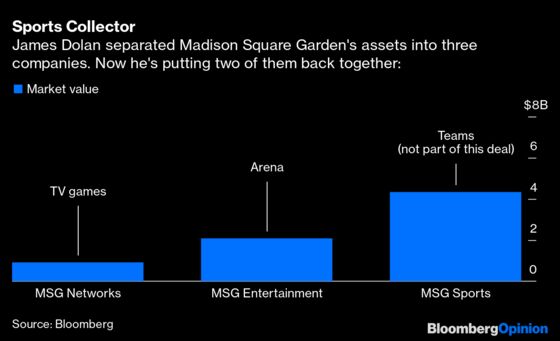 Using Thursday's closing prices, the offer equates to $16.16 a share for MSGN, a 7% discount to where it had ended the day. Bloomberg News previously broke the story about the potential merger on March 10. The deal announcement points out that the bid works out to a 4% premium using the prices on that date. However, last week MSGN rallied to as high as $20.61 a share while MSGE slipped, making the merger terms more of a letdown than a win. MSGE continued its descent Friday, falling 7%, and dragging MSGN down 9%.
But the price isn't the only reason MSGN shareholders are disappointed. After I wrote about the rationale for recombining the companies earlier this month, some investors and followers of MSGN expressed displeasure with the plan.
"While the Dolans have been terrific capital allocators in the past, much better than Wall Street gives them credit for, this deal makes little sense and substantially undervalues MSGN," Jonathan Boyar, president at Boyar Value Group, which oversees $200 million of assets, said after Friday's announcement. The firm owns shares of MSGE, MSGN and Dolan's other company, Madison Square Garden Sports Corp., the operator of the Knicks and the New York Rangers hockey team. "I hope one of the other regional sports networks comes in with a bid," he said.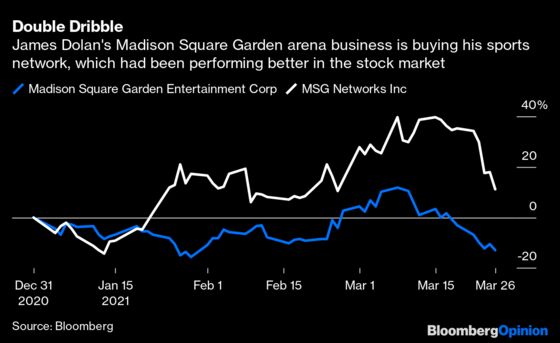 Ideally, he and others would have liked to see the network and teams put back together, and then sold to someone else. If you're thinking, "Wait, why would a wealthy businessman sell a trophy asset like the Knicks — isn't owning a sports team the pinnacle of affluence?," you must not be familiar with the Dolan-Knicks relationship. Dolan is one of the most scorned owners in professional sports. Bloomberg Businessweek even wrote an article in 2019 titled, "Is the Knicks' James Dolan the Worst Owner in Professional Sports?" Still, the notion of him selling may just be wishful thinking. 
The rationale for instead merging MSGE and MSGN has to do with the aftereffects of the pandemic and the future of sports betting. Covid-19 lockdowns left MSGE with a portfolio of empty venues unable to generate cash; its other properties include Radio City Music Hall, the Chicago Theatre and the new MSG Sphere in Las Vegas, for which construction plans had to be delayed. The combined entity will have "a stronger liquidity position to support its live entertainment business," according to Friday's merger statement. Even though cord-cutting continues to wallop cable networks, MSGN does throw off a lot of cash. The companies also cite a greater ability to move deeper into legalized sports betting. 
But the only bet that's a sure thing is that whatever Dolan's doing, someone will be booing. 
This column does not necessarily reflect the opinion of the editorial board or Bloomberg LP and its owners.
Tara Lachapelle is a Bloomberg Opinion columnist covering the business of entertainment and telecommunications, as well as broader deals. She previously wrote an M&A column for Bloomberg News.