Italy's Populists Lose a Big Confidence Vote
(Bloomberg Opinion) -- Italian retail investors are usually faithful buyers of their government's bonds, as my Bloomberg News colleague John Ainger points out. So Rome's struggles to generate more interest in its latest inflation-linked debt sale, aimed chiefly at Italian households, is a sign of just how bad things are. The budget battle with the European Union isn't filling the locals with confidence.
Take-up from retail investors in the first two days of the placement has raised just 722 million euros ($822 million), much lower than at the equivalent point in similar recent sales. Over the past few issues, BTP Italia bonds – as this type of paper is known – have usually raised about 7-9 billion euros in either a six or eight-year maturity. This time, the Italian Treasury has reverted to offering four-year maturities, as it did during the sovereign debt crisis, in an attempt to find takers. It doesn't seem to have done the trick.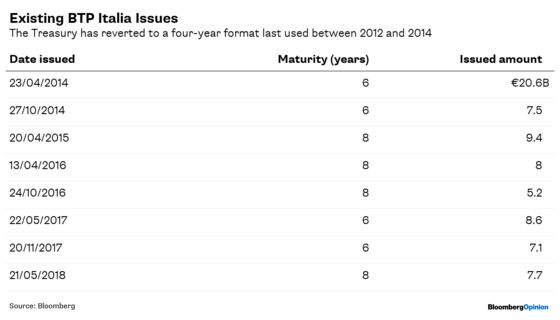 Beyond the natural anxiety about the populist government, another problem is that the indicative 1.45 percent fixed coupon is below prevailing market rates as yields have surged higher again this week. It doesn't help either that May's BTP Italia, issued just as the League and Five Star Movement was taking power, has lost 12 percent of its value. Cautious retail investors are right to be wary about parting with their savings.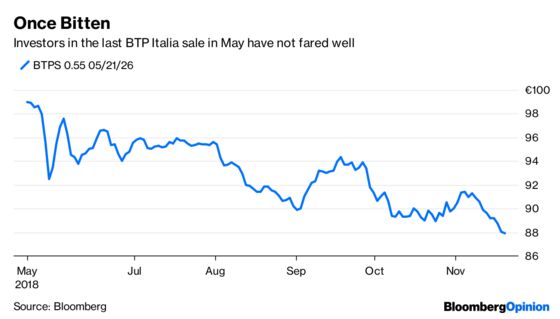 The Treasury can raise the fixed coupon element (there's also the inflation-linked payment on top), but only at the end of the four-day sale process. That might be too late to entice enough retail investors. Institutions, who can only take part on Thursday, and the braver individual savers will have to trust that the final fixed coupon is set at a fairer market value. A 15 basis point improvement to the final coupon at the May sale suggests that the Italian authorities will probably do just that. Particularly if they want to keep the door open to as wide an investor base as possible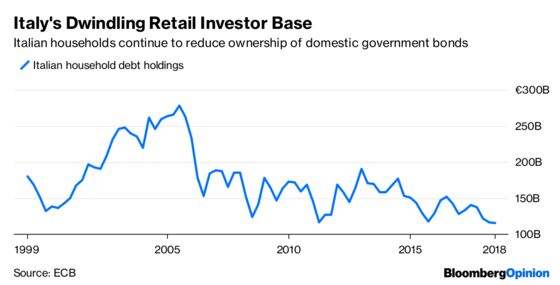 This sale is doubly disappointing because it should have taken the strain off the regular monthly auctions of conventional bonds. With only about 20 billion euros of bonds left to raise this year, the Treasury could then have cancelled auctions in December, as is usually the case. That looks less likely now and there will be renewed pressure on the five- and 10-year auctions on Nov. 29.
Italy is already struggling to place longer-dated maturities. This week shows that the rot is creeping towards the shorter end, even with an inflation hedge. That doesn't bode well for the 2019 issuance plans of more than 250 billion euros. With the European Central Bank's quantitative easing ending this year, the fate of the Italian bond market lies increasingly with its politicians. Its citizens – at least of the investing kind – clearly expect better.
This column does not necessarily reflect the opinion of the editorial board or Bloomberg LP and its owners.
Marcus Ashworth is a Bloomberg Opinion columnist covering European markets. He spent three decades in the banking industry, most recently as chief markets strategist at Haitong Securities in London.