Italy Bridge Tragedy Calls for Cooler Heads
(Bloomberg Opinion) -- We're still in the early stages of finding out what caused the bridge collapse in Italy that killed at least 39 people.
Yet the market's judgment on the company that runs the motorway concerned has been understandably swift, with shares in the Benetton-backed Atlantia Spa — one of Italy's biggest corporate names – declining by more than a quarter at one point on Thursday morning. The stock recovered very slightly after the Italian government appeared to soften a threat to strip Atlantia of its highway operator license.
Even so, the shares had still lost about 21 percent of their value later in the day, meaning about 5 billion euros ($5.7 billion) has been removed from the market value over the past three days.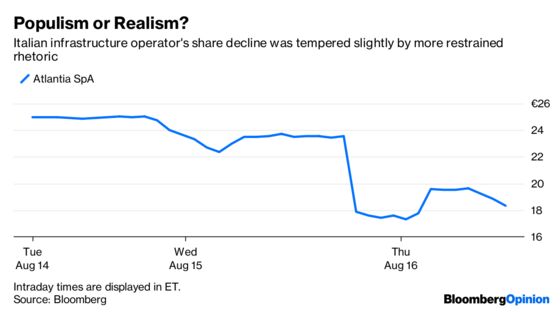 Infrastructure is typically among the least risky investments around, but first and foremost it has to be safe for the people who use the structures built and maintained by these companies. Motorway bridges are multi-decade contracts that yield reliable cash flows. But a breach of trust, whether on the side of the contractor delivering the project or the government holding it to account, has financial repercussions well beyond the immediate cost of a disaster — hence the depth of the share price decline.
People are reasonably asking about the state of Italy's other aging bridges and tunnels, questions only partially answered by Atlantia's statement that it had invested 10 billion euros in modernizing the country's motorways in the past decade.
That Italian politics are so febrile makes it even more difficult to see clearly here. The rhetoric from the populist coalition government has tended toward hasty blame rather than deliberation. Prime Minister Giuseppe Conte warned that Atlantia's Autostrade unit would lose its license — before any probe or trial has taken place.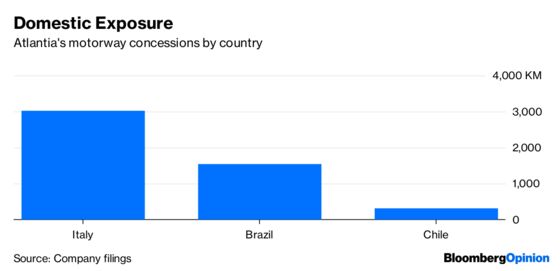 A transport ministry official said later that any initial move to revoke the license would be restricted to the stretch of affected motorway in Genoa, which is a welcome sign of calmer thinking. Atlantia was right to question whether the broader threat was fair "without any verification of the material causes of the accident."
Indeed, there are a few legal and financial realities to consider. A unilateral contract withdrawal by the government might entitle Atlantia to damages, which would cost the taxpayer. It might also trigger legal clauses that would force Atlantia's subsidiary to repay a big chunk of its 9 billion euros of outstanding bonds.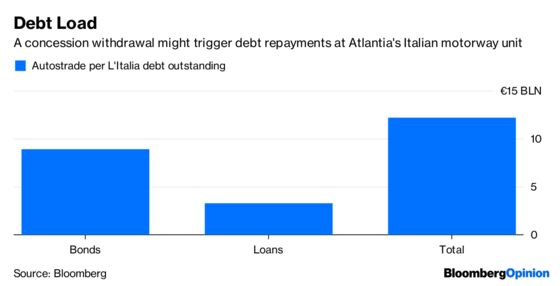 Any hastiness on the part of the state to punish Atlantia, without proper legal process, might be self-defeating and spill over to companies and projects that have nothing to do with this one. Italian infrastructure is a highly concentrated market among local players.
Still, trying to guess the next moves of Italy's coalition leaders is hard. Politicians of all stripes often play to the public gallery after a disaster, but this is what populists do as a matter of course. The Five Star leader Luigi Di Maio has warned already that no reimbursement will be paid to Atlantia's Autostrade subsidiary in the event of a revoked license.
It's natural for investors to react to a disaster like this, as they try to ascertain the probable financial cost (the human cost is, of course, incalculable). But Italy's political situation makes it harder to do.
This column does not necessarily reflect the opinion of the editorial board or Bloomberg LP and its owners.
Lionel Laurent is a Bloomberg Opinion columnist covering finance and markets. He previously worked at Reuters and Forbes.