It's the End of Jobs Day as We Know It. Traders Feel Fine.
(Bloomberg Opinion) -- As it stands, today marked the last gasp of a decades-long tradition around the release of the all-important U.S. employment report.
Bloomberg News and other media organizations, as is customary, had computers in a "lockup" room, received an advance look at January jobs data and published headlines and full-length articles immediately at 8:30 a.m. New York time. That gives investors an easy-to-understand analysis of whether the U.S. labor market exceeded or missed expectations, which in turn provides a crucial input into forecasts about economic growth, inflation, corporate earnings and Federal Reserve actions.
The report showed that U.S. payrolls jumped by 225,000 in January, exceeding the median estimate of 165,000 in a Bloomberg survey of economists. Average hourly earnings rose by 3.1% from a year earlier, slightly topping forecasts. The unemployment rate edged higher, to 3.6%, in part because of broader labor force participation. Treasury yields initially jumped, then dropped back to little changed, in the usual bout of volatility.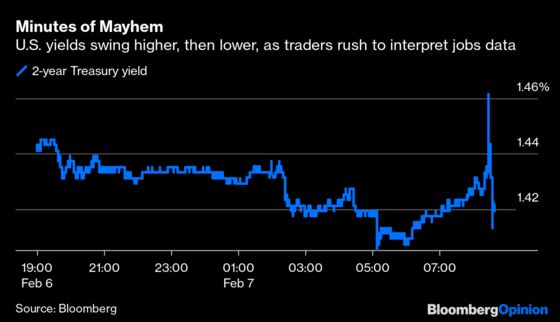 When the next payrolls report rolls around on March 6, the market swings might be even bigger. The Labor Department's new ban on computers is set to take effect March 1, a move that will most likely leave news services slightly behind the official release on the government's website. The Commerce Department, which is responsible for distributing major reports like gross domestic product and retail sales through the same lockups, has signaled it will follow the changes.
As a journalist, my natural inclination is to balk at this change. Without trusted news outlets immediately providing official numbers and comparisons to forecasts, and with Twitter drawing greater attention from Wall Street, there's clearly potential for misinformation or misleading views. It also raises the stakes for government websites, which will surely face an onslaught of traffic and could roil markets if they malfunction. Cybersecurity risks from bad actors loom large. My Bloomberg Opinion colleague Dan Moss, who helped successfully defeat a similar attempt to restrict media access in 2012, called all this a "recipe for chaos" last month.
Talk to bond traders, on the other hand, and you'd hardly know anything was afoot. Their rationale? High-speed algorithmic traders are fastest under the current system, and they'll be just as quick under the new one. Some speculate that these firms already scrape the Labor Department's website anyway to inform their jobs day trades, possibly on top of key words from headlines. So, in that sense, not much will truly change: Algos will get the first crack at the market, and the rest of Wall Street will react soon afterward.
Now, it's technically not quite so simple. Bloomberg News's Nick Baker and Katia Dmitrieva explained last month why the new way of doing things could intensify the algo wars:
If the government data is only available on its website at the time of release, it could make these reports more of a winner-takes-all situation. That's because websites are built atop a first-in, first-out communications protocol. Whoever pings a site fastest gets the information first — meaning a single trading firm may get the market-moving info before anyone else, virtually ensuring a winning trade.
So, no, it's not a completely level playing field. But for the vast majority of Wall Street, this sort of high-speed jockeying probably won't do much to alter their jobs day routines. "The jobs report, like other economic data, has taken a back seat to algos and unforeseen headline risk," said Tom di Galoma, managing director of government trading and strategy at Seaport Global. He said he uses both a Bloomberg terminal and the Labor Department website. "I will react the same way I always have, which is wait and see the print, then react."
The good news for di Galoma and his peers is that the Labor Department didn't go as far as the Agriculture Department, which did away with media lockups entirely in 2018. That created a dicey situation in November: The USDA.gov website was down for six minutes when the agricultural trading community needed access to monthly figures on how much corn, soy and other crops were coming to the market. Commodity prices whipsawed.
In theory, if the Labor Department website had a similar problem, journalists could at least relay the hard data over newswires themselves after the lockup. But that would be slower than machine-generated headlines. And no disrespect to the World Agricultural Supply and Demand Estimates report, but jobs data from the world's largest economy is considered one of the single-most important macroeconomic reports released each month. A blunder would be embarrassing for the U.S. and potentially costly for traders.
To be clear, there's still a slight chance nothing changes. Attorneys for Bloomberg News and four other organizations this week asked the Labor Department to withdraw its plan, in part arguing that it imposes an "unconstitutional limitation on the media's First Amendment protected right." The letter said the move would "have a material negative effect on the public" and "could materially increase the risk of market disruption through misinformation." Bloomberg, along with other media outlets, derives revenue from selling data feeds to customers, including algorithmic traders.
It seems likely those arguments will fail without the backing of Wall Street. As long as the traders who are paid to react decisively to the jobs report don't feel disadvantaged (or, at least, any more than they already are), the government probably won't sweat the move. It doesn't hurt that some strategists have found the payrolls report moves markets less than it has in the past to the point that it's about the same as a typical trading session. That trend could prevent any truly huge spikes in volatility.
Maybe these changes will end up being subtle. Maybe they'll invite chaos. Either way, it's the end of jobs day as we've come to know it. And traders feel fine.
This column does not necessarily reflect the opinion of Bloomberg LP and its owners.
Brian Chappatta is a Bloomberg Opinion columnist covering debt markets. He previously covered bonds for Bloomberg News. He is also a CFA charterholder.