It's Just Wings, and That's Perfectly Fine
(Bloomberg Opinion) -- When Chili's corporate parent reports earnings Wednesday, investors will be looking for details about the performance of a flashy novelty: It's Just Wings, an online-only restaurant with a super-short menu featuring — you guessed it — mostly just wings.
Brinker International Inc. tantalized investors last year when it said the concept was on track to notch $150 million in annual sales – an impressive feat for a restaurant that debuted in June, exists only online and fulfills orders placed on Doordash from Chili's and Maggiano's kitchens. It's among an explosion of digital-only restaurants, often centered on a particular menu item to help attract hungry diners looking for a specific dish. These virtual outposts can be backed by "ghost kitchens" that lack a physical storefront or, as in the case of It's Just Wings, existing eateries with space and labor to spare. Chains and independents alike have been using them as a low-cost way to try new dishes and ideas — something that only became more urgent when the pandemic hit.  
Many of these newcomers have something in common: Extremely literal brand names and narrowly curated menus. Denny's Corp. has one called the Burger Den. Applebee's corporate parent serves up Cheetos-covered chicken under the virtual banner Cosmic Wings. Red Robin Gourmet Burgers Inc. recently announced Chicken Sammy's and Wing Dept. Chicken appears to be a particularly hot category for online experimentation. During a quick lunchtime scan of Doordash last week, I noticed these digital-only options in my area: Fried or Die Chicken, Wing Squad, Ben's Buffalo Wings, Loaded Chick'n Tenders, Killer Wings. No dish is too niche for the trend: You can order from online-only shops Orange Chicken Snob, Savage Burrito, Kana's Poke Nachos, Grilled Cheese Society, the Ice Cream Shop and OMG BBQ LOL.
These concepts reflect the need to compete and advertise in a different way when a food brand only exists within delivery apps. Diners use these services much like a web surfer uses Google or a shopper uses Amazon.com Inc.: as a search engine to track down a thing they already know they want. Naming a restaurant after one such item is an effective way to jump out in those results.  
This is highly tactical, dish-by-dish combat that has clear parallels to the ways the media and retail industries have already been reshaped by the concept of search engine optimization. While a major newspaper still works to make itself an attractive bundle for paying subscribers, it also must lure readers one article at a time with snappy, keyword-laden headlines that rise to the top of searches. Similarly, clothing brands still must score with in-store shoppers, but they also have to design online product pages and ad-buying plans to grab sales from people typing "toddler pajamas" into a search bar.  
Branding and marketing for digital restaurants is a new skill, and it could be just as decisive as logistical innovations in sorting winners from losers in this realm. There is much at stake: Online-only outposts give restaurants an opportunity to sell to someone other than their core audience, such as Chuck E. Cheese's experiment with Pasqually's Pizza & Wings. Melissa Wilson, a principal at food-service consultancy Technomic, notes these concepts can help restaurants make sales at different price points or during times of the day when they aren't typically busy – incremental business that could meaningfully bolster sales and profitability.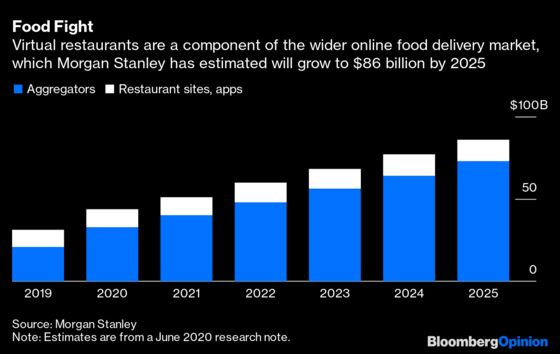 That only becomes a reality if digital restaurant operators can get the branding right, though, and the name is just one step. At Reef Technology, a company working on virtual brands and ghost kitchens, Chief Creative Officer Alan Philips says it uses data to determine, neighborhood by neighborhood, what concepts to run with and then look for signals from social media and elsewhere to figure out whether to tweak a logo, menu photography, pricing or other factors. 
But Reef, to my surprise, does not see virtual-restaurant branding as something that happens only on the smartphone screen. As Philips put it to me, "Packaging, in many ways, is your restaurant." That's why one concept Reef has partnered on, Krispy Rice, packs its orders in artful, Instagram-ready pink boxes. It's one more example of how elements of food delivery that didn't previously matter much – like the no-frills paper bags and tin foil – must be rethought for this new world.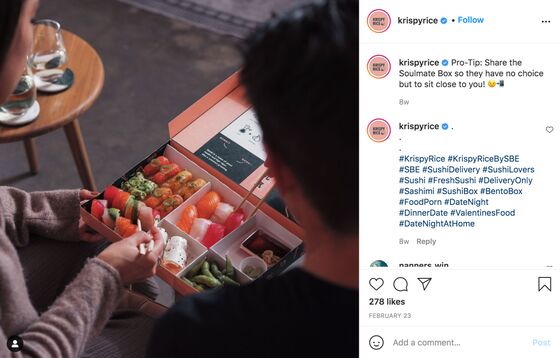 The pandemic served as a nudge for many restaurants to experiment with online brands. Local regulations and customers' safety concerns emptied their dining rooms, creating kitchen space and motivation to try something different. As traffic to restaurants picks up, I expect some eateries will find their virtual offerings less worthwhile — and potentially less feasible, given recent reports that it is difficult to find workers in this industry. 
Still, this trend should not be dismissed as a passing fad. Analysts say it is hard to estimate the size of the market for these concepts, not least because the terms ghost kitchen and virtual brand are sometimes used interchangeably when they are not necessarily one and the same. But growth in online food delivery is practically a sure thing, and digital-only brands will be a logical way to get a piece of that spending without making a huge capital investment.
Beyond their sales potential, virtual restaurants can serve a unique purpose for national chains such as Chili's. They provide a laboratory to test items for a megachain's menu or can be a place to offer seasonal treats such as ice cream. They simply make it very economical to do something that, from inception, is meant to be temporary. That gives Brinker and its peers ample incentive to keep cooking up restaurants whose only storefronts are on a screen.
This column does not necessarily reflect the opinion of the editorial board or Bloomberg LP and its owners.
Sarah Halzack is a Bloomberg Opinion columnist covering the consumer and retail industries. She was previously a national retail reporter for the Washington Post.