Is This the Right Time to Buy a Hong Kong Apartment?
(Bloomberg Opinion) -- Is it the warm spring weather, or that Hong Kong is finally reopening after nearly three-months of semi-lockdown? Last weekend, Sai Ying Pun, a residential neighborhood two subway stops west of the central business district and 15 minutes' walk from the Hong Kong University campus, was abuzz with visitors. People were shopping for apartments.
Two friends came to see my two-bedroom to get an estimate of how much rent they could collect from a 488-square-foot unit that, according to HSBC Holdings Plc estimates, should cost slightly over HK10 million dollars ($1.28 million). 
That afternoon, the couple — a tenured professor at a top-ranking business school and his fintech executive wife, viewed a 767-square-feet apartment nearby. Within a day, they put down an offer for the place. With HK$13.3 million dollars, they became proud first-time home owners in the world's most unaffordable city, undaunted by the fact that the median home price-to-income ratio stands at over 20 times, well above runner-up Vancouver's 13 times. 
The city's residential real estate seems to be warming up again. Last weekend, transactions at 10 major estates tracked by Centraline Property hit an eight-year high, while a measure of sellers' confidence rose for the third consecutive week, according to Midland Realty. 
This year, as more friends buy apartments in my up-and-coming neighborhood, now dotted with wine shops, boutique gyms and eateries – and a lot of French spoken on the streets, I naturally got tempted. Should I climb the middle class social ladder, too?
Sitting in front of the Bloomberg terminal, it's not hard to conjure up a buy thesis. Plagued by political protests, Covid-19, and recently, the threat of millions emigrating over worries about the city's future, Hong Kong's residential real estate market has lagged behind other metropolitan cities such as Vancouver, or just across the border, the tech hub of Shenzhen. Now that everyone is into the vaccine-fueled reflation trade, could home prices in Hong Kong get a lift too?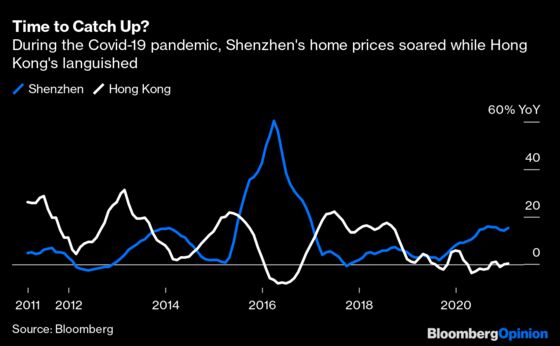 So, I asked the couple who voted with their wallets how they feel about diving into the market now.
To my surprise, our 40-something professor, who's lived and worked in Hong Kong for a decade, was feeling risk-averse. His $1.7 million purchase was a defensive play — an inflation hedge against central banks that have no bottom line. "The mentality has shifted," he said, "and we are looking at continuous quantitative easing."
Over the last year, the world's four biggest central banks unleashed $8.5 trillion of stimulus — and there's no sign they will stop any time soon. U.S. President Joe Biden, for instance, is proposing a $1.9 trillion package. Quantitative easing propels asset prices, and can trump all real-world concerns over the future of Hong Kong, they reasoned.  
The couple estimates they could collect only somewhere between 2.5% and 2.8% yield from tenants and they don't expect much short-term capital gain, given that Hong Kong's political uncertainty is an ongoing concern. But is income still a meaningful metric to evaluate assets? Where else can they put their cash? Our professor finds stocks overvalued, and laments that even Tesla Inc. founder Elon Musk said Bitcoin's price seemed high.
As for his fintech executive wife, she's looking for a rare window where some long-term residents are leaving Hong Kong while the new ones have yet to arrive, held back by the city's strict quarantine measures. For years, when she viewed a unit, she knew the apartment had been bought as an investment given the bare-bones renovation. Now, my friend sees quite a few pleasant places for sale, leaving her the impression that there are genuine — rather than speculative — sellers in the marketplace. The previous owner of their flat, a French national, has been living in Hong Kong for over a decade. But Covid-19 prompted her to move back to Europe to be close to her aging parents, leaving a beautifully renovated apartment.
Of course, the couple is also looking for a bargain, made possible by the government's property tightening measures. Apartments worth over HK$10 million require a 50% down payment, whereas those just under allow the buyers to take out as much as an 80% mortgage. Not everyone has so much capital on hand. As such, flats over that threshold would perhaps have fewer bidders and better prices, they reasoned. All of that advantage could just evaporate once Hong Kong lifts its quarantine, bringing billions of dollars flowing into the city again.
I am tempted. After all, how do we value anything these days? If Bitcoin's fair value can be anywhere between $11,000 and $146,000, and electric vehicle makers can be valued like software companies, a 488-square-feet flat for $1.3 million may not sound all that outlandish. Plus, if you consider Hong Kong's rental yield low, Shenzhen's halves that.
But there are caveats. First, since most of us would agree that buying a flat now is most likely a long-term investment, monthly cash flow is important. So your job has to be secure. When I sought the advice of another friend, a director-level banker who moved to Shanghai for work in late 2019 but is collecting over HK$30,000 monthly rent from her unit in Sheung Wan, she reminded me that for eight long years, she shoveled half of her income into mortgage repayments. "I did not buy a single bloody designer bag," she said. 
Another thing to consider is market liquidity. Secondary market transaction volume has slumped since the introduction of a special stamp duty in 2010, and one for buyers in 2012, which means your unit might sit on the market for months.
So if you are into shopping, or day trading, perhaps real estate is not for you. But for some, they hang onto Ray Dalio's cash is trash motto. "We are forced to do this," said my friends.
This column does not necessarily reflect the opinion of the editorial board or Bloomberg LP and its owners.
Shuli Ren is a Bloomberg Opinion columnist covering Asian markets. She previously wrote on markets for Barron's, following a career as an investment banker, and is a CFA charterholder.