Is This GOP Senator Really So Bullish on EVs?
(Bloomberg Opinion) -- When it comes to the prospects for an electric vehicle revolution, can there be a more optimistic soul than Republican Senator Deb Fischer of Nebraska? 
Fischer proposed a nonbinding amendment as part of this week's vote-a-rama on President Joe Biden's $3.5 trillion budget proposal. Passed by a vote of 51-48, it calls for a means test on the federal tax credit for EVs, restricting it to those making less than $100,000 a year and vehicles costing less than $40,000.
That second stipulation is especially notable, mainly because it would rule out subsidies for many of the electric models on the road in the U.S. today or anticipated soon. Smaller models like the Nissan Leaf or Chevy Bolt would qualify. But for the most popular brand, Tesla, only the most basic Model 3 would scrape under that threshold. Ditto for Volkswagen AG's most basic version of its ID.4 crossover. Neither Ford Motor Co.'s Mustang Mach-E nor its forthcoming F-150 Lightning truck would qualify either.
Indeed, while Bloomberg NEF projects electric vehicles will reach cost parity with internal combustion engines within a few years, they don't see average prices for the large and SUV models popular with American drivers dropping below $40,000 until the late 2020s. And that's in real terms.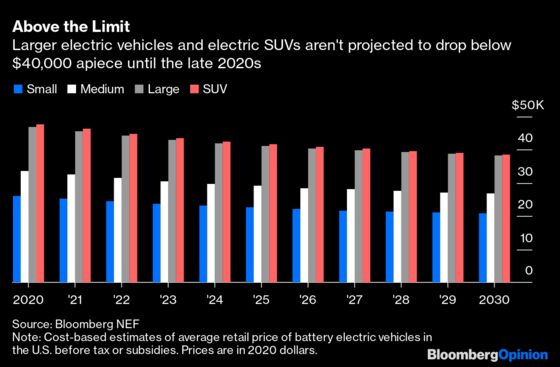 One can only assume, therefore, that Fischer must expect the cost of EVs to fall even faster, accelerating the energy transition.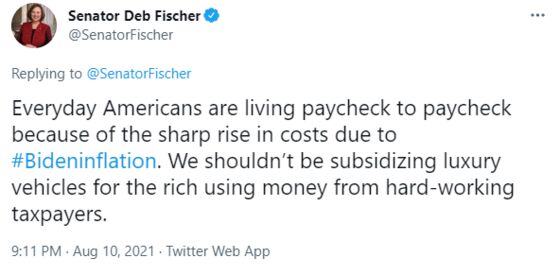 The characterization of EVs as "luxury vehicles for the rich" caught my eye because it is a longstanding talking point for fossil-fuel lobbyists. A few years ago, organizations such as the American Petroleum Institute and Koch Industries Inc. were sending letters to federal and state authorities urging them against financial support for EVs or charging infrastructure using the same elite-bashing language (see this).
It's an argument well-fitted to the demagogic zeitgeist. The fact is, EV tax credits are a clunky way of doing decarbonization and tend to go disproportionately to wealthier people. The problem is, more efficient methods such as carbon taxes — which would tend to fall more heavily on higher earners, especially if revenue was redistributed — aren't optimal from a political point of view, especially on Fischer's side of the aisle. Indeed, let's face it, anything that might impinge on oil's near monopoly of transportation — be it taxes, fees, standards, subsidies or whatever — tends to get short shrift on Fischer's side of the aisle. This, along with the increasing urgency of addressing climate change, is why climate policies now tend toward the regulatory and prescriptive end of things.
There are sensible ways to moderate the tax credit's shortcomings — and Fischer's amendment actually heads in the right direction before it swerves to the populist offramp. Income and price caps help to limit the tax credit's distributional shortcomings, which is why EV-friendly California already has them for its state rebates. There, the income cap kicks in at $150,000 for single filers — with higher rebates for low and moderate-income households — and the price cap is $60,000. The latter, 50% higher than Fischer's proposal, would help with an F-150 Lightning but not a Porsche Taycan.
In the absence of clearer price signals on carbon, subsidies to encourage transportation electrification are crucial in addressing the single biggest source of greenhouse gases in the U.S. As Biden's nervous call to OPEC+ this week demonstrates, efforts to limit the supply of fossil fuels will be doomed by backlash unless consumers are offered adequate routes to replacement on the demand side, and quickly. In other words, transition isn't possible unless people can literally buy into it. Subsidies for EVs will not be forever, as even a cursory glance at price trends would tell any senator who might care to look. For now, though, they are necessary and broadly politically acceptable.
Setting the cap at $40,000 would neuter them, which, along with Fischer's social-media marketing of her nonbinding amendment, suggests it is more performative than practical. Possibly, that will win plaudits from some contingent of voters or donors. Still, one suspects the three Democratic senators who voted for it — including Joe Manchin and Kyrsten Sinema — derived at least equal benefit in terms of their own signaling. That may count for more in securing their support for the real prize for EVs: that Biden budget.
This column does not necessarily reflect the opinion of the editorial board or Bloomberg LP and its owners.
Liam Denning is a Bloomberg Opinion columnist covering energy, mining and commodities. He previously was editor of the Wall Street Journal's Heard on the Street column and wrote for the Financial Times' Lex column. He was also an investment banker.