The Holiday Hiring Binge Is Happening Sooner This Year
(Bloomberg Opinion) -- In November the U.S. retail sector lost 20,400 jobs, according to the somewhat disappointing employment report that came out last week. Except that it didn't, really. There were 331,600 more people working in the retail trade in November than in October, but because there are always increases in retail employment in November the Bureau of Labor Statistics made a seasonal adjustment that changed the number to a negative.
That's exactly what BLS should do, but given how much retailing was changing even before the pandemic and how much it has changed since, it does make you wonder whether seasonal adjustments based on the past 10 years of data (with the past three getting the most weight) are getting the dynamics right this year. Maybe the annual retail holiday hiring binge is on the way out, and with it, the need to make such big seasonal adjustments. Which in turn could mean that November's seasonally adjusted employment increase of 210,000 for total nonfarm employment  was an understatement, and that actual gains were closer to the unadjusted additionof 778,000 jobs.
To test this I used the approach from a 2019 BLS report, measuring the unadjusted November employment change since 2000 in the retailing sectors that traditionally do lots of holiday hiring (that is, excluding car dealers, gas stations, supermarkets and home and garden centers).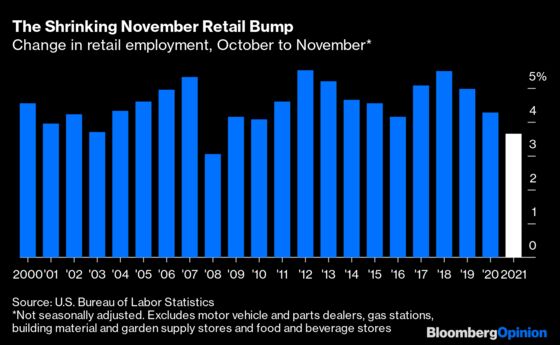 There's definitely been a big drop since 2018, although it's hard to see any longer-run trend. But measure the change for both October and November and it's hard to see much of anything going on at all. This year's 6.5% increase is on the low side but not dramatically so (and it will be revised in coming months), and there's no discernible pattern over the past decade. So maybe the Christmas hiring season has just shifted a few weeks earlier as the appearance of Christmas decorations in stores has.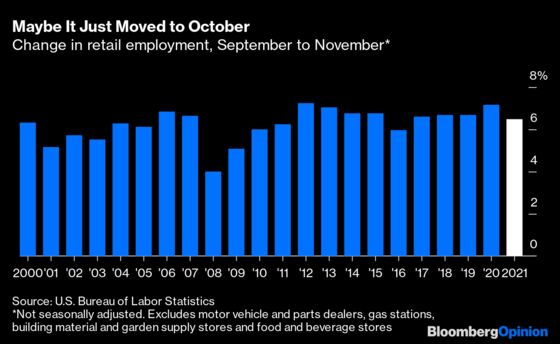 A much clearer shift in holiday hiring can be seen among the people who deliver the things that Americans buy online, what the BLS calls couriers and messengers. In the 2000s they saw hardly any holiday bump at all. Now it's above 20%.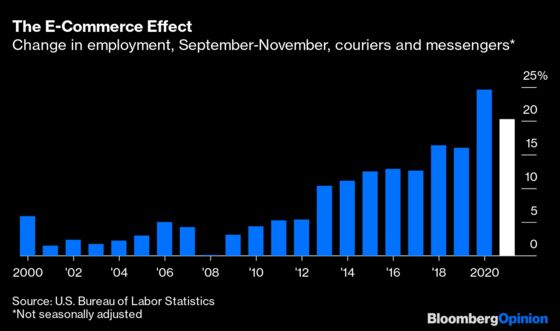 There have been similar if smaller changes in warehousing and storage. Couriers and messengers employed 1.3 million people in November and warehousing and storage 1.5 million, much less than the 8.2 million working in the retail sectors measured above and 15.6 million in retailing overall. But add the seasonal retail numbers with those for couriers and messengers, and those for warehousing and storage, and the holiday-shopping-related employment bump actually seems to be growing. That is, it's down from last year, which was a really weird year, but it's been on a modest upward trend since the Great Recession.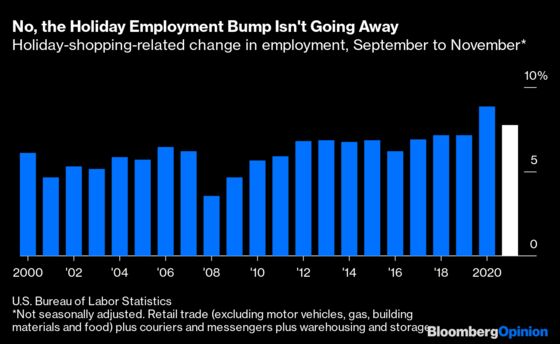 This doesn't necessarily mean current seasonal adjustments are getting everything right. There's that retail hiring shift from November to October, and also some questions about whether increases in self-employment mean the payroll data is less informative. The numbers from the November household survey were certainly much more encouraging than those from the payrolls survey. But the big seasonal employment shifts related to holiday shopping don't seem to be fading away.
This column does not necessarily reflect the opinion of the editorial board or Bloomberg LP and its owners.
Justin Fox is a Bloomberg Opinion columnist covering business. He was the editorial director of Harvard Business Review and wrote for Time, Fortune and American Banker. He is the author of "The Myth of the Rational Market."